Weekend Wrap-Up
Horton Hears the Cash Registers Ring
By John Hamann
March 16, 2008
BoxOfficeProphets.com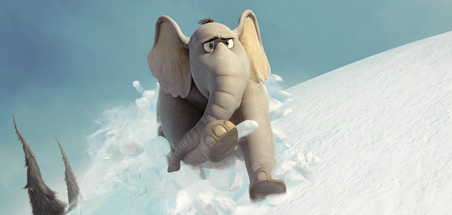 ---
The 20th Century Fox version of Dr. Seuss' [tm:2309_]Horton Hears a Who[/tm]! opened this weekend, and all signs were indicating that it should be huge. We've had several consecutive weekends of questionable openings and out-and-out flops, so a film actually performing to expectations would be a nice surprise. Also debuting were the mixed martial arts flick Never Back Down, which looks like The Karate Kid with [bp:102_]Djimon Hounsou[/bp] in for Pat Morita, and Doomsday, which looks like Mad Max hopped up on estrogen. Could the weekend propel itself past last year's totals of $105 million? If the year so far has been any indication, I wouldn't count on it.

[bp:1155_]Jim Carrey[/bp] is back in a big way, but you will have to wait until Christmas to actually see him on the big screen. Carrey returned to the monetary comfort of Dr. Seuss, opening Horton Hears a Who! to potential megabucks. Even with a highly questionable costume/paint job in How the Grinch Stole Christmas, Carrey still managed to propel that opening to $56 million in November 2000, with the film going on to earn $260 million at the domestic box office. Then comes the rub, though, as Dr. Seuss doesn't play as well overseas as it does in North America. The Grinch earned only $120 million overseas - less than half of the domestic box office. For Carrey, Horton will be a relief after a few tough box office outings like The Number 23, which resulted in one of the lowest scores of his box office career.

Dr. Seuss' Horton Hears A Who! is our number one film of the weekend, and it's a landslide. Horton heard $45.1 million roll through ticket windows, and earned that from a massive 3,954 venues. Horton had a venue average of $11,406. While a victory for Fox and Blue Sky Animation, it must be said that Horton failed to break out, much like [tm:3073_]10,000 B.C.[/tm] did last weekend. Tracking indicated a possible weekend of $55 million, but Fox was anxious to dampen any 10,000 B.C.-ish disappointment by publicly saying they were looking for a $35 million opening. This was odd, considering that the much denigrated and truly hideous looking Cat in the Hat opened to $38 million in November 2003, and if adjusted for inflation, would be over $40 million in 2008. This shows how anxious studios are to manage expectations, as the mark of failure can be the death knell for expected legs. Fox now has a film that exceeded expectations according to them, but according to tracking, didn't come close to the anticipated opening. BOP's own weekend prognosticator, Reagen Sulewski, estimated an opening of $41 million, and was right on target.

For Jim Carrey, the opening for Horton is welcome, no matter the figure. Carrey had pretty much hit bottom with the adult-oriented thriller Number 23, which opened to only $14 million last February, and finished with only $35 million in domestic sales. Carrey has only appeared in six films since 2000's Grinch, and three of those - The Majestic, Eternal Sunshine of the Spotless Mind, and The Number 23 - failed to earn $40 million at the domestic box office (although Eternal Sunshine is one of the better films ever). Even Carrey's bigger films were disappointments: Fun with Dick and Jane opened to only $14 million, but was propelled to more than $100 million due to a release date over the Christmas week, and Lemony Snicket earned "only" $118 million, despite being based on a very popular children's book.

Horton may be somewhat different than his other releases, as it managed to do something that some of Jim Carrey's other recent films did not - review well. At RottenTomatoes, Horton heard 73 reviewers out of a possible 90 give him a thumbs up, resulting in a super-fresh rating of 81%, and an even better rating of 87% among the nation's top critics. This could mean Horton will be a blockbuster with legs, a rare dinosaur in today's box office world. Horton's internal multiplier (opening weekend divided by Friday gross) was good, as it came in at 3.36 - which is a good figure for a kids flick over an opening frame, and a solid internal multiplier can often mean good legs in film's future.

For Fox Animation and Blue Sky Studios, Horton fails to keep pace with Blue Sky's other main franchise, the Ice Age films, which has to be a disappointment, considering the built-in factor of a Dr. Seuss book. In 2002, the original Ice Age flick debuted to $46.3 million and didn't see a 40% plus drop until its seventh weekend of release. It went on to earn $176 million domestic and $382 million worldwide. It spawned a sequel that opened to $68 million, setting the record for a March opening until it was usurped by the mighty 300. I don't see Horton earning $176 million, but I do see it moving toward $150 million. Horton Hears a Who! cost Fox and Blue Sky about $90 million to make, plus prints, advertising, and Jim Carrey showing up on American Idol..

Pulling up in second is 10,000 B.C., as the Warner Bros. critically reviled flick faded badly in its second weekend, falling 54% and earning $16.4 million. After opening to $35.9 million, some thought the drop would be even worse; however, it surprisingly managed to not lose more than 60% of last weekend's audience. The $100 million plus feature has now earned $61.2 million, and it's going to have to be lucky to reach the $100 million plateau at the domestic box office.

Never Back Down finishes third this weekend, but it's well off of where 10,000 B.C. finished. The mixed martial arts flick earned $8.6 million this weekend from 2,729 venues, and performed pretty much to expectations. Never Back Down is somewhat of a throwback to the 1980s, when such films as the Karate Kid and its many sequels flourished. Never Back Down is from Summit Entertainment, an upstart production company/distributor, that along with Buena Vista had a small hit with the Step Up sequel, [tm:4015_]Step Up 2 the Streets[/tm], which has earned about $55 million so far. Critics weren't kind to Never Back Down (but we weren't really looking for Karate Kid scores), as it earned only a 22% fresh score at RottenTomatoes. While I don't have budget data for this one, an educated guess puts it at about $30 million, a figure this one should see after overseas grosses are counted.

[tm:4210_]College Road Trip[/tm] finishes fourth, but the kids who took this in over opening weekend failed to tell their friends to go this weekend. College Road Trip, with [bp:92_]Martin Lawrence[/bp] and Raven-Symone, earned $7.9 million, off a rather large 42% from the previous frame. This looks like your standard teen flick, with an opening above $10 million, and a domestic finish below $40 million.

Sony's [tm:1933_]Vantage Point[/tm] continues to hold on to a top five spot despite four weekends of release. Vantage Point earned $5.4 million and was off a seriously slim 27%. Vantage Point has turned into a winner for Sony, as the film with a $40 million production budget has earned $59.2 million so far, and has a foreign gross of about $30 million. Look for Vantage to finish with about $65 million domestically.

Finishing sixth is [tm:4212_]The Bank Job[/tm], [bp:1214_]Jason Statham[/bp]'s return to the old fashioned crime drama. The Bank Job earned $4.9 million, off only 17% from the previous frame. The Lionsgate release has now earned $13.1 million.

Our final opener of the weekend takes the number seven spot. That film is Doomsday, the Mad Max lookalike, except with a chick. Doomsday disappointed this weekend, earning only $4.7 million from a small venue count of only 1,936. It had a venue average of $2,450. This film may fail, but it may be a step up for Rhona Mitra, the star of Doomsday, as she looks to join Milla Jovavich as the go-to girl for these silly apocalyptic zombie flicks.

Eighth goes to the [bp:121_]Will Ferrell[/bp] disaster [tm:3731_]Semi-Pro[/tm]. The basketball comedy earned a lowly $3 million and fell 49%. Looks like this one may fail to reach $35 million, as its total so far sits at $29.7 million.

Ninth is The Other Boleyn Girl, which started with an okay $8.2 million a few weeks ago, but fell hard. The Sony release earned $2.9 million, seeing a much improved drop of 28% after falling 50% last weekend. The total now for The Other Boleyn Girl is $19.2 million.

Finally in tenth we have [tm:1744_]The Spiderwick Chronicles[/tm], as the kids flick gets whacked by Horton and friends. Spiderwick earned $2.4 million and was off 49%. It has a total now of $65.4 million, against a budget of $100 million.

Overall this weekend, things should be better. Last year the top twelve films at the box office earned about $105 million. Last year had 300 on top for the second weekend with $33 million, and three films missed badly: Premonition, Dead Silence, and I Think I Love My Wife, opening to a combined $30 million. This year, with Horton on top, the top twelve films earned $105.4 million, making the two weekends neck and neck - but at least 2008 is the winner this time.