Weekend Forecast for March 7-9, 2008
By Reagen Sulewski
March 7, 2008
BoxOfficeProphets.com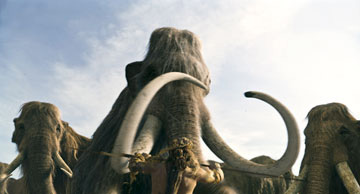 ---
We're starting to move back to full slates of releases, as we distance ourselves from the Oscars. This also includes, if not the first attempted, the possible first blockbuster of the year.

The first film designed to irritate scientists and creationists equally, [tm:3073_]10,000 B.C.[/tm] is the latest farcical epic from Ronald Emmerich, he of The Day After Tomorrow, Independence Day and Godzilla. Although there's some hint of a story about prehistoric civilizations and Clan of the Cave Bear-esque anthropology, it's basically an excuse to stage anachronistic battle scenes (it wasn't called the stone age for no reason) and bring saber-toothed tigers and woolly mammoths to the screen.

Starring a cast of unknowns (Cliff Curtis is about the only actor who has any kind of presence), the film used the money it saved on the cast to put it into spectacle, which I have to admit, seems to have been done pretty well. But we're still mostly left with a big budget version of Apocalypto, or The Scorpion King without the mystical elements. Hey, maybe that's exactly what you're looking for, far be it from me to judge, and I can still go rent Conan the Barbarian. Look for about $35 million from this in its debut weekend.

[bp:92_]Martin Lawrence[/bp] is going to have two modest successes within the span of a month. Someone hold me. [tm:4210_]College Road Trip[/tm] isn't exactly his film, per se, belonging instead to ex-Cosby Kid Raven-Symone, who's all grown up now, but it still counts for the purposes of scaring me. He plays her father, escorting her on a trip to visit a series of colleges around the country. Cause nothing says wild party times like overprotective fathers, am I right?

Then again, it's a (G-rated) Disney film, so set your sights pretty low (incredibly, this was at one point in its lifetime a National Lampoon's production). Raven-Symone has a pretty sizable following from her TV show That's So Raven, and this is somewhat comparable to a Lizzie McGuire movie in terms of appeal, though with the wacky hijinks our classic college comedies such as Animal House, Real Genius, PCU or even How I Got Into College, dialed down to about a 1.5 out of 10 on the Blutarsky Scale. About the film's cleverest conceit is a phantom pig that only Lawrence sees and gets him into trouble. I know, you're rushing out to buy tickets already. Don't let me get in your way.

In contrast to 10,000 B.C., this film lives and dies on the appeal of its stars, who do have the pull in specific demos. I see this opening to about $19 million, but dropping off pretty rapidly.

In 1971, thieves in London made a daring and astounding robbery of a bank vault on Baker Street, making off with over £3 million in cash and jewels, still one of the biggest heists in British history. No arrests or recovery were ever made, and the details were sealed from the public for 30 years. [tm:4212_]The Bank Job[/tm], the third of this week's films, purports to tell that story.

[bp:1214_]Jason Statham[/bp] stars as the unlikely-named Terry Leather, a low-level scammer and car dealer who stumbles on the opportunity of a lifetime when an old neighborhood friend (Saffron Burrows) offers him the info on the potential for a score. The vault contains much more than cash, however, including damning secrets about the British mob, government and Royal Family.

The Bank Job is a stylish caper film directed by Roger Donaldson that hearkens back to crime films of the period, a la The French Connection. It's also gotten some tremendously good reviews that highlight its twisty plot and yes, its action. Statham has had some success as a lead in straight up jock action, like The Transporter, as well as in caper films like Snatch. That's a bit closer to what this should provide, though it probably means a bit less box office on the front end. Look for about $8 million this weekend.

In not quite wide release, we have the light comedy Miss Pettigrew Lives For a Day. [bp:587_]Frances McDormand[/bp] stars as a dour London governess (think, oh, Mary Poppins without the charm or magic) in the late 1930s who finds herself unemployed and maybe unemployable after her mood rubs too many families the wrong way. After a bit of subterfuge, she finds herself working for an aspiring American actress (Amy Adams) as a social secretary, even though that's well outside her ken.

As she enters high-society and helps the actress navigate her complicated love life, she finds herself with social complications of her own, including a potential suitor, enamored with this strange new woman, and earning herself an enemy of his fiancée.

It's an unfailingly British comedy of class and social standing, the kind that the country is particularly adept at producing. It comes from the writers of The Full Monty and Finding Neverland, among other films, and it has that potential to be a buzz hit that runs for months, but I don't see that as a big possibility here. Opening on around 500 screens, it should see about $2 million this weekend.

[bp:121_]Will Ferrell[/bp]'s magic finally ran out last weekend, as his formula of "clueless arrogant dude" comedies failed him with [tm:3731_]Semi-Pro[/tm]. Although it won the weekend, it earned just $15 million, well below his standard and just a third of the opening weekend of his biggest hit, Talladega Nights. Although it seems a weird thing to say, he just hasn't kept up the quality of some of his SNL compatriots like [bp:1130_]Adam Sandler[/bp]. With the spell broken by films like Blades of Glory, his fans jumped ship pretty quickly. Look for a steep fall to around $8 million this weekend.

That's what happened to [tm:1933_]Vantage Point[/tm], which fell from a respectable $23 million down to $12 million in its second weekend. It's still looking to end up at around $70 million, a decent total for a film with no huge stars and a bunch of smaller ones, but that's really just a mediocre showing after an opening like that. That it got this far is thanks to a great trailer, though.

The Other Boleyn Girl was a mild surprise with $8 million in its opening weekend, on just 1,166 screens. It's a good sign for [bp:175_]Natalie Portman[/bp] and [bp:816_]Scarlett Johansson[/bp], who were asked to carry the load on this costume drama. Poor reviews should probably sink it from here, though, and it's down to about $4 million for it this weekend.