Weekend Wrap-Up
By John Hamann
March 2, 2008
BoxOfficeProphets.com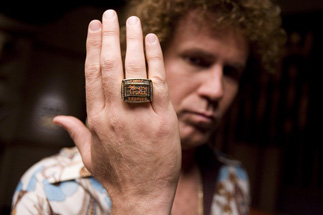 ---
If you are New Line Cinema, Leap Day 2008 and the week leading up to it are certainly not good times. Time Warner gobbled up New Line Cinema this week, right on the heels of releasing New Line's financed and distributed basketball comedy Semi-Pro, which has officially flopped. For the second consecutive weekend, we have a higher profile new release with a 3,000+ venue count in the basketball spoof Semi-Pro, and then we have two small releases with venue counts smaller than 1,200 in The Other Boleyn Girl and Penelope. With a questionable start for Semi-Pro, the weekend has caved in, leaving this year tens of millions behind last year.

Will Ferrell is no Adam Sandler. Since Old School was released in 2003, Will Ferrell has appeared in a dozen or so big features in an above-the-title role, but hasn't seen the $40 million plus openers that Sandler has. Over the same period, Sandler has been in only seven films, two of them dramas. Of those films, Sandler has had four films open to over $40 million, while Will Ferrell has only one (Talladega Nights, with a $47 million open). Obviously, Sandler has more power in the studio system to dictate release dates, hence summer playdates for I Now Pronounce You Chuck and Larry, Click, and The Longest Yard. Sandler got a Christmas date for Spanglish, but that crashed and burned, but he opened 50 First Dates very strongly on Valentine's weekend in 2004. Ferrell, in terms of release dates, has had to work much harder. Semi-Pro, this weekend's big release, is opening as February closes and ushers in March, a time frame that hasn't historically been huge. However, he did propel Talladega Nights to the third biggest opening ever in the usually weak August, and turned Blades of Glory into a hit despite a late March release date. Ferrell obviously has a big following; the question was whether that following would turn out for this weekend's R-rated Semi-Pro, a comedy that tracking said would win the weekend, but which offered little for the average moviegoer.

Our number one film of the weekend is Semi-Pro, Will Ferrell's latest ridiculous looking comedy. Semi-Pro earned a floppish $15.3 million, ending any chance New Line had of going out on a high note. The basketball spoof went out to a huge 3,121 venues, and had a painful venue average of $4,906, not even the biggest in the top ten. For Will Ferrell, this opening is disastrous. For a straight comedy, we have to go back to his pre-Old School days, when Ferrell wasn't the main draw for a film, like 2001's Zoolander with Ben Stiller ($15.5 million opening) and The Ladies Man with Tim Meadows ($5.4 million opening). Semi-Pro didn't have the broad demographic appeal that his usual straight comedies have, like a Ricky Bobby or Blades of Glory. I believe the marketing let basketball team down, as Ferrell is usually everywhere promoting a film, and this year we didn't even see him on the red carpet at the Oscars. The 'red band' restricted trailer wasn't enough to get word-of-mouth going, but tracking believed this one was going to work. The often wrong prediction service was looking for upwards of $30 million this weekend for Semi-Pro, so half of that isn't quite right, is it?

So what went wrong here? Semi-Pro started off on the right foot, with the writer of Old School and Road Trip on board in the form of Scot Armstrong, but then New Line hired a director who is really a producer in Kent Alterman (producer of Elf, Balls of Fury and Son of Mask, director of nothing). I imagine things went off the rails at this point, and the reviews for Semi-Pro are evidence. At RottenTomatoes, 107 reviewers phoned in their thoughts, and only 27 found something to like, leaving Semi-Pro with a rotten rating of 25%. Let's remember that Blades of Glory was 69% fresh, Old School was 59% fresh, and Talladega Nights was 72% fresh. Critics like Ferrell, but they certainly didn't like Semi-Pro. The basketball comedy isn't going to be a train wreck, as production costs for something like this are most likely in the $50 million range, but it is a huge step backward for Ferrell. Next up for the star is Step Brothers, a comedy from director Adam McKay (Talladega Nights, Anchorman) and producer Judd Apatow, and then comes the much ballyhooed Land of the Lost, set for release in 2009.

Pulling up in second is last weekend's quiet winner in Vantage Point, and it even managed to keep its drop below 50%. In a weekend of not-so-good things, Vantage Point makes out okay. The thriller from Columbia Pictures earned $13 million and fell 43% - not a fantastic drop, but one that will keep Vantage Point on the road to about $65 million. So far, it's earned $41 million.

Finishing third is The Spiderwick Chronicles, the kids flick based on lit. The Spiderwick Chronicles got off to just an okay start with a $19 million first weekend, fell fairly in its second weekend earning $13 million and a 30% plunge, and has earned $8.8 million for another okay drop of 33%. Whatever the total, it's nice to see Spiderwick get ahead of Jumper, as at the very least it's a better film. The Spiderwick Chronicles have now earned $55.1 million, but is still a long way off of its $95 million production budget

Despite a venue count of only 1,166, The Other Boleyn Girl sneaks into a top four spot this weekend, thanks to a weak crop of holdovers. The historical epic earned a good $8.3 million from 1,166 venues this weekend, and ended the weekend with the best venue average in the top 12 at $7,118. Boleyn Girl owes its fair opening to two fair females in Scarlett Johansson and Natalie Portman. Marketing for this one put Semi-Pro to shame, and made The Other Boleyn Girl the choice for women this weekend. Critics weren't impressed. At RottenTomatoes, The Other Boleyn Girl had to settle with a rotten rating of 38% after only 35 out of 92 critics liked this enough to give it a thumbs up. I don't think this one is going to have much staying power, but stranger things have happened. In the end, this should end up as a win for Focus Features, as international sales should be strong as well.

With very little for competition, Jumper manages to have a weekend where it doesn't drop more than 50% compared to the previous weekend. The sci-fi mistake earned $7.6 million in its third weekend, and was off 40% from the previous frame. The 16% fresh flick has now earned $66.8 million, but thanks to the Valentine's/President's Day weekend, should finish above $80 million.

Sixth spot goes to Step Up 2 the Streets, the Disney step dancing flick. Step Up 2 earned $5.7 million in its third weekend, and was off 41% from the previous frame. This has turned into a small hit for Disney, and the total has now reached $41.2 million against a production budget of about $35 million.

Seventh is Fool's Gold, the movie that won't go away. Fool's Gold earned $4.7 million and was off 28% from last weekend. The Kate Hudson flick has now earned $59.1 million, and with three new releases coming next weekend, we can only hope that the 10% fresh flick will be gone from theaters at that point.

Eighth spot goes to Penelope, the small fairy tale from upstart distributor Summit Releasing. Starring Christina Ricci as a young woman with a facial disfigurement, the Reese Witherspoon-produced flick earned $4.006 million this weekend from a very slim 1,196 venues. Penelope got buried by those Boleyn bitches in the marketing department, and didn't have a good chance this weekend. The good news is that this one cost only $15 million to make, and has already earned about $7 million overseas.

Best Picture winner No Country For Old Men finishes ninth this weekend after finishing 12th last weekend, as Miramax pushed the venue count up to 2,037 in honour of the win. No Country earned $4.005 million with the new venue count, lifting its audience from last weekend by 67%. No Country for Old Men is now the Coen Brothers biggest film ever at the domestic box office with a cume so far of $69.6 million.

Finishing tenth is Juno, as a lack of major Oscar gold has shoved Juno to the cheap seats. Juno took in another $3.4 million and was off 19% compared to last weekend. It sad to see the 11-week top ten stalwart approach the door, but it has earned $135.1 million against a budget of less than $10 million.

Overall, the box office is in pain. After a month of bad news, things are only going to get worse overall in the weekends to come, as last year had 300 open in the second weekend of March. The top ten last year brought in a huge $108 million, where this year, the total for the top 12 is an ugly $80.7 million. Next weekend we do get Roland Emmerich's 10,000 BC, which could do some business, but not the $70 million that 300 opened to at the same time last year.