Friday Box Office Analysis
By Tim Briody
March 1, 2008
BoxOfficeProphets.com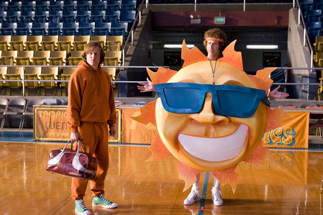 ---
We like you, Mr. Ferrell, but the clock is now officially ticking.

Semi-Pro

Will Ferrell thought he had a slam dunk with Semi-Pro, his latest sports-themed comedy. However, something seemed to be missing that both Talladega Nights and Blades of Glory had: laughs. Semi-Pro didn't have them and the box office is showing it. It only took in $5.4 million on Leap Day. For comparison, last year's Blades of Glory earned $12.3 million Friday on its way to $33 million for the weekend. There was talk that this was Ferrell's Little Nicky, and there it is. A weekend figure of $14.9 million looks to be in store for Semi-Pro, enough to win the weekend, but not by the margin we've become accustomed to with Will Ferrell comedies.

The Other Boleyn Girl

The period piece, wisely on just 1,166 theaters, performs well, with $2.8 million on Friday, good for the highest per screen average among the top ten since Semi-Pro underwhelmed. Word-of-mouth probably won't be very good once it gets out that neither Scarlett Johansson or Natalie Portman get naked, but $8.1 million for The Other Boleyn Girl isn't a terrible opening weekend.

Penelope

The Christina Ricci/Reese Witherspoon modern-day fairy tale, also wisely on just 1,200 theaters, earned $1 million Friday, which is really about all you can ask of something like this. Penelope and The Spiderwick Chronicles are the closest things to family films out there right now, which helps it a little, but it's only looking at $3.1 million or so for the weekend.

No Country For Old Men

Best Picture winner No Country For Old Men shoots up to 2,000 screens in a last grab at some box office before DVD. It does earn $1 million on Friday. It's had reliably solid weekend multipliers during its run and the same should hold true this weekend, look for $3.3 million.