Weekend Forecast for February 29 - March 2, 2007
By Reagen Sulewski
February 29, 2008
BoxOfficeProphets.com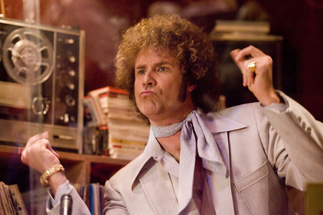 ---
The once-in-every-28 years Leap Day release date sees only three films take advantage of this once-in-a-generation opportunity. Do studios have no sense of history?

The most significant of the films to make a date with immortality is [tm:3731_]Semi-Pro[/tm], starring [bp:121_]Will Ferrell[/bp]. Like Anchorman, this sees Ferrell mine the 1970s for comedy once again, specifically the ABA, the rival league that merged with the NBA in that decade. Ferrell plays Jackie Moon, the player/coach/owner of the Flint Tropics, one of the... shall we say, lesser lights of the league.

When the merger between the ABA and the NBA is announced with the top four teams coming across, it falls to Moon's band of misfits to jump from the cellar to, well, respectability. And some fans would be nice too, which is where the crazy stunts like wrestling a bear and Evel Knievel-esque stunts come in.

In the last few years, Ferrell has taken over [bp:1130_]Adam Sandler[/bp]'s mantle as the biggest ex-SNL comedy star out there, though he hasn't been quite as reliable as Sandler was in his heyday. Blades of Glory showed that his box office is highly dependent on the setup for the film, as it threw well under Talladega Nights's box office, at least on opening weekend. Semi-Pro relies on mostly the same forced wackiness of his other films, along with his proclivity for Ferrell's characters to think of themselves as sex symbols. There's basically no new ground being tread here, which is probably the safe route for him.

Semi-Pro also features Andre Benjamin, Woody Harrelson, Maura Tierney and Will Arnett (and a few other recognizable names), but these are essentially just fillers when it comes to box office appeal. It's make-or-break on Ferrell. With basketball being a bit more 18-35 male demographic pleasing than figure skating, it should be able to do a bit better than Blades of Glory, but he's got some work to do to get back to his peak appeal. I say about $35 million this weekend.

The Other Boleyn Girl may be a talky period piece about sibling rivalry, but you can't say they're not trying to meet potential male viewers halfway. In casting [bp:175_]Natalie Portman[/bp] and [bp:816_]Scarlett Johansson[/bp] as Anne and Mary Boleyn, two of Henry VIII's mistresses, they've put two of the hottest young starlets together on the screen

Set in the early days of Henry VIII's reign, and shortly after his turn from Catholicism, The Other Boleyn Girl focuses on the struggle of him to produce a male heir. With two daughters, the Boleyn family offers up the eldest, Anne, as a potential mistress and wife for the King, in order to secure power. And you thought your parents sucked. While this initially works out for all concerned, Anne's sister also catches the King's eye, and let's just say it's good to be the King.

Anne's certainly not too happy to be pushed aside, especially for someone so close, and revenge is plotted in much the same manner of the villain in a high school movie, except with the fate of a country and not just the prom colors at stake. It's The CW presents costume drama, though in its defense, most of the film's actions really happened.

Portman and Johansson are the show here, though there's significant star power in [bp:30_]Eric Bana[/bp] as Henry VIII. It has a relatively high profile for a costume drama debuting on just over 1,000 screens, a lot of that due to the two leads' attention-grabbing interviews and behavior leading up to it (boob-grabbing? I'm on to you, Natalie). About the best you can expect for a film like this, especially with mediocre reviews, is in the $5 million neighborhood.

The third of the new wide release films is Penelope, yet another entry in the modern-fairy-tale genre. It stars [bp:2850_]Christina Ricci[/bp] as an aristocratic girl cursed with a pig nose until she can find the man who will love her as she is. With that honker, it's not that easy, and all her potential suitors have the tendency to leap out windows (um, the door's right there...). One, played by James McAvoy, has potential, but he might have some not so noble goals for himself. What's a poor-snouted girl to do? Make her own way in the big city, apparently.

Also in the cast is [bp:75_]Reese Witherspoon[/bp], who plays the person who becomes Ricci's best friend after she leaves the friendly confines of her mansion. She's kind of an unusual choice for the second banana role relative to Ricci, but then I imagine she didn't want to wear the pig nose makeup.

It's an odd looking film, and I'm not just making a cruel joke about the nose here. It seems to be going for that magical-realism bent that almost never works, unless you're Disney. And yes, it seems a lot to ask for viewers to look at a character that is supposedly renowned for her ugliness for two hours. Opening on a little more than 1,000 screens, this should come in with about $3 million.

Of returning films, [tm:1933_]Vantage Point[/tm] did quite well, with $22.8 million and enough for first place overall. It managed this feat despite a firmly mid-tier cast, of whom Dennis Quaid can probably be considered the biggest name, although Matthew Fox could give a run for his money in appeal these days. What propelled it to top spot was the film's twisty premise, which told the plot from seven different viewpoints of the characters in the film. A decently action-packed trailer didn't hurt either. That said, I don't see this sticking around too long, and its second weekend should be in the area of $12 million.

[tm:1744_]The Spiderwick Chronicles[/tm] managed to hold on to second place overall, with $13 million. With these kinds of figures, it's obviously attracting a little beyond its supposed base as a children's film, similar to Bridge to Terabitha last year. Look for it to earn another $9 million this weekend, on its way to about $80 million total.

It slipped by [tm:3197_]Jumper[/tm], which dropped more than 50% in its second weekend to just under $13 million. It's still in solid shape overall, and should be a tremendous rental hit, but the sci-fi film isn't quite living up to hopes in terms of staying power. Look for about $7 million this frame.

With Oscars handed out last weekend, a few films are set to reap rewards. Chief among them is Best Picture winner No Country For Old Men, which nearly doubles its screen count in returning to prominence. Winning several Oscars is worth a pretty significant boost, and it should be able to turn that into about $5 million this weekend. Juno and There Will Be Blood are also films that stand to gain well from last Sunday's awards, although both lose a small number of screens. Give Juno about $5 million as well, and Blood around $3 million.