Weekend Wrap-Up
Quiet Box Office Over Oscar Weekend
By John Hamann
February 24, 2008
BoxOfficeProphets.com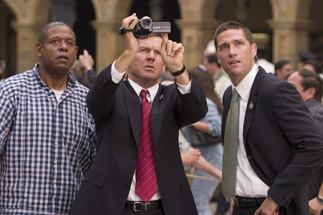 ---
With the writer's strike over, all eyes were on Oscar this weekend, leaving the box office to lap up sloppy seconds with a number of quiet entries. While there were four new releases at theaters, only one had a venue count that could put it on top, which was the aptly titled Vantage Point. Other releases, all debuting on fewer than 1,500 screens, included Michel Gondry's Be Kind Rewind, Ferris Bueller wannabe Charlie Bartlett, and what will hopefully be the end of Larry the Cable Guy's film career, Witless Protection. Last year, the top 12 managed to get above $100 million. This year, that's just not going to happen.

The number one film of the weekend is Vantage Point, the only new release to get more than 3,000 venues, and to belabor the point, more than 2,000 venues. With its cast of former A-listers (Sigourney Weaver), B-listers (Dennis Quaid), up and comers (Matthew Fox) and art house types (Forest Whitaker, William Hurt), Vantage Point had a cast that was able to bring in some opening weekend dollars. With this casting, Vantage Point performed according to expectations, earning $24 million from a surprisingly wide 3,149 venues. It had an average of $7,621. Vantage Point was made by Original Film (Gridiron Gang, Click) and Relativity Media (Charlie Wilson's War, American Gangster) and is being distributed in North America by Columbia Pictures. Reviews for this one were not of the stellar variety, which probably pushed the venue count this weekend beyond 3,000. At RottenTomatoes, 91 critics chimed in, and only 31 found something to like, leaving Vantage Point with a rotten rating of 34%. The nation's 'top critics' were even less kind, giving the thriller a rating of 23%.

For most of the cast though, Vantage Point did exactly what they needed it to - open beyond $20 million. For Sigourney Weaver, her last $20 million plus opening came in 2004 in the form of The Village (which also co-starred William Hurt). Before that, her last $20 million plus opener was 1992's Alien 3. Her next $20 million earner will be James Cameron's Avatar, rumoured to be budgeted in the $200 million range, but the release date for the sci-fi epic is December 2009. For Vantage Point's Dennis Quaid, this is only his second $20 million plus opener, the other being They Day After Tomorrow, which debuted to $69 million in May 2004. For Forest Whitaker, this is his first film since 2002's Panic Room to open in the $20 millions. Overall, and without budget information, I think Vantage Point will end as a push for all involved, with $60 million coming domestically, and another $25 million coming overseas.

Finishing second is last weekend's soft blockbuster, Jumper. After opening to $27.4 million over the first three days of President's Day weekend, Jumper did the expected, grossing $12.7 million and plunging 54%. With ugly word-of-mouth jumping off Jumper, Fox has to be happy that they debuted this one on Valentine's Day, earning as much as possible in the film's first five days of release ($34 million). Those five days are going to save this one from flop status, as the $90 million film has now earned $56.2 million. It should finish with about $85 million.

Moving from second last weekend to third this weekend is The Spiderwick Chronicles. Spiderwick earned $12.6 million in its second frame, which leads to an expected holiday-inflated drop of 34%. A film like this with a $100 million production budget, needs to hold well in its second frame, and Spiderwick does seem to be at least holding steady. So far, Spiderwick has earned $43.6 million, and will have IMAX numbers in its totals to carry it along in the coming weeks.

Step Up 2 the Streets is fourth, and is going to end up as one of the better investments out of last weekend's tepid crop of openers. Step Up 2 earned $9.8 million in its second weekend, and loses a hurtful 48% of last weekend's opening audience. The good news, though, is that the production budget for the step dance flick was only $35 million, and it has so far earned $41.4 million for Disney and partners.

The box office really starts to get sluggish with our number five film, Fools Gold. The Kate Hudson/Matthew McConaughey flick got hammered in its third weekend, dropping from $12.9 million last weekend to $6.2 million this weekend. That equals a drop of 51% after falling 40% last weekend, which makes its 9% fresh rating at RottenTomatoes all that more telling. So far, Fool's Gold (which is exactly what this film is) has earned $52.4 million, which is most likely a good investment for the folks at Warner Bros.

Sixth goes to Definitely, Maybe, which is another film getting tossed away at the box office. After opening to $9.7 million last weekend, the Ryan Reynolds effort earned an okay $5.2 million this weekend. That equals a drop of 47%, and the romantic comedy has now earned $21.8 million. My question is whether this one could have been bigger with a bigger push by Universal, and a higher venue count, which never got above 2,204.

Despite having four new openers out this weekend, our second new film places seventh, in the form of Be Kind Rewind. Michel Gondry's (Eternal Sunshine of the Spotless Mind) latest debuted at only 808 venues (I'm still scratching my head at that one) earned a slight $4.1 million, but did manage the second biggest venue average in the top ten at $5,074. Beyond Juno and There Will Be Blood, this seemed to be the most talked about film heading into the weekend, but the venue count and marketing plan hindered its chance at success. It was the best reviewed opener with a 69% fresh rating at RottenTomatoes, and came off as fresh and interesting. Like BOP's Tim Briody said yesterday, I expect Be Kind to have a long life on DVD, and become a cult classic.

That means Juno, oddly enough the largest grossing Best Picture nominee, is in a tie with Be Kind for seventh, as it enjoys its tenth consecutive weekend in the top ten. Juno, a longshot to win at tonight's awards, earned $4.1 million and was off 11% compared to last weekend. You can knock the Oscar's all you want, but if it means that films like Juno will earn $130.4 million (so far) at the box office, I will deal with the snobbery around the event.

Ninth spot goes to the opposite of an Oscar winning film, Welcome Home Roscoe Jenkins. The latest Martin Lawrence mail-in earned $4 million, and was off a refreshing 53%. So far, Roscoe has earned $35.5 million, and because of the $35 million production budget, expect to see more of these pictures.

There Will Be Blood, which is pretty much a lock for at least a Best Actor win for Daniel Day Lewis, finishes in tenth. There Will Be Blood earned $2.6 million, but could be back in force next weekend if it manages to collect a few statuettes tonight. So far, Blood has earned a very strong $35 million.

Other openers Charlie Bartlett and the idiotic Witless Protection were relegated to the extreme cheap seats this weekend. Witless Protection earned only $2.2 million, and Charlie Bartlett earned an even worse $1.8 million.

Overall, the box office is suffering compared to last year. After getting hammered in the overall box office race last weekend, things did not pick up this weekend whatsoever. The top 12 over the same weekend in 2007 earned $101 million. This weekend the top 12 earned a slow $90.1 million. Next weekend could surprise, though, as Will Ferrell is back with Semi-Pro, the sports comedy from New Line.