Friday Box Office Analysis
By Tim Briody
February 23, 2008
BoxOfficeProphets.com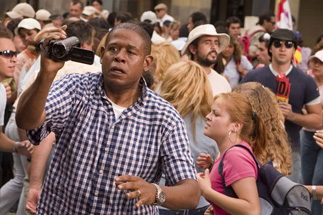 ---
Vantage Point leads an otherwise sorry box office into the Academy Awards.

Vantage Point

The stylish-looking thriller Vantage Point opened well Friday, taking in $8 million. Remember, the Oscars are Sunday so that translates into an abysmal day of box office, knocking weekend multipliers down a few notches. That said, it's going to be a really good weekend for Vantage Point. I'm looking for a $22.4 million weekend.

Be Kind Rewind

The feel-good movie of the year was only on 808 screens but still made $1.3 million (ahead of our other two new releases in 1,122 and 1,333 theaters). You had to think Jack Black's hilarious interpretation of the Ghostbusters theme sold a few tickets. I see a weekend of $3.6 million and a long, long lifespan on DVD.

Charlie Bartlett/Witless Protection

Both of these films checked in with $600,000 on Friday, one of them rightfully so, the other perhaps deserving of a better fate. Either way, neither of these will make the top ten, with Charlie Bartlett earning about $1.8 million and Witless Protection around $1.6 million.

Notable Holdovers

Jumper, predictably, takes a 57% jump from last Friday's total. Look for a second frame of about $12 million. There is nothing else to write home about among the remaining holdovers, except for the two remaining Oscar contenders in the top ten, Juno and There Will Be Blood, seeing single digit declines as we head into Sunday's ceremony.