Weekend Wrap-Up
Mid-February Means Moolah at the Box Office
By John Hamann
February 17, 2008
BoxOfficeProphets.com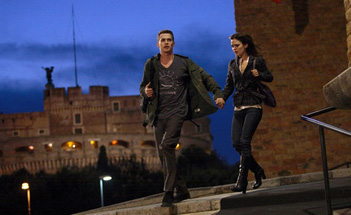 ---
With Valentine's Day landing on a Thursday leading into the long President's Day weekend, February 14th - 18th was set to be a huge earner for studios and exhibitors. In 2007, the President's Day weekend was huge, as six films earned more than $10 million over only the three-day portion of the long weekend. History looks like it is set to repeat itself, as big films like Doug Liman's Jumper, sequel Step Up 2 The Streets, kid flick The Spiderwick Chronicles and Definitely, Maybe all opened this weekend. Could the top 12 films at the box office overtake last year's record holiday haul of $142 million over three days?

The President's Day weekend has quietly become a huge weekend in the calendar year for launching big movies. Last year, Nic Cage opened Ghost Rider over the presidential frame to huge business - $45 million over three-days, $52 million over four - and did that business while leading a pack of other big new openers. Bridge to Teribithia also surprised with $22.5 million over three days, and was followed by the second weekend of Norbit ($16.8 million), Music & Lyrics ($13.6 million) Tyler Perry's Daddy's Little Girls ($11.2 million), and thriller Breach ($10.5 million). That's $120 million for six films over three days, which showed exhibitors that there is room for a lot of large titles over the President's Day weekend. In 2006, five films earned $10 million or more, but there wasn't a Ghost Rider leading the pack, it was the Disney flick Eight Below in the lead, earning $20.2 million over three days. In 2005 there weren't a lot of middling films, but two films, Hitch and Constantine, both earned $30 million over the three days. The trend is there for big, big films to open over this long weekend, and the 2008 slate tried to take advantage, this time adding Valentine's Day to turn the frame into a potential five-day mega-earner.

The number one film of the weekend is Jumper, Doug Liman's (The Bourne Identity, Go) first foray into science fiction. Jumper, which looks like it could have been interesting had it not starred Pinocchio himself, Hayden Christensen, opened to an only okay $27.2 million from 3,428 venues. It had a three-day venue average of $7,942. Jumper got off to a fair start on Valentine's Day, earning $6.6 million and leading the pack. This could be considered a solid start for a non-Star Wars Hayden Christensen flick, as Darth Vader has been in zero significant films since the Star Wars prequels finished up. Personally, I was excited by the trailer for Jumper, but can't get past the fact that they chose Christensen for the lead. Christensen is the new Paul Walker, another actor I would cross the street to avoid. Critics agreed, and Jumper got lambasted by reviewers everywhere. At RottenTomatoes, things were extremely ugly for Jumper. Of the 105 reviews counted, only a scant 16 were positive leading to an overall rotten rating of 15%. Of the top critics in the nation, only 3% of those reviews were positive (one positive out of 30 possible). For the desired demographic of boys aged 21 and younger, reviews aren't going to matter, but to establish a franchise, things have to go better than they did. Such poor reviews are somewhat of a surprise for director Liman, who has seen some success with critics. Franchise launcher The Bourne Identity was Liman's, and it opened to $27 million in 2002. It went on to earn $125 million domestically and over $210 million worldwide. Mr. & Mrs. Smith didn't start a franchise, but did garner a 60% fresh rating and opened to $50 million before going on to earn almost $500 million worldwide. Jumper is not going to be a legs film, and if it can get to $100 million, I think that would be considered a very large victory for Liman and Fox.

In a small surprise, finishing second is dance film Step Up 2 the Streets, sequel to the 2006 film, Step Up. After earning an excellent $6.6 million on Valentine's Day (basically tied with Jumper, but on 1,000 fewer screens), Step Up 2 the Streets earned $19.7 million over Friday-to-Sunday from a quite slim venue count of 2,470. It had a three-day average of $7,962. The original Step Up was certainly no Lawrence Welk film, as the urban dance flick earned $20.7 million in its first frame in August 2006 and didn't completely wilt after opening (like many of these urban dance films do), as it finished with $65 million, before going on to be quite strong on DVD. The production budget for the first Step Up came in at only $12 million, and Disney raised the bar with the sequel, bringing the production budget up to $35 million. With this opening weekend success, it looks like the increased investment was warranted. Critics threw stones, but even this one out-reviewed Jumper, pulling in a 28% fresh rating, but also garnering a 38% rating from the nation's top critics. There are worse things your teenager could be seeing (yes, I'm referring to Jumper), and with these results we may just see Step Up 3: Electric Boogaloo.

Finishing third is The Spiderwick Chronicles, the latest in what seems to be a very long list of child fantasy/secret world pics. Spiderwick is no Narnia, but it is in the same ballpark as the failed Golden Compass movie. Spiderwick opened on Valentine's Day to an expectedly soft $2.3 million, but turned that into a three-day, Friday-to-Sunday gross of $19.1 million. Distributed by Paramount, but made by Nickelodeon, Kennedy/Marshall and Mark Canton (amongst others) The Spiderwick Chronicles lists 15 producers at IMDb, all of who were looking for big things from this potential franchise. With this opening, I'd say audiences - except maybe a small portion of the target demographic - are getting fatigued by these types of films. It did review well - the best out of the openers - but still came in at only an okay 78% fresh. The budget for this one is rumored to be as high as $100 million, and will be an extreme long shot to recoup that figure domestically. The good news for Spiderwick is that it has its demographic basically to itself until Jim Carrey and Horton Hears a Who opens on March 14th.

Finishing fourth is last weekend's number one film, Fool's Gold, with Kate Hudson and Matthew McConaughey. After opening to an okay $21.9 million last weekend, Fool's Gold got shot down this weekend, as it earned $13.1 million over three days. Despite its follow up being a long weekend, Fool's Gold still managed to plunge 39%. With a $75 million production budget, Fool's Gold is going to have to hold better in the weekends to come. Currently, it has a total of $42 million.

Finishing fifth is rom-com Definitely, Maybe with Ryan Reynolds and Abigail Breslin. After opening on Valentine's Day to $3.2 million, Definitely, Maybe earned $9.7 million over the three-day portion of the long weekend, but did that from only 2,204 venues, an inexplicably low venue count. Definitely had some fans with critics, as this one came in at 69% fresh at RottenTomatoes (which is excellent for a Ryan Reynolds flick). While no flop, this isn't going to be huge for Universal, but may become a fair investment once DVD revenue is counted.

Sixth goes to Welcome Home, Roscoe Jenkins, another unneeded flick from Martin Lawrence. After opening in second last weekend with $16 million, Roscoe Jenkins pulled in $8.9 million this weekend, giving it a 45% drop. Completely forgettable, Roscoe is going to leave the top ten in a hurry. Currently, it has earned $29.1 million, and will end up as a good picture for Universal, as it had a price tag of $35 million.

Seventh goes to top ten stalwart Juno, which has been in the top ten for the last nine weekends. Juno earned $4.6 million over the President's Day weekend, and was off a small 17% compared to the previous frame. If Juno can cash in on even one of its four Oscar nominations next weekend, it could see a rise in the following frames. Currently, Juno has earned a remarkable $124.1 million, and could see as much as $150 million if its stars align.

Finishing eighth is The Bucket List, Jack Nicholson and Morgan Freeman's fun flick about dying. The Bucket List earned $4.1 million over three days and dropped 22% compared to the previous frame. Currently, the Warner Bros. flick has earned an impressive $81.1 million.

Dropping from third last weekend all the way down to ninth is Hannah Montana/Miley Cyrus: Best of Both Worlds. Hannah earned another $3.3 million, but dropped 68% because Miley's dad didn't wear his seatbelt in the film (see what happens, kids?). The concert film has now earned $58.4 million.

Finally in tenth is 27 Dresses from Fox. The Katherine Heigl flick earned $3.2 million in its last weekend in the top ten and dropped 41% compared to the previous frame. Dresses has turned into a big victory for Fox and Heigl, as this one cost $30 million to make, and has now earned $69.9 million.

Overall, we did have a handful of films open to $10 million or better; however, only a so-so take for Jumper has put the brakes on a record setting weekend. The top 12 this year earned an okay $118.9 million, but that is well back of last year's three-day total of $141.9 million. What these figures don't include, though, is tickets sold on Valentine's Day, as well as the holiday Monday. Next weekend we're back with four more new releases, including Vantage Point, Be Kind Rewind, Charlie Bartlett and Witless Protection.