Weekend Forecast for February 14-18, 2007
By Reagen Sulewski
February 14, 2008
BoxOfficeProphets.com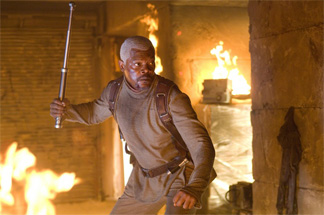 ---
A Thursday Valentine's Day makes Hollywood opt for an early start to the weekend, with four films getting their full debuts on the 14th, extending President's Day Weekend out to five days.

Although there's romance a-plenty out there, the leading candidate for the top spot at the box office is [tm:3197_]Jumper[/tm], which boasts one of the most original looking premises for an action film in some time. A young man, played by [bp:2030_]Hayden Christensen[/bp], discovers that he has the ability to warp through space to anyplace he can envision. In addition to saving on air travel, he can also jump into the middle of a bank vault and clear it out without setting off alarms, so he's got that going for him.

Soon he discovers that he's not the only person with this ability, and he's actually in the middle of a war between Jumpers and a society that is devoted to wiping them out, led by [bp:17_]Samuel L. Jackson[/bp], sporting a shock white hairdo. Rounding out the cast are Rachel Bilson as the love interest, Jamie Bell and [bp:837_]Diane Lane[/bp].

Directed by Doug Liman, who brought us The Bourne Identity, Mr. And Mrs. Smith, and of course, The O.C., Jumper seems willing to have a lot of fun with the ramifications of its concept – that visual of a double decker bus appearing in the middle of the desert is a sign a screenwriter enjoying himself fully.

One can't help but think this would be a summer blockbuster if it wasn't for the Anti-charismatic One in the lead role (okay, he was actually pretty good in Shattered Glass), but then there'd be nothing to watch in the rest of the year. Critically, it's taking a beating, but I don't believe that will make a big impact on its box office, as the concept will be enough to drive people to the theaters this weekend. Look for about $40 million over five days for an easy win.

If you're over the age of 25, you probably only vaguely remember the movie Step Up, which was one of the approximately 432 hip-hop dance related films released in the last five years. It was, however, one of the most successful of the bunch, opening to $20 million and earning $65 million total domestically. Inevitably, this has led to a sequel, [tm:4015_]Step Up 2 the Streets[/tm] (using "2" for "to" means it's that much more cool).

Only tangentially related to the first film, by its setting in a Baltimore arts academy, it features a new group of dancers who have to balance their training with their love of underground street dancing, which apparently risks their actual careers, for some reason.

It also, as is pretty much required, involves something of love story between the leads, Brianna Evigan (daughter of My Two Dads actor Greg) and something named Robert Hoffman. Really, that's just there to fill time between dance sequences, which for this kind of film, look decently choreographed. There's been a crucial decision to have the (apparently) climatic scene filmed in the middle of a rainstorm, and heavily features Evigan in one of those strategically ripped shirts that's so popular these days. Putting it in the trailer will undoubtedly sell a few tickets to horny males (hey, don't get mad at me – it's not like I've giving away trade secrets here). If it wasn't a part of the Step Up "franchise", I wouldn't be nearly as optimistic about its chances, but given that tenuous connection, this sequel should be able to pull off a five-day total of about $23 million.

Another recent trend filled with a bunch of low-rent imitators searching for gold is the children's fantasy film. Everyone's hoping to catch lightning in a bottle and find the next Harry Potter franchise, or more realistically, something they can at least crank a couple movies out of. [tm:1744_]The Spiderwick Chronicles[/tm] is the latest of these, based on an (apparently) popular series of books.

It's the typical child-finds-secret-portal-to-another-world wish fulfillment story, which I don't mean to dismiss, but we have seen this about a thousand times before. Freddie Highmore plays the lead character, landing in about his fourth potential franchise (though each of those has missed its mark).

This one looks a bit better than most in the fantasy genre, which admittedly isn't saying much when things like Eragon get wide releases. However, it actually looks like there's a bit of an edge to it, with some PG-rated scares. Opening on a massive 3,800-plus screens, it should be due for about $20 million over the holiday

Finally, we have the one new film that's being marketed purely to the Valentine's Day market - [tm:4209_]Definitely, Maybe[/tm]. [bp:1182_]Ryan Reynolds[/bp] stars in this romantic comedy as a single dad telling his daughter ([bp:4216_]Abigail Breslin[/bp]) the story of how he met her mother (and CBS's legal team perks up...) but disguising the identity among his three serious relationships. As a plot device, it's, well, a bit sitcom-y, but it's not without potential with the right cast.

For the cast, in addition to Reynolds, who produces charisma like a bodily function, there's [bp:379_]Elizabeth Banks[/bp], [bp:189_]Rachel Weisz[/bp] and [bp:2697_]Isla Fisher[/bp] as Reynolds' potential paramours. And since we're dealing with the father of a 10-year-old kid, we get to relive the '90s all over again!

This seems like a fairly winning and charming premise, and review have been decently positive, so why am I discussing this so late in the column? Well, it's only being released in a head-scratchingly small 2,200 venues, which severely hamstrings its at the box office. I suppose studios are still a bit gunshy about Reynolds, who's had some flops (Waiting, the unjustly ignored Just Friends). Definitely, Maybe should outperform the expectations of this moderate release, especially with the favorable release date. Look for a five-day total of $15 million.

It'll have a bit of contention in the romantic comedy category from last week's box office champ [tm:3737_]Fool's Gold[/tm], which opened with $21 million. Goofy action-adventure sells a little better, obviously, especially when [bp:8_]Kate Hudson[/bp] and [bp:842_]Matthew McConaughey[/bp] are playing to type. No surprises in our entertainment, please! Over the holiday period, it should bring in an additional $14 million.

[tm:4199_]Welcome Home Roscoe Jenkins[/tm] earned a tepid $16 million in its debut, although it's probably enough to keep [bp:92_]Martin Lawrence[/bp] making awful comedies, possibly involving fat suits. This kind of uncomplicated comedy does have its place, and that's on end of year Worst lists, though the [tm:4187_]Meet the Spartans[/tm] people certainly make Lawrence look like an amateur at making bad movies. Give this another $10 million this weekend.

That's essentially it for films that will make significant amounts this weekend – the Hannah Montana concert film should bring in another $6 million or so, but it's rapidly using up its audience – though it's at least a slate that gives some variety. Juno might sneak in for a $5 million result, and There Will Be Blood might manage $4 million, but after that we're dealing with films that are just running out the clock.