Weekend Wrap-Up
Deja Vu All Over Again
By David Mumpower
February 10, 2008
BoxOfficeProphets.com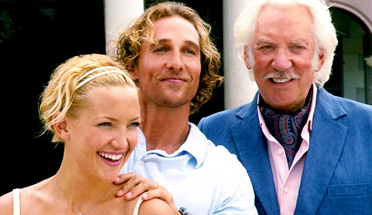 ---
Five years ago this weekend, a $50 million romantic comedy starring bongo-loving hippy Matthew McConaughey and spawn-of-Hawn Kate Hudson shocked box office observers by finishing in first place for the weekend. The title was How to Lose a Guy in 10 Days, and its $23.8 million debut was enough for an upset victory over the heavily favored Jackie Chan/Owen Wilson sequel, Shanghai Knights.

Fast forward to now and we see that North American audiences warmed to the idea of a de facto sequel. Fool's Gold, a Romancing the Stone for the 2000s, has won the weekend with an estimated $22 million. It bears noting that this performance is not as good as the 2003 film's in terms of actual dollars, but the difference is a bit more dramatic when we adjust 10 Days for ticket price inflation. Its performance would be about $26.4 million in current box office dollars. Still, Warner Bros. has to be quite pleased with the fact that their marketing campaign succeeded. The trailers coerced a significant portion of the $105.8 million worth of people who went to see How to Lose a Guy in 10 Days into believing that they would get more of the same here.

Given the perceived difference in quality between the two titles, this is an impressive feat. The 2003 Paramount release was hardly a critical darling, receiving a 42% rotten score at RottenTomatoes.com. Amazingly, Fool's Gold is looking up wistfully at that performance. Its rotten score of 11% means that eight out of every nine critics who saw it wanted to commit atrocities upon the movie's producers. BOP's staff would settle for ten minutes of good ol' fashioned torches and pitchforks on McConaughey (we still give Hudson a pass due to Almost Famous, but that alibi is starting to wear thin).

The $22 million earned by Fool's Gold represents the expected total for a solid first quarter winner in 2008. The Bucket List managed $19.4 million in its first weekend. National Treasure: Book of Secrets won the first weekend of 2008 with $20.1 million. And Meet the Spartans made $18.5 million on the third weekend of the year. Sure, there have been the two outliers, Cloverfield with its January record $40.1 million and Hannah Montana/Miley Cyrus: Best of Both Worlds with $31.1 million. After six weeks of data, however, it's clear that upper teens/lower twenties is the range for a mid-ranged hit. So, the producers of Fool's Gold have to be quite pleased with their trick of promoting a dog of a movie into a solid performer. Its per-venue average of $7,043 isn't anything to write home about, but then again, all of our expectations on that subject are a bit jaded after what Hannah Montana did last weekend.

As was the case last weekend, a second respectable opener had its thunder stolen a bit by a bigger debut above it. For the first week of February, that film was The Eye, a title we'll discuss in a moment. This weekend, the title was Welcome Home, Roscoe Jenkins, a well intended comedy about a famous talk show host who returns home for his parents' 50th anniversary. When he gets there, he realizes that celebrity and fortune do not impress the people who knew him when he was just an awkward boy. That's the thing about family in the south, the setting for Roscoe Jenkins. They remember all of your imperfections and failings no matter how much you try to leave them in the past. The idea of Martin Lawrence repeatedly getting his comeuppance struck a chord with $17.1 worth of consumers, giving the production a per-venue average of $7,175. While it is nowhere near Lawrence's best debut, the reality is that he hasn't been as good at carrying titles in the 2000s as he had been in the 1990s. So, I see this opening as a step in the right direction for his career. It's not like Will Smith is answering his calls about Bad Boys III, anyway.

Apparently, Miley Cyrus's fans are too young to appreciate the fact that they accomplished something special this past weekend. Their blind devotion to their teenage hero forced Disney to re-think its plans to have Hannah Montana/Miley Cyrus Best of Both Worlds Concert Tour exit theaters after only seven days. So, the fact that I am reporting on its second weekend of box office is plenty newsworthy on its own. The less positive news (and if Smiley, my niece and a huge Hannah Montana fan, is reading this, please skip ahead) is that the second weekend was much less kind to Little Miss Achy Breaky Heart Jr. (Smiley, if you're still reading, ask your mother to explain that). Best of Both Worlds fell from an exemplary $31.1 million last weekend to a still-respectable $10.5 million this weekend. Keep in mind that this tally still represents an exemplary per-venue average of $15,295. The problem is that last weekend's per-venue average was, well, infinity, give or take a little bit. Even so, a running total of $53.4 million after ten days is more than enough to keep Disney Channel execs rolling around in a sea of hundred dollar bills until their real money train, High School Musical 3, arrives later on this year. Remember back when Hilary Duff quit Lizzie McGuire to do movies and everyone thought the channel would never recover from that loss? They wouldn't even take Ms. Duff's phone calls now.

The Eye, the re-make of my favorite horror movie of the 2000s, earned another $6.6 million this weekend, giving it a grand total of $21.5 million. The low-budget Lionsgate production is their latest horror film in what seems to an endless onslaught of them. There are some sick puppies at Hollywood's bloodiest mini-major. Given the icy critical reception and lackluster consumer buzz, a decline of 47% frankly doesn't seem that bad.

There was a time not that long ago when I was sitting at dinner with my wife, and we were talking about box office. Yes, we're just that romantic. I looked at her, and I said in shock, "I believe Juno is going to make north of $50 million." She thought about the matter for a moment before reluctantly agreeing. At the time, both of us felt as if we were on the far edge of sanity in making such a bold statement. Folks, that was only about eight weeks ago. Here I am on February 10, 2008, and I am reporting that a weekend box office estimate of $5.7 million gives Juno current box office of $117.6 million. To say that this is a stunning performance frankly undersells it. We are talking about a total that effectively doubles Little Miss Sunshine's $59.9 million. This is to my mind the strongest indie performer since My Big Fat Greek Wedding, and it may not be done yet if it is a factor at the Academy Awards.

The sixth and seventh place finishers this weekend are 27 Dresses and The Bucket List, two of the respectable hits of 2008 to date. The former movie earned $5.7 million, giving it a running total of $65.4. Combined with Knocked Up, Katherine Heigl is staking a claim as the next Jennifer Aniston, a television star who can carry a lead female role at the box office, too. Meanwhile, the Jack Nicholson/Morgan Freeman buddy movie accrued another $5.3 million, giving it a running total of $75.1. It now has over a million dollars for each year either of its 70-year-old co-stars has been alive.

Rounding out the top ten are Rambo, Meet the Spartans and There Will Be Blood. In its third week in the top ten, Sylvester Stallone's return to the super-violent Rambo franchise dropped another 42% as it earned $4.1 million. With a grand total of $36.5 million, it sits alongside Rocky Balboa as proof that Stallone can be relevant in the 21st century. Meet the Spartans, which has been Rambo's tag-team partner through the duration of their release, took in $4.075 million and saw a drop of 44%. After getting off to a fast start with an $18.5 million opening weekend, the spoof film has fallen fast and hard. It is likely spending its last weekend in the top ten and has a cumulative total of $33.9 million. Finally, our tenth place finisher is Academy Award nominee There Will Be Blood. The film continues to ride its multiple nominations for a few bucks, and it earned $4.073 million, down about 12% from its last frame. Given that many consider the film inaccessible to mainstream audiences, a running total of $26.8 million is quite impressive.

Box office for the top ten earned an estimated $91.4 million. This total represents a virtual tie with 2007's $91.8 million. It is, however, a 10% decline from last weekend's Hannah-inflated $101.9 million. Next week will see a number of solid releases vying for audience attention, including the action flick Jumper, the female-targeted Definitely, Maybe, the kids' book adaptation The Spiderwick Chronicles and unnecessary sequel and mySpace phenomenon Step Up 2 the Streets.