Weekend Forecast for February 8-10, 2008
By Reagen Sulewski
February 8, 2008
BoxOfficeProphets.com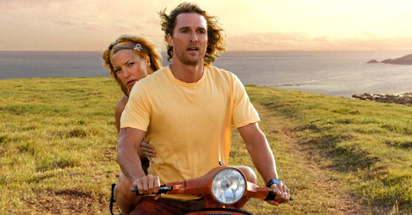 ---
It's the typical early spring ho-hum lineup at the movies, with a couple of unremarkable attempts at mass-appeal films that you'll vaguely remember ads for when you see them at the video store. Hooray for February!

Fool's Gold is a rather forgettable looking action-adventure romance, starring Matthew McConaughey and Kate Hudson. The two play an estranged married couple who broke up over McConaughey's lifestyle – being a surfer/treasure hunter doesn't lead to a lot of stability, emotionally or financially. However, when McConaughey discovers the clue to where a famous Spanish treasure might be, he weasels his way back into Hudson's life to use her connections to find it. However, it's not as simple as just tracking it down (it never ever is) as a rival treasure hunter (they never covered this on career day) is trying to beat them to it.

McConaughey and Hudson make a decent and believable couple, and he's playing right into type with this role. It's something he's had mild success with before, with Sahara, and he's also done well in playing the redeemable cad in romantic films like Failure to Launch. Essentially, he's taking over Kurt Russell's late '80s, early '90s career. Meanwhile, Kate Hudson is right on board with her mother's type of roles. Think Overboard, but not too hard, or else it gets a little creepy.

This is a film that has compromise choice written all over it, or at least an attempt to. Men theoretically have the action, while women have the screwball romance, but I think it's a compromise that really won't satisfy anyone. However, the star power of this is decent, and it should come out with around $19 million on the weekend, for a first place finish.

Welcome Home Roscoe Jenkins is the latest comedy from Martin Lawrence, who we keep trying to get rid of, to no avail. Lawrence stars as a nationally known talk show host, returning home for a family reunion in the South. Although he's apparently the "male Oprah", he still doesn't have the full respect of his family, and when he goes back, old battle lines flare up again, with sibling rivalry proving difficult to erase.

The influence of Tyler Perry's rise to prominence isn't hard to see in this, although under director Malcolm Lee (cousin of Spike and director of the brilliant Undercover Brother) there appears to be a lot more focus on Lawrence getting hit in the head. Not that that wouldn't be cathartic, but that's hardly the kind of thing to build a movie around. Also starring Cedric the Entertainer, Mo'Nique, Michael Clarke Duncan and James Earl Jones (among others), Roscoe Jenkins boasts a pretty deep cast that might bring in the unsuspecting in addition to those that just like themselves some slapstick.

Lawrence has typically done best in these extremely broad comedies, a la Big Momma's House, and he had Wild Hogs last year, which was the biggest success of his comedy career, even if he had to share the credit. This fits right in with his recent hits and while I don't think it'll perform quite to those levels, it should be in for a decent $17 million.

Hannah Montana got an extension after an astounding $31 million opening weekend on just 683 screens. The idol of pre-teen girls across the continent, her (really Miley Cyrus's) concert film handily won Super Bowl weekend with a masterstroke of counter-programming. The gaudy $45,500 per screen average is the stuff of legends, though it's worth noting that the normal rules for ticket prices didn't hold here, and the kids had to pay higher prices for the 3-D experience. Perhaps the ultimate in fan-girl films, it's had a decent weekday run, but I expect this see a monumental crash in its overall total. Very few people that wanted to see this were in the position to wait for it. Look for about $11 million this weekend, although this is all gravy at this point.

Among other returning films, The Eye outperformed expectations to earn about $12 million in its opening weekend, a solid performance for J-horror these days. Female-targeted, or at least -starring films were the best performing overall, with 27 Dresses and Juno holding on to about two-thirds of their business last weekend. All three of these movies should sit around the $5 to 6 million mark this weekend.

Meanwhile, a host of other films drove themselves off a cliff, running smack into one of the highest rated Super Bowls of all time. Meet the Spartans, Rambo and Cloverfield joined the infamous 60% club, keeping only four dollars out of ten of their previous weekend's business. That might arrest itself somewhat this weekend, but not dramatically. Of those films, Cloverfield is in the best shape overall, but its final total will probably not be more than twice its opening weekend of $40 million.

Oscar expansion is mostly done until the awards are handed out, although There Will Be Blood adds about 100 more screens this weekend. It held roughly even in total earnings, but its per screen average took a bit of a hit with the doubling of its screen count. I expect that without another large increase in venues, it'll start drifting out of the top 10, perhaps as soon as this weekend. Then again, with the way films are tumbling and under performing of late, it could stick around for awhile.