Friday Box Office Analysis
By Tim Briody
February 2, 2008
BoxOfficeProphets.com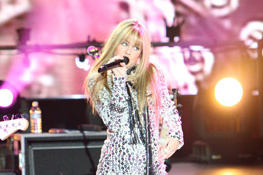 ---
Hannah Montana/Miley Cyrus: Best of Both Worlds Concert Tour

The concert film earned $8.5 million on Friday, hitting that under-served screaming teenage female market. This is actually a really good figure, considering it's only in 683 theaters. While it will probably have a small amount of front-loading, it shouldn't really be hurt as much by the Super Bowl as the rest of the top ten will. This is one of the best counter-programming moves in years. I'm looking for a weekend of $23.8 million.

The Eye

Jessica Alba's J-horror adaptation The Eye earned a not-bad $4.9 million on Friday. This is definitely a film that will have its weekend multiplier kneecapped by an atrocious Sunday. The best news I have for it is that at least it made the top ten, unlike Over Her Dead Body and Strange Wilderness. Expect a $12.3 million weekend.

Notable Holdovers

Last week's top two each take savage nose dives in weekend two. Both Meet the Spartans and Rambo plunge 67% for the weekend. Second frame totals should be in the realm of $6.3 million and $6.1 million, respectively.