Weekend Wrap-Up for January 25-27 , 2008
Four New Releases Clobber Cloverfield
By John Hamann
January 17, 2008
BoxOfficeProphets.com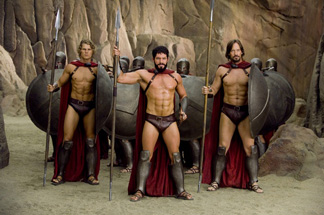 ---
Four new releases entered the box office fray, none of which looked strong heading into the weekend. Taking on last weekend's champ, Cloverfield, are the Fox spoof Meet The Spartans, Sylvester Stallone's Rambo, the thriller Untraceable and the dance movie How She Move from Paramount Vantage. With a three-day gross of $40 million last weekend, Cloverfield should have had no problem fending off all comers. If that's true, why did the J.J. Abrams' monster movie finish fourth? Read on to find out.

The number one film this weekend isn't Cloverfield, and no, Rambo didn't break out. 27 Dresses held well, but not well enough to win. That means our number one film is, yes, you guessed it, Meet The Spartans. The latest in a string of spoofs with titles like Date Movie and Epic Movie, Meet the Spartans somehow grossed $18.7 million from 2,605 venues. It had an average of $7,188. The surprise, though, is not the gross. It's the ranking. Epic Movie, the last in this long line of spoofs, opened to a very similar $18.6 million on the very same weekend last year. This proves there is still, somehow, an audience for this stuff, despite the ravaging these films take from critics. Meet The Spartans wasn't screened for critics (I wonder why), but by early afternoon on Saturday, 15 reviewers posted to RottenTomatoes, with zero of them liking this one. Last year, Epic Movie received one positive review out of a possible 54 (the one was Entertainment Weekly's Owen Gleiberman) and in 2006, Date Movie got five positives out of 77, with Mr. Gleiberman again giving a thumbs up. Date Movie opened to $19.1 million in February 2006, again showing that the same audience is showing up for these over opening weekend.

Meet the Spartans is the type of movie made to fly during opening weekend before coming to a crashing halt in the weekends that follow. Epic Movie opened in number one spot last year at $18.6 million, but fell 55% in its second weekend, and dropped to third. In the four weekends that followed the open, the spoof dropped an average of 60.3% per weekend, and just barely managed to double the opening weekend amount by the end of its run, earning about $39.7 million domestically. The reason why these films continue to get made is the budget. They cost approximately $20 million to make for New Regency Pictures - makers of quality films like Deck the Halls and Just My Luck - so the production budget is almost reached over opening weekend, and doubled by the end of the run. International grosses and DVD are the gravy at this meat market. Do films like Meet the Spartans brighten the cold winter months in North America? I don't think so, but obviously some do.

Finishing a close second is Rambo, Sylvester Stallone's latest reinvention of a franchise long since dead. Rambo's return earned a decent $18.2 million from 2,751 venues, and had a venue average of $6,598. It's been 20 years since we've had a Rambo film open. That one was Rambo III, which opened in May 1988. Rambo III opened to a little under $17 million, so not much has changed in 20 years. Stallone's last franchise reawakening happened last year with Rocky, as the aging fighter managed to gross $70 million domestically and over $150 million worldwide - all on a production budget of about $20 million. In reality, a Christmas release date catapulted Rocky to $70 million, so the same thing won't be happening with Rambo. Some sites list the production budget just short of $50 million, and Rambo is going to have to work hard to see that sort of return; however, international grosses should be strong.

As strange as it seems, 27 Dresses managed to get ahead of Cloverfield despite a $17 million difference between openings last weekend. 27 Dresses earned $13.6 million, off 41% compared to last weekend. Out to 3,074 venues, the Katherine Heigl starrer had a venue average of $4,424. All of a sudden the comedy is looking like it could be at least a $75 million earner, with $85 million not out of the question. Remember, J-Lo's The Wedding Planner opened to $13.5 million and went on to make $60 million domestically, giving it an open-to-finish multiplier of 4.44. If Dresses manages the same multiplier, it finishes just north of $100 million (however, a larger opener usually comes with a smaller multiplier). So far, 27 Dresses has earned $45.3 million, and Katherine Heigl will be getting work for a long time to come.

So, after finishing last weekend as the biggest January opener of all time ($40.1 million opening), Cloverfield got absolutely hammered this weekend. J.J. Abrams' 'monster movie via camcorder' earned only $12.7 million in its second frame, giving this one a monstrous drop of 68%. We knew Cloverfield was going to be front-loaded, but no one saw this coming. With pop culture flicks like Meet the Spartans and Rambo opening, dollars were drawn away from the creature feature. As we discussed last weekend, what happens after the opening means little to Paramount. Cloverfield has a production budget of only $25 million, a figure it easily earned in its first two days of release. So far, Cloverfield has earned $64.3 million, and should finish with about $85 million.

Finishing fifth is a film I thought would do better - Screen Gems' Untraceable. The Diane Lane vehicle grossed $11.2 million from 2,368 venues, as this film that needed reviews failed to get them. At RottenTomatoes, only 12 reviewers out of a possible 84 liked this one enough to give it a thumbs up (one was Roger Ebert) leaving Untraceable with a rotten rating of 14%. Despite the critical drubbing, Diane Lane continues to pick films that open decently. Recent choices like Must Love Dogs, Unfaithful and Under the Tuscan Sun have opened between $9 and $14 million, and all finished in the $40 to $50 million range. With the negative reviews, we will have to wait and see if Lane can get Untraceable into the same range as some of her other films.

Juno finishes a strong sixth, as the little film that could continues to surprise. Juno earned $10.3 million from 2,426 venues (a drop of 108 venues from last weekend), and gains 3% of its audience from last weekend. With Oscar nominations now out, Juno continues to propel itself forward. Currently, Juno has racked up $100.2 million, a feat no one probably saw coming a couple of months ago.

Dropping to seventh is The Bucket List, a film that has turned into a little hit for Warner Bros. In its third weekend of wide release, the Jack Nicholson/Morgan Freeman starrer earned $10.27 million, and was off 27% compared to last weekend. After critics drubbed this one out of any awards race, audiences have supported it to the tune of $57.7 million so far.

There Will Be Blood, Paul Thomas Anderson's oil flick, expanded nicely, moving to 885 venues this weekend, an expansion of 496 theatres. With Oscar nominations in tow, There Will Be Blood grossed $4.9 million and garnered a venue average of $5,522. It increased its take over last weekend by 66%. While this one is never going to be huge, a gross so far of $14.8 million isn't bad. An Oscar win for Picture or Daniel Day Lewis is going to make this one a $50 million picture.

National Treasure: Book of Secrets slides to ninth as the Nic Cage starrer is running out of steam. Book of Secrets earned $4.7 million and was off 38%. Its total now has reached $205.4 million.

Tenth goes to Mad Money, the comedy starring Queen Latifah, Diane Keaton and Katie Holmes. After getting off to a sluggish start last weekend with $7.7 million, Mad Money drops 40% this weekend and earns $4.6 million. Mad Money has now earned $15.3 million against a production budget of about $22 million.

Our final new release, How She Move, finished outside of the top ten this weekend. The film about step dancing earned $4.2 million this weekend from 1,531 venues.

Overall, things are looking up at the box office, but down in terms of overall film quality. The top twelve this weekend earned $117.8 million, a solid total for a holiday-free January weekend. Last year, with Epic Movie on top, the top twelve earned a not so solid $89.2 million. Next weekend looks sloppy again with another Jessica Alba horror film in The Eye, Strange Wilderness with Steve Zahn and Justin Long, and Over Her Dead Body, a comedy from New Line. As odd as it sounds, my money might be on 27 Dresses to win.