Weekend Wrap-Up for January 18-20, 2008
By John Hamann
January 20, 2008
BoxOfficeProphets.com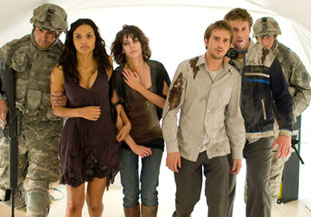 ---
The first long weekend of the year has paid huge rewards for a number of studios this weekend, but it's the exhibitors who will be smiling after receipts are counted. New releases include Paramount's Cloverfield from JJ Abrams and Fox's 27 Dresses with Katherine Heigl - two films with breakout possibilities. BOP's Reagen Sulewski was looking for Cloverfield to finish on top with about $45 million, and 27 Dresses well back - but still successful - with about $22 million. Would the latest and greatest monster movie bust out, or break up? Read on to find out.

Our number one film of the weekend is Cloverfield, JJ Abrams' new Blair Witch meets Godzilla monster movie. After several weeks of nicely calculated hype, Cloverfield opened very strongly, earning a powerful $41 million over the three-day portion of the weekend. Paramount sent this one out to a shrewd 3,411 venues, and the monster movie throwback earned an average of $12,020. This amount sets the January record for the largest opening as Cloverfield comfortably vaults ahead of the re-release of Star Wars, which earned $35.9 million on the last day of January in 1997. The top Martin Luther King opener was Black Hawk Down, as the Ridley Scott flick took in $33.6 million over its first three days. As you can see, this is a huge victory for Paramount, but not only for its huge opening gross. Cloverfield cost Paramount and Bad Robot (Abrams' production company) only $35 million to make, so this studio picture has out-grossed its production budget in weekend one and should be seeing an actual profit after weekend two. This is the kind of feat that rarely happens in Hollywood, unless you're Tyler Perry.

Cloverfield is a breakout success for producer JJ Abrams, who had a lot riding on it. Abrams was the 'one to watch' after driving the Lost and Alias TV series to extraordinary heights, but then lost some ground when Mission: Impossible III, which he wrote and directed, didn't turn into the huge hit it should have been. Cloverfield returns Abrams (who looks like Justin Theroux's character in Mullholland Drive) to the top of the pack. All eyes will be on his upcoming Star Trek reincarnation.

While the marketing campaign for Cloverfield was just about perfect, reviews and release date took this one over the top. At first, I thought critics were going trash Cloverfield for its shaky handycam style, but I was pleasantly surprised to see many comments rise above how it was shot. At RottenTomatoes, 113 reviews were counted, and of them, a surprising 86 were positive, leaving Cloverfield with a 76% fresh rating. The reviews went hand in hand with Paramount's choice of releasing this one over the long weekend, but I have to wonder what they were thinking when Fox moved 27 Dresses back one weekend just weeks before its release date. Paramount had the weekend basically to itself, and then all of the sudden had to share the weekend with a chick flick. Obviously (as I will get to below), there was enough room for both films. Cloverfield is a movie that gives the first month of 2008 a welcome boost, and I can only hope that there are many small, effective films like this in the year to come.

Finishing second is 27 Dresses, Katherine Heigl's follow-up to the extremely successful Knocked Up. While not a first place finish, Heigl and 20th Century Fox will still be quite happy with an opening weekend gross of $22.4 million from 3,057 venues. Dresses managed a venue average of $7,336. This gross exceeded my expectations, as I was expecting more of a Wedding Planner opening ($13.5 million in January 2001). I think Heigl's success with Knocked Up helped Dresses, and co-star James Marsden recently proved himself as the heroic guy when he rang up big business with Enchanted. Despite some not-so-good reviews (Dresses was only 36% fresh at RT), this one should prove leggy and bring in at least $80 million for the folks at Fox, who have three flicks in the top ten this weekend.

Third spot goes to last weekend's number one film, The Bucket List. With so many dollars going to new product this weekend, The Bucket List was destined to have a rough ride. Considering that, the Jack Nicholson/Morgan Freeman flick did just fine, earning $15.2 million over the three-day portion of the long weekend. Out to 2,915 venues, The Bucket List dropped 22% compared to its first frame of wide release. The Warner Bros. effort has now hit $42.7 million, and could earn as much as $65 million.

Juno slips to fourth, as no Golden Globe wins make Homer something something. Juno earned $10.3 million in its fourth weekend of wide release, and fell 25% compared to the previous frame. Fox Searchlight was hoping to keep momentum going, as the studio added another 86 venues to Juno's run, but the fact that there was no real Golden Globes program on TV, let alone wins for the movie, failed to deliver much free advertising for the small production. The good news is that this under $10 million production has now earned $85.4 million, and Juno will certainly see $100 million before it's done.

National Treasure: Book of Secrets finishes fifth, as the shine continues to come off the Nicolas Cage flick. Book of Secrets earned $8.1 million, and the holiday action flick was off 28%. The Disney flick is beginning to shed venues (down 414 from last weekend) as it currently sits with $198 million in the box office kitty.

Last weekend's number two flick, First Sunday, tumbles hard as the comedy finishes in the sixth spot. First Sunday earned $7.8 million and was off an absolutely painful 56% compared the previous frame. What looked to be a lock for a $65 million finisher now looks like it will be lucky to hit $50 million, as First Sunday currently has a cumulative total of $28.5 million.

Mad Money, the new flick with Diane Keaton, Queen Latifah and Katie Holmes finishes an ugly seventh as it ends up being the odd woman out this weekend. Mad Money debuted with a weekend take of only $7.7 million from 2,470 venues. It had a sad sack venue average of $3,117. Reviews were on the hateful side, as only 14 of the 76 that saw Mad Money gave it a positive one, leaving it with a fresh rating of only 18%. Considering the cast, this one should have done much better - the good news is that it cost only $22 million to make, a figure it could see by the end of its run.

Finishing eighth is Alvin and the Chipmunks, as returns for this kid flick start to dwindle. Alvin and friends earned $7 million in its sixth frame of release, and drops 25% compared to last weekend. It will have to wait another weekend to cross the $200 million mark, as the $55 million film has currently earned $196.4 million.

Ninth goes to Will Smith's I Am Legend, another holiday film that is drifting out of the top ten. Legend earned $5.1 million this weekend, also its sixth frame, and drops 38% compared to last weekend. Legend is the big winner of the 2007 holiday season, as its total so far has reached $247.7 million.

Rounding out the top ten is Atonement, as Focus Features increased the venue count on it after it won the Best Picture award at the little seen Golden Globe awards. Atonement earned $4.8 million, which was just ahead of last weekend. Part of that can be attributed to the fact that the venue count went from 950 last weekend to 1,291 this weekend. Like Juno, I'm sure Focus was looking for a better return following the Globes. Whatever the case, Atonement has now earned $31.9 million.

Overall, the box office is shining. Last year, Martin Luther King Jr. Day was a weekend earlier. In 2007, the top 12 earned $97.3 million over the three-day portion of the long holiday weekend. Over the January 19-21, 2007 weekend, the top 12 grossed $71.7 million. This weekend, with huge returns from Cloverfield and 27 Dresses, the top 12 rang up $135.3 million, a truly impressive total.