Friday Box Office Analysis
By Tim Briody
January 19, 2008
BoxOfficeProphets.com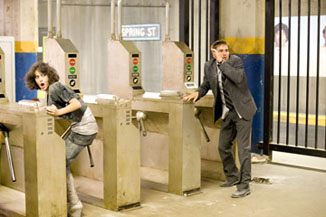 ---
What 11-year-old record is Cloverfield about to break? Find out inside!

Cloverfield

The mysterious monster movie opened to a very solid $16.9 million on Friday. Barring an all-time low weekend multiplier, the January opening record, held for nearly 11 years by the Star Wars Special Edition re-release ($35.9 million in 1997, with Black Hawk Down right behind it with $33.6 million in four days over the Martin Luther King weekend in 2002) will finally be shattered. This is a difficult one to forecast over the rest of the weekend. Given that it's had more anticipation than any January release in years, any sort of Friday night rush factor will be countered by Sunday acting as an extra Saturday. The majority of Cloverfield's target audience has Monday off, so this will very likely work in its favor. I'm looking for a four-day weekend total of about $50 million for Cloverfield, and that may even been on the conservative side.

27 Dresses

Katherine Heigl's first big role after Knocked Up also did very well on Friday, with $7.7 million. Chick flicks over this holiday weekend are a bit of a rarity, though in the romantic comedy department, Along Came Polly did open this weekend in 2004 with a 3.65 multiplier. Something close to that should be in store for 27 Dresses, so I'll go with a $26.9 million weekend.

Mad Money

The also-ran of the week, Mad Money opened to $2.2 million. There's nothing else to be said about this, really, other than it might not be a bad movie, but we just don't have any reason to care about it. Expect about $8 million for the four-day weekend.

Atonement

The biggest winner at last weekend's Golden Globes press conference, Atonement doesn't really see a bump per se, but it does only decline 9% from last Friday. Look for $5.4 million for the weekend as it continues to chug along towards the Academy Awards.