Weekend Wrap-Up for January 11-13, 2007
Nicholson Back on Top With Bucket List
By John Hamann
January 13, 2008
BoxOfficeProphets.com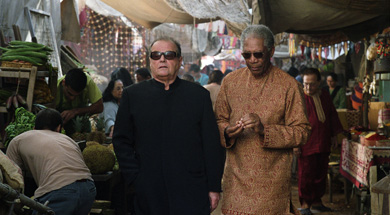 ---
The second weekend of 2008 didn't sizzle at the box office, but returns were respectable as a handful of releases either debuted or expanded. We had higher-brow entries like The Bucket List with Jack Nicholson and Morgan Freeman, lower-brow entries like First Sunday, and the intolerable like In The Name of the King: A Dungeon Siege Tale from esteemed director Uwe Boll. Yes, the Ed Wood of modern times is back, bringing with him an fantasy/action film that looks more like a comedy. Would Boll's new masterpiece make the top ten? Read on to find out.

The number one film is The Bucket List, a drama starring Jack Nicholson and Morgan Freeman as two terminally ill cancer patients who escape the hospital and live life to its fullest during their last days. Probably based on star power alone, The Bucket List earned a strong $19.5 million from 2,911 venues. It had a venue average of $6,750. One might think this would be the perfect picture someone like Oscar could love, but reviews have kneecapped it. Of the 112 reviews counted at RottenTomatoes, only 45 were positive, leaving a rotten rating of 40%. Too much schmaltz and manipulation held this one back, and in the end, Warner Bros. chose January for its wide release instead of December 25th. With its $19.5 million opening, Warner Bros. has to be wondering how much this one would have earned with an earlier release date.

For Jack Nicholson, this is an okay debut. His only films that have grossed more over opening weekend are Batman ($40.5 million opening), Anger Management ($42.2 million opening) and The Departed ($26.8 million opening). On the other hand, The Bucket List most likely won't earn in the long run what some of his smaller openers have, like Terms of Endearment ($108 million finish in 1983 dollars), or even Something's Gotta Give, his 2003 Christmas release that opened to $16 million and somehow finished with $125 million in domestic grosses. For Morgan Freeman, this one of his stronger openings, but remember that Freeman has appeared in 11 $100 million plus grossers. Will The Bucket List earn $100 million? It could. Weepers have a tendency to have serious legs. The Notebook opened to $13.5 million and finished with $81 million. Warner Bros. will be happy with this opening, as they have The Bucket List, I Am Legend, and One Missed Call in the top six this weekend.

Finishing second is First Sunday, the odd looking ghetto comedy with a religious twist. Before you can say Tyler Perry, First Sunday earned $19 million from only 2,213 venues. It had an average of $8,586 - the best in the top ten. First Sunday stars Ice Cube, Tracy Morgan and Katt Williams and is being released by Sony's Screen Gems, the studio that opened Stomp the Yard to $21.8 million over the same weekend last year. I thought the oddball premise (rob a church and find salvation) might hold this one back, but it didn't, leaving it with a respectable opening weekend. Reviews were horrible, of course (you were expecting something else?), as RT found only eight reviewers out of 40 who liked this enough to give it a positive review. That's 17% fresh; however, I think the opening would have been the same with a 0% fresh rating. For Ice Cube, this is incredibly his ninth consecutive opener to gross $10 million or more, and 12th if we don't count Ghosts of Mars, which we are all better off forgetting.

Third spot goes to the awesome Juno, as distributor Fox Searchlight added another 523 venues to its run. The indie darling earned $14 million this weekend, off only 12% from the previous frame. Juno is now out to 2,448 venues, and had an average of $5,719. With its gross this weekend, Juno is about to become the biggest earner ever for Fox Searchlight, as it will soon edge ahead of Sideways, which earned $71.5 million back in late 2004 and early 2005. Juno is currently sitting at $71.2 million total and is going to leave Sideways in its dust. It could end up with as much as $125 million.

While Juno remains a contender, National Treasure: Book of Secrets is going the other way. The Nic Cage action flick earned $11.5 million, but dropped 43% compared to the previous frame. Still, Buena Vista is going to be very happy with a gross so far of $187.3 million. Look for Book of Secrets to finish with about $220 million.

Alvin and the Chipmunks finishes fifth, and and is running out of little kids who don't know any better. Alvin earned $9.1 million and fell a heavenly 41% in its fifth frame. Alvin and company have done better than anyone ever expected, and the movie now has a cume of $187.7 million.

Warner Bros.' I Am Legend finishes in sixth, as this is another blockbuster that's starting to pack it in in mid-January. The Will Smith flick earned $8.1 million in its fifth frame, and it fell a similar-to-Book-of-Secrets 48%. Legend has now earned an impressive $240.2 million, and looks to finish with about $260 million.

Another big surprise this weekend is that One Missed Call didn't get as eviscerated as it could have. The horror film earned $6.1 million in its second weekend, and was off 51% - which isn't bad for a second frame horror flick with a 0% fresh rating at RottenTomatoes. Warner Bros. has now culled $20.6 million with this one.

P.S. I Love You finds itself in eighth place, but its hold is once again pretty good. The Hilary Swank/Gerard Butler romance earned $5 million and was off only 36%, which follows last weekend's drop of only 16%. Warner Bros. has managed to turn this one into a moderate hit, as its gross so far has reached $47 million.

The Pirates Who Don't Do Anything: A Veggie Tales movie finishes ninth, earning only $4.4 million from 1,337 venues. It won't be a disaster for Universal, as this will be huge on home video, and was most likely made for very little.

Atonement takes the tenth spot and despite adding 367 venues, the Focus Features release failed to build on last weekend's gross. Atonement earned $4.3 million and was off 15% compared to the previous frame. This is the type of movie that is desperate for awards coverage, but isn't going to get it thanks to the writers strike and the low profile Golden Globes this evening. So far, Atonement has earned $25.2 million.

Finally, In the Name of the King: A Dungeon Siege Tale finishes well back this weekend with a tiny gross of only $3.3 million. I guess there wasn't enough Uwe Boll fans out there.

Overall, the box office still has something to crow about. This weekend, the top 12 films earned $108.8 million, which is quite a bit better than last year over the same weekend, when the top 12 grossed $97.3 million. Next weekend looks like it could actually be interesting. J.J. Abrams' Cloverfield will debut on more than 3,000 screens, as will Fox's 27 Dresses with Katherine Heigl.