Weekend Forecast for January 11-13, 2008
By Reagen Sulewski
January 11, 2008
BoxOfficeProphets.com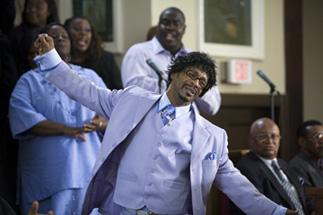 ---
The second weekend of new films in 2008 is still a motley bunch of expanding films and films that couldn't find a home in 2007, or films that studios would rather pretend don't exist.

The Bucket List was supposed to be one of the big, heart-warming, commercial Oscar contenders for 2007. Starring Jack Nicholson and Morgan Freeman as two cancer patients who work through a list of "must-dos" before they kick the... well, you know... the idea was that it would be an inspiring movie with middle-of the road appeal, garner some populist appeal and sweep in as the fourth or fifth nominee. But then, someone forgot to tell the populist award givers (i.e. The Golden Globes). It's struck out entirely in awards season, and its limited release has been less than inspiring, bringing in about $1 million in two weeks.

Admittedly, it's not the kind of film that really needs to platform, and its expansion from 16 screens to nearly 3,000 shows that. Really it was about getting it a 2007 release date, but it says something that they didn't think it could compete in the holiday period. Thematically, it was almost perfect, and I think Warner Bros has cost themselves some money with this move.

Although it has no awards love to help sell it, it's not totally dead in the water – although it's probably not going to attract too many viewers under the age of 40. Nicholson and Freeman are both decent leads for who they are, and the skydiving scene in the trailer and commercials is a winner. With a weak slate, this has an excellent chance of finishing first at the box office with about a $13 million weekend.

The biggest challenge comes from First Sunday, starring Ice Cube, Tracey Morgan and something named Katt Williams. Cube and Morgan star as bumbling crooks who decide to rob a church in order to save Cube's son, only to discover that getting the money from the parishioners is going to be harder than they thought.

The pair end up in a standoff with the churchgoers, including the strange and odd Williams, as they learn the true meaning of Christmas or something, and hilarity is had by all. It resembles nothing quite so much as a Xerox copy of a Tyler Perry film with a little bit more "street cred" added in for good measure.

It's also a bit like Cube's own Friday films, which ended in 2002 after the third film faded away with $30 million. The hope is probably that Morgan, newly hot from his role in 30 Rock, can give this kind of comedy a bit of a push start. While the trailer isn't actually that bad, I think we're looking at a moderate start for this film, with around $12 million.

Family audiences get an option with the second Veggie Tales movie to get a theatrical release, The Pirates Who Don't Do Anything. I don't claim to know a great deal about the semi-cultish characters within the Veggie Tales universe, but I don't have kids and I've heard of them, which says something about their cultural cachet.

The first Veggie Tales movie seemed to be more openly in tune with the Christian themes of the series, although I expect there's a strong moral message buried in this film. Again, I only have a tangential knowledge of this series, but I feel like I'm taking a good guess here. Jonah opened to about $6 million in 2002, and I feel a slight uptick might be in order, given that it's on about 400 more screens. Let's say $7 million and move on.

Generic action junkies have an option this weekend, but it's like a shiny, colorful piece of candy that's painted with cyanide. The unwieldy titled In the Name of the King: A Dungeon Siege Movie, is based on the on vaguely familiar Dungeon Siege video game. Starring Jason Statham, Kristianna Loken... wait a minute... video game, January release, C-list casting... holy crap, this is a Uwe Boll movie! Alert status red, people! Dive, dive, dive!

Yes, Uwe Boll, German for Ed Wood, is back in theaters with yet another film destined for infamy as one of the worst ever created. With the Dungeon Siege "franchise", he's taking on the fantasy genre that the kids like so much these days. Apparently the abject embarrassment that came from BloodRayne wasn't enough to scare him away.

In addition to Statham and Loken, we also have Matthew Lillard, Leelee Sobieski, Claire Forlani, John Rhys-Davies, and to top it off, Burt Reynolds and a wildly out of place Ray Liotta, apparently as the head of the medieval mafia. How has this group not been brought together before now? The plot... well, who really cares. It's a Uwe Boll film. There'll be some swords and strangely choreographed fight scenes, and probably an awful, awful sex scene. Expecting anything out of this movie is beside the point. Boll actually looks to have stepped up the production values a tad this go around, so he may fool some people into paying money for it. I predict about $5 million for this film's opening weekend, but sweet Jeebus, don't you contribute to it.

This brings us to a couple of foreign films that are expanding, The Kite Runner and The Orphanage. The Kite Runner is based on the award-winning novel of the same name, set amidst the chaotic events in Afghanistan through the last half of the 20th century and into the 21st.

Somewhat similar in theme to Atonement, also expanding this weekend, it involves an Afghan boy who betrays the son of a family servant with tragic results. Even after the boy grows up and moves to America, he is haunted by his actions until events allow him to return to his homeland to attempt to make amends. By this time, Afghanistan is under Taliban rule, and his mission for forgiveness becomes more dangerous than he imagined.

Directed by Marc Forster, The Kite Runner has garnered a little bit of awards buzz, with two Golden Globe nominations and some scattered critics' awards. In four weeks of limited release, it's also earned about $9 million, which is a pretty solid result for a foreign language film with little ad support. Mostly it's been getting by on the popularity of the book, which is still kind of impressive. It jumps from 380 screens to 715 this weekend, and needs a strong result to have hopes at Oscars. I see about $2.5 million for it, which is not going to be enough to break into the top ten, but could give it some momentum.

The Orphanage is Spain's official nominee for the Academy Awards, and jumps into 707 theaters this weekend. A supernatural thriller, it centers on a woman who turns the house that she was raised in into a home for orphans. Dark secrets await her there, and the house appears to be testing and taunting her and her son with psychological tricks.

The Orphanage is drawing comparisons to last year's Pan's Labyrinth, with its rich fantasy world and gorgeous design, as well as its shocking scares. It's earned about $1 million in very limited release, but could start to build some momentum. I predict about $2 million for it this weekend.

Among returning films, Juno continues to roll along, having moved up into second place with a true national release. The teen pregnancy comedy earned almost $16 million last weekend, pushing its total to over $50 million. After the moderate success of Thank You For Smoking in 2006, Jason Reitman has a legitimate hit on his hands with this film. It adds another 500 or so theaters this weekend, and will be competing with The Bucket List and First Sunday for first place on the weekend, though I think it falls just short, with about $12 million.

National Treasure: Book of Secrets will yield its top spot at the box office after three weekends and $175 million. It's essentially tied with the gross of the first National Treasure film, but still has a few weekends of life left in it, and should wind up with about $220 million when the final bell tolls. Nic Cage's career lives again for another day. Give it about $12 million this weekend.

I Am Legend and Alvin and the Chipmunks essentially tied for third place with about $15 million last weekend, but Alvin finally started to show some weakness with the end of the holidays. It's still going to be the number one family choice of the weekend, with around $9 million, and about $225 million total, meaning studio executives will start mining just about every novelty craze there ever was for story ideas. Get ready for Rubik's Cube: The Movie. I Am Legend should see about $9 million as well, and could hit $260 million total when all is said and done.

J-horror knock-off One Missed Call was a bit of a surprise at $12.5 million for its debut. The formula for which low-budget generic horror film is going to take off seems to be constantly changing, and while this doesn't represent a massive hit, this style of horror had seemed to be basically over to me. But, I guess if you have freaky enough imagery, you can sell just about anything to teens. I expect this to crash to about $6 million in its second weekend.