Weekend Wrap-Up
Post Holiday Frame Strong, But Boring
By John Hamann
January 6, 2008
BoxOfficeProphets.com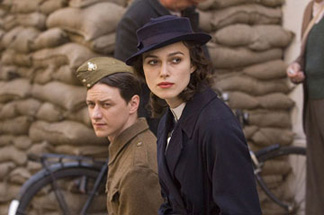 ---
Now that the Christmas tree is down, and the house has been repaired following New Year's, the holiday season's big movies have one more weekend to shine before drowning in what looks to be a horrid crop of January openers (except for Cloverfield - I'm still hoping for greatness, JJ). Our only new release this weekend is One Missed Call (a movie we would all be better off missing), the standard awful horror flick that's become a January necessity. This weekend, though, is all about the holdovers. Would National Treasure: Book of Secrets repeat on top for a third straight weekend? Would Alvin and the Chipmunks bite Nic Cage on the you-know-what and finally take top spot? Or could our number one be the lovely Juno, which seems to be evolving on superlative word-of-mouth, as this year's little-film-that-could expands to almost 2,000 venues. Whatever the case, it should be an interesting start to 2008.

Over the holiday period, this column compared this year's box office lottery season to that of 2001, when The Lord of the Rings: The Fellowship of the Ring and Ocean's Eleven dominated the Christmas 2001 season. In the first frame of 2002, LOTR dropped 41%, earning $22 million. That would be the biggest drop for the original Rings film until May, which equalled a stunning five month run for the $313 million grosser. The average drop in the top ten that weekend was 40%. This weekend, I predict we will see similar drops, except for Juno and maybe Atonement, as they are our expanding films this weekend. Also that year, the lone new release, Impostor with Gary Sinise, failed to crack the top ten with a $3 million gross. Would the same thing happen this year?

Our number one film of the weekend - for the third weekend in a row - is National Treasure: Book of Secrets, the fun but silly adventure flick with Nicolas Cage. I thought audiences would be more tired of this by now than they are, but Book of Secrets was able to churn out a third weekend gross of $20.2 million, which gives it a percentage drop of 43%. Book of Secrets earned about $142 million over the 12 days between December 21st and New Year's Day, which equals a very impressive $11.8 million daily average. Even if Book of Secrets had lost 60% this weekend, the folks at Disney were still going to be very happy with this release, as Book of Secrets is on the doorstep of out-grossing the original, which earned $173 million in 2004. So far, the Nic Cage sequel has earned $171 million, and it could see as much as $250 million before it's done.

I Am Legend becomes our second place finisher film, as its overall weekend improved vastly over its Friday return. In its fourth weekend, Will Smith earned another $16.4 million with Legend, and was off 40% from the previous frame. It's essentially in a photo finish with the third and fourth place movies, so we could see some shuffling of the order when actual numbers come in. I Am Legend is going to finish as the most successful film of the holidays, as it has now earned $228.7 million, and could finish with as much as $275 million.

Finishing third is the aforementioned Juno, the small comedy about teenage pregnancy. The Cinderella picture of the season earned a stunning $16.2 million this weekend, up a significant 53% compared to its $10.6 million gross last weekend (which it earned from only 1,019 venues). This weekend, Fox Searchlight put Juno out to 1,925 venues, and garnered a venue average of $8,429. This absolutely tiny comedy has now earned $52 million, and has probably made Ellen Page a favourite on Oscar night. Juno should pass Little Miss Sunshine's total gross of $60 million next weekend.

Fourth place goes to Alvin and the Chipmunks, as despite a fifth place finish for Friday, Alvin and friends still managed to rise thanks to its family-friendly nature. Alvin grossed $16 million and was off an expected 45%. I find it stunning that this Fox misadventure is a lock for $200 million, as its gross so far has hit $176.7 million, despite a fresh rating of only 24%. Fox made this one for only $60 million, and to have made three times that after four weekends makes Alvin and the Chipmunks one of the big success stories of the holiday season, behind only Juno and maybe National Treasure: Book of Secrets.

Unfortunately, One Missed Call actually did okay. The Warner Bros., release grabbed $13.5 million in receipts, taking advantage of being the only horror release in the top ten (with apologies to Sweeney Todd). Warner Bros. put this one out to only 2,240 venues, and it earned an average of $6,038. Probably made for less than the weekend gross, this is another sad January horror flick that drew audiences. This one wasn't screened for critics, but there are 28 reviews at RottenTomatoes, of which ZERO are positive. Welcome to 2008, people.

Sixth goes to Charlie Wilson's War, which would be considered a hit if it didn't star Tom Hanks and Julia Roberts. Charlie Wilson earned $8.2 million in its third weekend and was off 32% compared to the previous frame. The good news is that the production budget for this one is $75 million. The bad news is that Charlie probably won't earn that figure in terms of domestic gross. So far, this War has earned $52.6 million. Sorry, Charlie.

P.S. I Love You shows some resilience with a seventh place finish. Its gross wasn't awful, either, as the Hilary Swank/Gerard Butler flick earned $8 million, off a respectable 14%. Considering the fact that P.S. I Love You hasn't seen a higher finish than sixth, I would imagine Warner Bros. is happy with a gross so far of $39.4 million. This one should see at least $50 million before it's through.

Walden Media's The Water Horse: The Legend of the Deep comes up in eighth place, a decline of a couple of spots from last weekend after actuals were counted. The Walden, Sony, and Revolution Film co-production grossed $6.3 million, but was off 31%. The production cost here was about $45 million, so a gross so far of $30.9 million isn't the end of the world. The Water Horse should earn back its production budget and become a fair sized hit on DVD, thanks to the holiday theatrical release.

Johnny Depp's Sweeney Todd: The Demon Barber of Fleet Street finishes ninth this weekend, as the musical continues to see larger than expected drops. Sweeney Todd earned $5.4 million in its third weekend of release, but was off 34% compared to the previous frame. Sweeney cost Paramount and DreamWorks $50 million to make, and has a gross so far of $38.5 million.

In tenth place is Atonement, another climber in the top ten. Atonement, after grossing $3.1 million last weekend from 310 venues, earned $5.1 million from 583 venues, an increase over last weekend of 64%. For a film than hasn't a venue count over 600 yet, its gross so far of $19.2 million is quite impressive.

Overall, studios and exhibitors start 2008 on an up note, but I don't think they should get too used to it. The top 12 this weekend earned a powerful $123.9 million, which did keep this year ahead of last year's top 12 total of $104.5 million. Next weekend, the movie world goes back to sleep as three new releases (including one from Uwe Boll!) hit theatres. They include In the Name of the King: A Dungeon Siege Tale (directed by Boll and starring a sad crop of Hollywood C-listers), as well as First Sunday and a VeggieTales movie. Fun, eh?