Weekend Forecast for January 4-6, 2008
By Reagen Sulewski
January 4, 2008
BoxOfficeProphets.com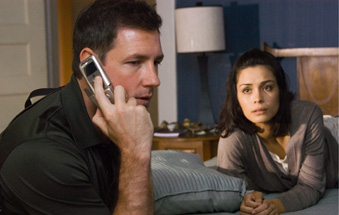 ---
For the first weekend of 2008, the lineup at the box office will look very similar to the last two weekends of 2007, as most studios are waiting at least one more week to test out their new films. There is one new movie, but the weekend will belong to returning and expanding films.

It's becoming a bit of a tradition to plunk a horror film down in early January in the past few years, hoping to capture mindspace in that lull. One Missed Call is that movie in 2008, and the sole new wide release.

A remake of a film by legendary Japanese filmmaker Takashi Miike (though one of his more mainstream ones), One Missed Call is definitely within the Japanese tradition of technology-horror, a la The Ring and Pulse. Also reminiscent of Final Destination, in the movie, a group of friends starts to receive mysterious calls on their cellphones... from themselves. The calls appear to be from the future and contain details about their imminent deaths. It's something you could laugh off as a goofy prank – until the deaths start happening.

One Missed Call stars Shannyn Sossamon, Ed Burns, and a bunch of 20-something actors you've probably seen in some miscellaneous TV appearances. Sossamon was on the cusp of being the next big thing a few years ago after 40 Days and 40 Nights, but that obviously didn't take. The relatively anonymous cast of the film doesn't necessarily hurt the film's chances, but it certainly doesn't help. It just means that it needs to live and die on how effective the ads are.

But really, the scariest thing about this film is the poster, which doesn't bode too well. It's got a good hook, and the importance of cell phones to kids makes it very relatable, but the ads don't really inspire much in the way of chills, and it falls a bit into that "generic horror" category. Look for a weekend of about $7 million.

National Treasure: Book of Secrets was the big winner of the Holiday period, moving its total box office to almost $150 million, and closing in on the total earned by the first film in this series, which managed $175 million total. The Nicolas Cage adventure thriller actually had the highest drop of any film in the top ten films (tied with I Am Legend) last weekend (most films saw increases), but it's still working from a massive number. It's probably in the best position for January, a la Night at the Museum, though reviews have not been as kind to it. It should win a third consecutive weekend with about $22 million.

Family films typically have a steep fall off the cliff following the holidays as their target audience heads back to school or gets distracted by other things. That has a direct impact on the chances for Alvin and the Chipmunks over the next few weekends, but with over $150 million in the bank already, I'm sure its producers couldn't be bothered to care. Although I remain stunned that this stale idea for a movie could still have enough cultural cachet to bring in this many families, it's one of those "Okay, this is our reality now" moments that you just have to deal with or go mad, purple monkey dishwasher. Look for about $15 million more for Alvin and friends this weekend.

This year's quasi-indie sensation, Juno, made a huge breakthrough last weekend, earning $10 million on an expansion to about 1,000 screens. A film about a sarcastic pregnant teenager in Minnesota and her struggles with the realities of growing up, it seemed to strike a huge chord with audiences, and is gathering a big head of steam for a word-of-mouth campaign, as well as one for Oscar chances. Ellen Page is the breakthrough star as the title character, and seems almost certain for Academy recognition. Juno expands to over 2,000 screens this weekend, which should vault it higher in the box office standings and even gives it upset #1 potential. I won't go quite that far, but $15 million seems possible given its momentum.

That should be a popular plateau for the weekend, as it's about where I see I Am Legend ending up for its fourth weekend. With over $200 million in the bank so far, Legend has proven to be one of the biggest films of the year, and added to Will Smith's own legend as a leading man.

Charlie Wilson's War picked up a bit of steam in its second weekend, and it's closing in on $50 million total, but is still a bit of a disappointment for a film with Tom Hanks and Julia Roberts in the credits, even with its political and war storylines, not the most popular genres of film at the best of times. Overall it seems miscast and possibly mistimed to some degree, though it's hard to imagine when the next time a film about American interventionism overseas will be gladly received. I look for another $8 million for this film this weekend.

P.S. I Love You had a sizable jump in its second weekend, ending up just shy of $10 million. It benefited as the sole romantic comedy (well, sort of) out during the holidays, but it should see a fairly large fall off this weekend to about $6 million.

The rest of the weekend is a motley bunch of underperformers, including Aliens vs. Predator: Requiem, The Water Horse and Sweeney Todd. All these films should sit in about the $5 million neighborhood for the weekend, with all competing to see which, if any, can get to $50 million.

Also expanding this weekend are the Denzel Washington teacher flick The Great Debaters, and one of the highly touted Oscar contenders, Atonement. While The Great Debaters expansion may not have much implication for the box office (It's relatively small and the film was already wide), Atonement's could bring it into the top ten.

The romance/war film, set in pastoral Britain at the dawn of WWII, tells the story of two young lovers (Keira Knightley and James McAvoy) kept apart by class, but more importantly, by a damning, yet false accusation by Knightley's young sister, changing all their lives forever, and leading to a lifetime of regret for the young girl who made the charge. It's received some of the most glowing reviews of the season, and has already earned $12 million in limited release. With a near doubling of its screens, I expect a weekend total of about $4 million, which could be enough to sneak into the top ranks.