Weekend Wrap-Up
Christmas Bonanza Continues at the Box Office
By John Hamann
December 30, 2007
BoxOfficeProphets.com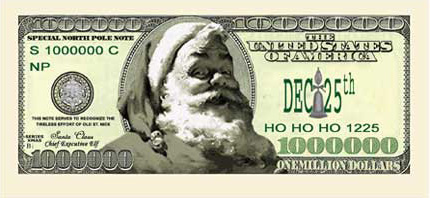 ---
As expected at the box office this week, things have been very good for studios and exhibitors. With Christmas landing on a Tuesday this year, the box office thrived last weekend, thrived over Christmas week, and had an even better weekend this frame. Thankful movies have included big action flicks like National Treasure: Book of Secrets and I Am Legend, as well as smaller films out to only a handful of screens like Juno, Atonement and Sweeney Todd. The biggest winners, though, are the kids flicks, and from out of nowhere, Alvin and the Chipmunks looks to be one of the bigger winners of the holiday season.

With Christmas 2007 already a memory, new movies are taking a weekend off, letting the big holiday releases breathe after an extremely hefty meal. Films like Aliens vs. Predator: Requiem and The Water Horse: The Legend of the Deep see their first weekend action in this frame after opening on Christmas Day last week. If the pattern holds this weekend, kids flicks should see a lift, while the bigger action flicks should see a small drop compared to last weekend, but the usual big percentage drops should be softened. The last time Christmas fell on a Tuesday was in 2001. A small film called Lord of the Rings: Fellowship of the Ring opened the weekend before Christmas to $74 million over five days, and dropped only 18% in the post-Christmas frame. By the end of its second weekend, it had earned $174 million. While the gross was remarkable, LOTR was one of only two films that saw a percentage drop in the post-Christmas frame. Everything else was up, especially films aimed squarely at kids. Jimmy Neutron saw a 9% increase in its second frame, which is the only reason this dud made $80 million by the end of its run. Harry Potter and the Sorcerer's Stone was up 55% from the pre-Christmas weekend and Monsters, Inc. was up 61%. This weekend, I'm looking for the same trend. The question is whether a small lift for Alvin and the Chipmunks, the season's biggest surprise, can catapult it past the National Treasure sequel.

The number one film of the weekend is National Treasure: Book of Secrets, as Alvin and Friends couldn't put enough push together to get it past the Nicolas Cage follow-up. In its second weekend, National Treasure 2 took in $35.6 million and was off a slim but expected 20%. Still at 3,832 venues, this silly but entertaining film had a venue average of $9,299. Book of Secrets has had a great Christmas week, earning about $45 million between Monday and Thursday. National Treasure: Book of Secrets crossed the $100 million mark on Friday, its seventh day of release, the same amount of time it took I Am Legend to reach the same mark. The Nic Cage action flick has now earned $124 million, and the National Treasure sequel should end up earning more than the original's $173 million earned back in 2004. For Disney, it's been a lucrative holiday season, as Enchanted surprised and National Treasure has dominated Christmas week. Look for Treasure to earn $200 million domestic and the same amount overseas.

Second place goes to Alvin and the Chipmunks, as the animated rodents are having a Christmas to remember. Alvin, Simon and Theodore earned another $30 million this weekend, which is just ahead of last weekend's haul of $28.2 million (it was up 6% compared to last weekend). For a film that's only 24% fresh at RottenTomatoes, the chipmunks are having a good run. They earned about $28 million over Christmas week, and now have $142.4 million in the box office kitty. The Fox film crossed the $100 million mark on Wednesday, its 13th day of release, and has already doubled the production budget of $60 million. Fox was looking to have a questionable Christmas with only Alvin and Aliens vs. Predator: Requiem on the docket, but got a surprise with Alvin, the expected from AVP and a big boost from Fox Searchlight's Juno, which we will get to below.

Finishing third is I Am Legend, which wasn't able to hold up to the mighty kid power of Alvin and the Chipmunks. I Am Legend had a stellar weekend, earning $27.5 million, and was off only 18% compared to the previous frame when it was down 57% against its record-setting debut weekend. Legend earned about $30 million from Monday to Thursday this week, and is already knocking on the door of $200 million. It's doubtful that Legend will become Smith's second $300 million film after Independence Day, but should be close, getting past Men In Black's $250 million to become the Fresh Prince's second biggest film ever. So far, I Am Legend has earned $194.6 million.

Charlie Wilson's War finds itself in the number four spot again, but its gross has improved compared to last weekend, which is always good news. Charlie Wilson grossed $11.8 million from 2,575 venues, an increase over last weekend of 22%. While no blockbuster, Charlie Wilson's War has done respectable business on the back of its stars, Tom Hanks and Julia Roberts, but is still below what Universal was expecting. Where does Charlie go from here? I expect it to hang on respectably for a few weekends, but without any major award recognition, this one could disappear before reaching $80 or $90 million. Currently, Charlie Wilson's War has earned $34.5 million against a production budget of $75 million.

Finishing a knock-your-socks-off fifth this weekend is indie-upstart Juno, the very small comedy about teen pregnancy that is currently out to fewer than 1,000 venues. Juno grossed an amazing $10.3 million this weekend from only 998 venues, giving it a venue average of $10,321. This is the highest per venue average out of the films in the top 12. Compared to last weekend when Juno earned $3.4 million, the Fox Searchlight release had a percentage gain of 201%. Juno is really the good news story at the box office this weekend, as this is a small, extremely well-reviewed comedy that is only doing this type of business because of word-of-mouth. I would suggest the budget for Juno is somewhere between $5 and $10 million, and it has a gross so far of $25.7 million. Arrested Development fans will be happy, as this is Michael Cera's (George Michael on AD) second hit of 2007, following up on Superbad.

Finishing sixth is Aliens vs. Predator: Requiem, the third Fox or Fox Searchlight film in the top six. AVPR earned $10.1 million, but had already earned $16.8 million over Tuesday, Wednesday and Thursday. The unnecessary sequel cost about $70 million to make, and has so far earned $26.9 million. While this is only a small amount of data to work with, AVPR should finish within the same ballpark as the original, which earned about $80 million.

Seventh place goes to The Water Horse: Legend of the Deep, the film from Sony, Revolution Studios and Walden Media. The Water Horse earned $9.2 million this weekend from 2,772 venues. Since being released Christmas Day, this $45 million film has earned $16.8 million, a respectable total. At RottenTomatoes, The Water Horse came in at 71% fresh, but I'm still not sure how it will fare in the New Year.

Eighth goes to P.S. I Love You, the chick flick with Hilary Swank and Gerard Butler. P.S. got a nice uptick over last weekend, earning $9.1 million over the post-Christmas frame. Last weekend, the romantic drama earned $6.5 million, so it receives an increase this weekend of 40%. Warner Bros. will be happy with a gross so far of $23.4 million.

Finishing ninth is Sweeney Todd: The Demon Barber of Fleet Street from director Tim Burton. The Johnny Depp musical earned $8 million in its second weekend, but was down from its $9.3 million debut from last weekend by 14%. The drop was not expected for Sweeney, and does not bode well for its future. Why Paramount decided to leave it on 1,249 screens is a bit of a mystery to me, and it will be interesting to see if they decide to increase the venue count in the weeks ahead. So far, the Demon Barber of Fleet Street has earned $26.7 million against a production budget of $50 million.

Finishing tenth is Enchanted, Disney's Thanksgiving surprise. Enchanted shows the power of a good Thanksgiving opener, as it earned $6.5 million this weekend - its sixth weekend of release. Compared to last weekend, Enchanted was way up - 54% - and this weekend's take is its best since December 7th, when it grossed a little over $10 million. So far, Enchanted has earned $110.7 million.

Other notable grosses this weekend include The Great Debaters from Denzel Washington, which grossed $6.3 million and has earned $13.5 million since opening Christmas Day, and Atonement, which earned $3.1 million this weekend from only 310 venues. Atonement, which is quietly stalking an Oscar, has earned $11.2 million so far.

Overall, there is much to crow about. The top 12 films at the box office earned a staggering $168.7 million, an increase over last year of 18% and a number usually reserved for a hot July weekend when the top ten is made up of blockbusters. That's a record for a three-day December weekend, edging past December 2003 when LOTR: Return of the King opened. That December 26th - 28th weekend, the top 12 rang up $165 million. The last time Christmas fell on a Tuesday was 2001, when the top 12 earned $147 million, well off what this year's weekend earned. Another huge factor of note is that if we use these estimates, 2007 was te top grossing year of all-time. Huzzah!