Daily Box Office Analysis for December 27, 2007
By David Mumpower
December 28, 2007
BoxOfficeProphets.com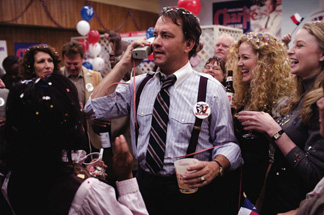 ---
The good times at the box office continued yesterday as the revenue for the top ten combined for $45,632,622. For those of you who did not read yesterday's column (for shame, for shame), this amount surpasses the composite total for Sunday's top ten of $44,734,073. This marks the third consecutive day that a weekday's box office performance has proven superior to one of the prior weekend's days. This is particularly noteworthy when we consider that this past weekend's top ten accrued a stellar $148.3 million over three days.

If you are unsure how great a performance last weekend's top ten managed, here is one further informative tidbit. $148.3 million, the amount made by the top ten alone rather than the entirety of films in release, would have been the 16th largest weekend of the year on its own. So, the numbers we are using as a jumping off point for comparison against recent weekdays are among the best of 2007. The fact that a Thursday, historically the weakest of the weekdays, is surpassing the previous Sunday is the type of box office phenomenon that only occurs at this time of the year.

We can prove this point in a different way as well. Tuesday, Wednesday and Thursday of this week had top ten box office receipts of $58,159,595, $50,436,946 and $45,632,622 respectively. This is a combined total of $154,229,163, a number 4% higher than the top ten for the weekend. Putting that total in perspective, had Tuesday-Thursday's top ten box office counted as a weekend total, it would have been the 14th biggest weekend of the year. If we include the entirety of titles in release for the past three days, the total surges into the top ten. Folks, these are weekdays we are talking about. This sort of box office behavior should not be possible, but such is phenomenon of the period between December 21st and January 1st that the behavior holds each and every year.

Another way to gain an understanding of the behavior is to examine individual titles in order to gauge their daily fluctuations. Let's do exactly this with a couple of surprising choices. Rather than focus on blockbusters like I Am Legend and Enchanted right now, let's focus upon the bombs of the holidays, Walk Hard: The Dewey Cox Story and The Golden Compass. These are the titles that have done much less at the box office than had been expected. The theory here is that if any releases are going to see less of an impact from holiday box office inflation, it would be these two. Let's see if this is the case.

The Golden Compass is a movie I discussed last week in BOP's Daily Box Office Analysis columns. The Nicole Kidman movie's first Monday was a lackluster $1.7 million, and it followed that up with $1.6 million on Tuesday, $1.4 million on Wednesday and $1.3 million on Thursday. This is a four-weekday total of right at $6 million for the period of December 10-13. This past weekend, the failed fantasy epic had performances of $1.36 million on Friday, $1.76 million on Saturday, and $1.43 million on Sunday. As you can see, its third weekend in release saw box office roughly equivalent to its first set of weekdays.

Now consider its Christmas weekdays. Monday, Christmas Eve, was negatively impacted by the holiday as were all the other titles. The Golden Compass earned only $1.00 million on that day. On Tuesday, it increased 38% to $1.38 million, a total slightly above its performance on the previous Friday. The day after Christmas, the movie increased another 28% to $1.76 million. This amount is equal to what the film managed last Saturday and surpassed any performance during its first set of weekdays. This number is a $500,000 increase from the title's first Thursday on December 13th. Stating the obvious, that should not happen.

Walk Hard: The Dewey Cox Story is a similar situation. The title bungled its way to $1.50 million on Friday, $1.38 million on Saturday and $1.30 million on Sunday. Yes, there was something of a rush factor last weekend to watch the comedy, as much as that concept boggles the mind. On Christmas Eve, it was particularly crushed, falling to $0.56 million. This 57% drop was the second largest of any title within the top ten. Christmas Day saw a 175% spike to $1.53 million. Yes, that is the largest single day total the movie has made to date. On Wednesday, the title held up very well with $1.3 million, a number matching its prior Sunday's performance. Yesterday, the title declined to $1.06 million. So, even this title with very little appeal to consumers had its best day on a weekday and matched a weekend day's performance on a Wednesday. Yesterday's slippage notwithstanding, it has demonstrated exactly the behavior we would expect.

While the point has been made, I do want to offer one more example for your consumption. Charlie Wilson's War, the movie that claims arguably the strongest star power out of current titles in release, got off to a mediocre start. It earned $2.79 million on its first Friday, $3.70 million on its first Saturday, and $3.17 million on its first Sunday. Christmas Eve saw the Tom Hanks film decline 38% to $1.96 million. What's noteworthy is what has happened since. Like Walk Hard, Charlie Wilson's War had its best day come on its fifth day in release. Christmas Day receipts totaled roughly $4.34 million, a number 17% higher than its Saturday. Wednesday saw receipts of $3.72 million, also a number that exceeded its prior Saturday. The $3.07 million it earned yesterday also surpasses its Friday debut.

Charlie Wilson's War is a textbook example of the power of Christmas weekdays. The movie opened to only $9.66 million in its first three days. Over its last three days, it has earned $11.13 million, a total 15% stronger than how it started. In this day and age of heavy frontloading, such box office behavior simply does not exist. Movies are not supposed to outperform their opening weekends unless they are titles such as My Big Fat Greek Wedding, The Blair Witch Project, There's Something About Mary and The Sixth Sense...and you will notice none of these films was released in the last five years. As exhibitors and distributors embrace the "first in, first out" philosophy more and more, the days of long box office legs are a thing of the past. Charlie Wilson's War is not demonstrating such behavior, either. All it is doing is capitalizing upon an odd calendar-predicated scenario that causes the proverbial high tide to raise all boats.