DVD Review: Alice in Cartoonland
Alice in Cartoonland
By John Seal
December 26, 2007
BoxOfficeProphets.com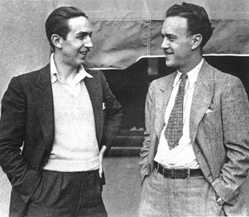 ---
In 1923, a 22-year-old animator named Walt Disney — born in Chicago, but then resident in Kansas City, Missouri — directed a one-reel comedy entitled Alice's Wonderland, in which a young girl pays a visit to a film studio to witness the creation of a new cartoon. This was no ordinary cartoon, though — it blended animation with live action, and provided young Disney with his first big break, as well as the impetus (via the eventual bankruptcy of his Laugh-O-Gram Studios) to leave the Midwest and bring his talents to California. He would also bring a young actress, six-year-old Virginia Davis, with him, and together they would create 14 Alice cartoons. Davis left the team, but Disney would continue the Alice series for several more years, utilizing different child actresses in a further three dozen productions.

Almost 80 years after the fact, Ms. Davis resurfaced at the 2003 San Francisco Silent Film Festival, where she received a rapturous reception and proceeded to answer audience questions during a lively half hour session (she's still with us today, at the age of 89), after which several of the Alice one-reelers, including Alice's Wonderland, were unspooled. Unseen for decades, these inventive little films put the lie to the charge that Disney was a hack who bled dry the anarchic sense of humor we associate with early animation — and indeed prove that he CONTRIBUTED to the anarchy — and were warmly received by the Castro crowd.

Since then, the Alice films have started to leak out in digital format. The best way to get a sampling of the series is via VCI's Alice In Cartoonland, an inexpensive disc that showcases ten cartoons in near pristine condition — though it doesn't include that first groundbreaking effort, which had already popped up (along with six other Alices) on the Disney Rarities: Celebrated Shorts DVD in late 2005. What sets the VCI set apart is the provenance of the prints, which were struck from 35mm negatives in very good condition. Purists may object to the 1930s period soundtracks, added to provide the shorts some additional commercial life and voiced by an anonymous but familiar-sounding voice actor, but you can always press the mute button!

First up is Alice's Orphan (1925), in which our heroine (Margie Gay, who essayed the role more than any other actress) and her cat companion Julius adopt a troublesome diaper-swaddled kitten abandoned in the snow. The film features very little of Alice, and when she's onscreen she does little more than gesticulate, a problem that undermines a number of films in the series. The traditional animated sequences, however, are a delight, especially when Julius gives his tiny brethren a bath. Scrubbed vigorously on a washboard, little Oscar (for so he has been named) is wrung out like a wet towel and forced to drink ink in order to assume his 'normal' black shadings. Alice's Tin Pony (1925) features Alice and Julius as the proprietors of an Old West railway line entrusted with the safe transportation of a big payroll (we know it's so, because the shipping container helpfully says 'Big Pay Roll' on the side). Alice gets to drive the train, and this offers a far superior blend of live action and animation than does Alice's Orphan.

Virginia Davis makes her only appearance on the disc in 1925's Alice in the Jungle, and it's immediately apparent that she was a much better physical actress than young Ms. Gay. Introduced riding atop the back of an (animated) elephant, Ms. Davis is a far more agile and mobile Alice, engaged on a big game hunt in this outing. She fails to bag the expected trophy, whilst Julius loses his tail to a crocodile and quite literally gets his ass kissed by a monkey barber! 1926's Alice's Balloon Race saw Gay return to the role — presumably parents and labor laws were averse to children filming on a full-time basis — and sees Alice and Julius vying for a $10,000 prize in the titular competition. Alice has very little to do in this film, which mostly features Julius doing battle with a variety of other creatures, and it's definitely one of the least interesting toons on the disc. Next on the menu is 1925's Alice Chops the Suey, in which Julius makes his entrance via an inkbottle and the animator's (Disney's?) on-screen hand. Alice also arrives in like fashion, cleverly shaking off ink to reveal herself in a Chinatown setting, where our duo are threatened by a politically incorrect gang of pigtailed rats in skullcaps. There's no chop suey in sight, and only the heavily armed rats get up to any chopping.

Alice the Whaler (1927) features Lois Hardwick in the lead role, and she proves to be a real child of the roaring '20s, complete with bobbed hair and faux-Charleston moves. Thankfully there's little whaling depicted here, as the story primarily revolves around a series of cookhouse mishaps, including a chicken that won't stay in the pot and a potato-peeling mouse (proto-Mickey?). Alice Rattled By Rats (1925) finds our heroine leaving on a road trip, with Julius left in charge of things — including elimination of the household rodent problem. Unfortunately, he takes an accidental bath in some Prohibition-era home brew, and a tight cat cannot run a tight ship! Also from 1925, Alice's Egg Plant features the sole series appearance of Anne Shirley, the only 'Alice' who would continue her film career as an adult (Shirley appeared in such classics as Three On a Match, The Devil and Daniel Webster, and Murder My Sweet before retiring in favor of married life in 1944). As for the film, it's one of the best on the disc, and revolves around the revolt of the local henhouse, whose occupants are required to fill a last minute order for 5,000 eggs. Providing commentary on labor issues and even factory farming—these chickens punch a time clock and go on strike — Alice's Egg Plant also features an egg-laying pig!

The disc concludes with Alice the Jail Bird (1925), in which Alice and Julius ride atop a turtle, steal a pie from a high window ledge, and end up breaking rocks in the pen, and Alice Solves the Puzzle (1925), wherein our young protagonist matches wits with crossword maven Bootleg Pete, a peg-legged bear who also appears in Alice's Tin Pony. Extras on the disc consist of a trio of pleasant but inessential Weiss Brothers Krazy Kid Kartunes, none of which are anything special, and a brief but useful essay about the series. All these cartoons feature scattershot moments of utter brilliance, comic violence of the Itchy and Scratchy variety, risqué material, and the surreal atmosphere and anthropomorphized characters we associate with animation of the 1920s and 1930s. Anyone interested in the history of animation or the life of Walt Disney needs to own this disc—and if Virginia Davis makes an appearance at your local bijou, don't miss it!