Weekend Forecast for December 21-23, 2007 Part 1
By Reagen Sulewski
December 21, 2006
BoxOfficeProphets.com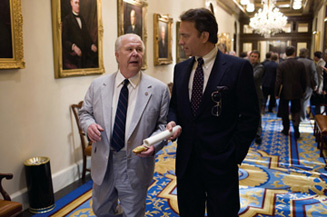 ---
Seemingly fed up at movie goers ignoring virtually every release from September to just a couple of weeks ago, Hollywood has decided to throw the whole shebang at multiplex audiences, with an astounding nine films opening or expanding into wide release between this weekend and New Year's. Shrug off these films, jerks!

By far the highest profile of these films is National Treasure: Books of Secrets, which commandeers screens in an incredible 3,832 venues this weekend. This low rent Indiana Jones knock-off/Da-Vinci-Code-with-better-hair starring Nicolas Cage was a sleeper hit in the fall of 2004, opening to $35 million and collecting $175 million in total. The sequel brings back his treasure hunter character after evidence implicating his great-grandfather in the assassination plot of Abe Lincoln is discovered.

This leads to a globetrotting adventure to clear his ancestor's name, which includes breaking into Buckingham Palace and the White House and kidnapping the President as crucial parts. ...could work.

The trailer doesn't feature anything quite so gobsmacking ridiculous as "We have to steal the Declaration of Independence", but I dare say the above plot is a decent try. National Treasure 2 also brings back most of the major players from the first one, including Diane Kruger, Harvey Keitel and Jon Voight, adding in Ed Harris, Helen Mirren and Bruce Greenwood. I think this series is due for a bit of a bump based on how leggy it was last time around, and should see an opening weekend of about $53 million.

No one is hotter in comedy right now than Judd Apatow, and it's not even worth arguing about; everything the man touches turns to gold, be it as a producer, director or writer (we'll just ignore Kicking & Screaming for a little while longer, thanks). Walk Hard: The Legend of Dewey Cox is his latest effort to drain every single comedy dollar out of the marketplace and claim it for his own. Apatow produced and wrote this one, leaving the directing to Jake Kasdan, whose 1998 debut film Zero Effect is a minor masterpiece. I feel like I'm forgetting something here... what is it... oh, right!

John C. Reilly, who you probably remember as Will Ferrell's sidekick in Talladega Nights (though the man has an Oscar nomination - you could at least remember that!) as fictional music legend Dewey Cox, whose career passes Forrest Gump-like through all the major events in pop culture in the last 50 years. More a parody of Walk the Line than anything, Walk Hard seems content to tweak every convention of the musician biopic/hagiography craze that's come into vogue in the last few years, to absurdist effect.

Although I wasn't too keen on the initial trailer, it maybe just took me a little time to warm up to the concept, and this looks like another winner for Apatow. Although Reilly isn't someone who you might think of to carry a comedy as a lead, he's got unquestioned comedy skills, and importantly for this film, can actually sing, which I think will make more of a difference to the box office than you might expect. If an Apatow production can make Michael Cera and Jonah Hill into $30 million plus movie stars, there's no reason Reilly couldn't become one as well. Add in the surprisingly positive reviews - where so many other parodies are stupid and obvious, this one appears to have bite - and we've got the makings of a surprise smash. Look for a debut take of about $21 million.

Charlie Wilson's War marks the return of two of Hollywood's biggest stars to the screen after extended absences. Tom Hanks hasn't been in a film in the over a year and a half since the release of The Da Vinci Code, while Julia Roberts hasn't appeared in a live action film in nearly three.

Hanks stars as the titular Congressman, who in the late 70s was known as one of the biggest womanizers and partiers on Capitol Hill. After the Soviet invasion of Afghanistan in 1979, Wilson discovers that because of the unique set of committees he sits on, he has the ability to funnel money to Afghan Mujahedin to secretly fight the Soviet Empire. Wilson achieves this mainly through the fact that no one would believe he had the audacity or will to do so.

Directed by Mike Nichols and scripted by Aaron Sorkin, Charlie Wilson's War is a satirical take on governmental operation and foreign policy in the '70s and '80s, which, I know, just sounds like a lighthearted romp that's fun for the whole family. The tremendous pedigree of the film is its biggest asset, which also includes Roberts as the socialite who introduces Hanks's character to the cause, and Philip Seymour Hoffman as an embittered CIA agent who makes much of the behind the scene action happen.

Reviews are politely positive for the film, which has hopes to be a major Oscar contender. It's going to need the air of a winner to do so, though it needn't be a blockbuster. I see an opening weekend of $14 million, which might be enough.

What's Christmas without a musical? Nothing, according to studios lately, who've fully jumped on the bandwagon of giving audiences at least one all-singing all-dancing option each end-of-December. Sweeny Todd is no typical musical, however, with its subtitle, The Demon Barber of Fleet Street.

Directed by Tim Burton, the film stars Johnny Depp as a barber framed for a crime and sent away by a judge who lusted after his wife. When he returns to London, he finds his wife dead and his daughter the ward of that same judge. Meeting up with a woman who serves "The Worst Meat Pies in London", he hatches a bloody plot for revenge. The Sound of Music, this ain't.

The original musical was written by Steven Sondheim and was a smash success, winning multiple Tony Awards and keeping the good people that make Karo syrup in business. With its macabre subject matter, it seems a natural subject for Burton, if he absolutely has to do a musical (apparently that's so). And of course he'd pick Depp and Helena Bonham Carter as his leads, as they are three grim peas in a pod.

Depp may be the hottest star in Hollywood right now, though he's relatively untested outside of his recent Pirates bonanza. If any actor could sell this film to multiplex audiences, it'd be him. Another big aspect in its favor is that it's the best-reviewed new film of the week, though the actual singing of the leads is apparently a bit suspect. Opening on just over 1,200 screens, Sweeny Todd will be a big hamstrung, but should still see about $10 million of business in its opening weekend.

P.S. I Love You is the big romantic option for the weekend, although your interpretation of romantic would probably have to include "morbid" in the mix. Hilary Swank stars as a widow who discovers that her husband (Gerard Butler), knowing that he was going to die, left her ten messages giving her quests to ease her pain. It's like Chicken Soul For the Afterlife's Soul!

Reviews have teed off on this, with the words cloying, treacle and trite entering the discussion at various points. This appears to be that annual chick-flick that really is solely for chicks. In addition to the two leads, the film also stars Lisa Kudrow, Gina Gershon, James Marsters, Kathy Bates and Harry Connick, Jr., who are all fine actors (at least in theory) but not really the kind of actors to bring people into theaters. Butler rocketed into at least name recognition this year with 300, but there are far too few people impaled with spears in this film for that to really matter. I look for this one to be the odd film out of the new releases on Friday, opening to just $6 million.

I Am Legend surprised just about everyone by opening to a December record of $77.2 million in its debut, further adding to [bp:91_]Will Smith[/bp]'s box office legend. An apocalyptic "zombie" film, it stars Smith as the last man on Earth, working to find a cure for a plague that has killed everyone but him. A moody thriller, it obviously captivated the imaginations of audiences with its premise - now the question is whether it can hold those.

I don't consider it much of a candidate for legs, but neither do I see it dropping through the charts precipitiously. Smith's bombs have usually been readily apparent (Wild Wild West, Men in Black II) and this one looks to be at the very least an I, Robot - competent but inoffensive. Its second weekend should be in the neighborhood of about $45 million, bringing its two-week total over $150 million.

The other big surprise was the performance of Alvin and the Chipmunks, which surely foretold some sort of imminent danger to the culture by earning $44 million in its opening weekend. Why three talking rodents eating turds was equal to two times a Garfield movie is a mystery for the ages, but that's the world we live in now. Sadly, I think this thing's going to have legs, as it's achieved the kind of critical mass necessary for a big run. Stupid, non-discerning kids. It should see about $29 million this weekend.

It's lucky for the new films that there's not much out else out there threatening in terms of returning films. The Golden Compass is in free fall after losing nearly two-thirds of its opening weekend box office last frame, Enchanted is almost done its run, and No Country For Old Men is making an extended run but is yet to crack $5 million in a weekend. It's just about the right time for a full-court-press.

Stay tuned later this week for Part II of the Christmas Week releases.