Friday Box Office Analysis
By Tim Briody
December 15, 2007
BoxOfficeProphets.com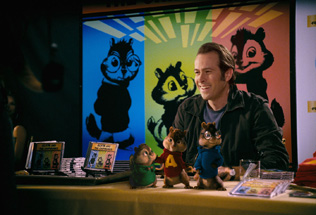 ---
The fourth of July, Valentine's Day, December. No matter what time of the year, Will Smith delivers the goods.

[tm:3002_]I Am Legend[/tm]

After weeks of build, the biggest December tentpole in awhile delivers in spades. I Am Legend raked in an incredible $30.7 million on Friday. While it doesn't touch any of the summer single-day records, this is still a phenominal figure. Only one other December release has ever scored a higher single day figure, the opening day of Return of the King back in 2003. Chalk it up to audiences that have been starved for much of anything for nearly a month now, and the ever-impressive drawing power of Will Smith. Even going with a very conservative multiplier of 2.6 since there's really nothing that could provide a legitimite comparison, that is still a fantastic opening weekend of $79.8 million.

[tm:1773_]Alvin and the Chipmunks[/tm]

Perhaps neck and neck with I Am Legend for the biggest box office story of the weekend is a film adaptation of Alvin and the Chipmunks, which inexplicably opened with $13.3 million on Friday. I'm not even going to attempt to figure this one out, but the even worse news is that being targeted squarely at the pre-teen set, it should have an above average multiplier this weekend. Let's call it 3.2, which is a $42.5 million weekend. I think I need to go lie down now.

The Perfect Holiday

Another [tm:3952_]This Christmas[/tm] it's not, as The Perfect Holiday could only muster $700,000 on Friday. Which is more than the $600,000 it made on Wednesday and Thursday. Expect about $2 million over the rest of the weekend.

[tm:3566_]Atonement[/tm]

Helped greatly by seven Golden Globe nominations, Atonement earned about $500,000 on just 117 screens on Friday. Your second mortal lock for a Best Picture nominee (following [tm:2106_]No Country for Old Men[/tm]) should come in this weekend with about $1.5 million and will only add more screens over the holidays.

Notable Holdovers

The Golden Compass goes from slight disappointment to out and out disaster as it plunges 69% from a week ago with only $2.7 million on Friday. There's no sugar-coating here anymore, this expensive mistake is going to cost somebody their job. Expect about $9.3 million in its second weekend.