Weekend Wrap-Up for December 7-9, 2007
Golden Compass Lays Golden Egg at the Box Office
By John Hamann
December 9, 2007
BoxOfficeProphets.com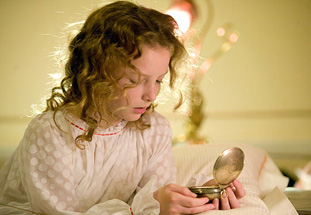 ---
After what has been a long, slow November, the box office needed a blockbuster this weekend in The Golden Compass, based on the popular (and suddenly controversial!) children's book. With only a few weekends until Christmas, studios and exhibitors had to be getting a little nervous, as the Thanksgiving frame produced only one big winner, Enchanted, and that had to face off with Golden Compass, both chasing the same demographic. The Golden Compass was sure to win this weekend, but would Enchanted hold it back?

Obviously, the number one film of the weekend is The Golden Compass. The question is how big was the opening would be. Surprisingly, the Nicole Kidman, Daniel Craig affair disappointed, opening to only $26.1 million from 3,528 venues. It had a lukewarm venue average of $7,405. This could be disastrous for movie-going holiday season. The Golden Compass was to be the big kid's flick of the season, and now it may get out-grossed by Alvin and the Chipmunks. Seriously, though, next weekend's I Am Legend and Compass were to be the two blockbusters to beat this Christmas, and now we have a Golden Compass opening not that much unlike last year`s Eragon ($23.2 million opening, $75 million finish). New Line spent $180 million on Compass (plus another $60 million to market it), and it will be extremely lucky to earn $150 million domestically - even through the lucrative holiday season.

For New Line, this is a tough time for a purported new franchise to come out with a stumble. This year the studio has $100 million films with Rush Hour 3 and Hairspray, but Rush Hour 3 cost New Line $180 million to make, and only earned $140 million domestically, well off expectations. New Line's third biggest film for 2007 so far was Fracture, which only earned $39 million. 2006 was even worse for the studio, as their biggest picture of the year was Final Destination 3, with a domestic total of only $54 million. New Line was looking for an opening between $30 and $40 million according to The Hollywood Reporter, and failed to match even those lowball estimates. New Line's president, Rolf Mittweig, said in the THR story that "there hasn't been a movie carried by a teenage heroine since The Wizard of Oz." Hannah Montana needs a live action movie.

So what happened to the Golden Compass? Did the religious controversy over the book keep the kids away? I doubt it, but I would say that the ad campaign for The Golden Compass made the film look quite violent, as these polar bears look militant compared to the type that drinks Coke. There was little "warm and fuzzy" on display here, and Kidman looked decidedly more adult than what this film was aimed at. Reviews were also unkind. At RottenTomatoes, The Golden Compass won only 59 positive reviews out of a possible 138, leaving it with a not so fresh rating of 43%. I am of the opinion that The Lion, The Witch and The Wardrobe wasn't all that, and it still earned a 76% fresh rating at RT.

This is more bad news for Golden Compass star, Nicole Kidman. Kidman hasn't appeared in a non-animated $100 million earner since Batman Forever (cringe) in 1995. That one opened to $52 million and managed to earn $184 million at the domestic box office. The last picture for both Nicole Kidman and Daniel Craig was the sci-fi flop The Invasion, which opened to only $6 million and finished with only $15 million in domestic ticket sales, despite costing Warner Bros. $80 million to make. Kidman's previous film to that was Happy Feet, which was huge, but her last live action flick, Bewitched, was another flop despite also starring Will Ferrell. That one also cost $80 million and made Sony only $60 million at the North American box office. Other misses of late for Kidman have included Birth ($1.7 million opening, $5 million finish), and The Stepford Wives ($100 million production budget, $21 million opening, $59 million finish). Other than the animated Happy Feet, her only moderate success has come from The Interpreter with Sean Penn, which opened to $23 million and finished with $78 million (but still cost Universal $80 million to produce). Kidman has two interesting projects coming up - Australia, for director Baz Luhrmann, followed by The Reader for The Hours director Stephen Daldry.

To sum up, The Golden Compass has really laid a golden egg for the studio and its stars. This was not the right project for director and scripter Chris Weitz, whose best credits include About a Boy and American Pie. Nicole Kidman was a poor choice, and the budget suffered from over bloat. To not enter even the $30 millions as an opening makes The Golden Compass a disappointment over opening weekend, and if it doesn't hold well next weekend, could make for a rather large flop for the folks at New Line.

What does a not so good opening for The Golden Compass mean for Enchanted? Mostly good news. In its third weekend, Enchanted earned $10.7 million for Disney, dropping 35% compared to last weekend. Enchanted continues its assault on $100 million as its total now sits at $83.9 million. The Disney princess movie should see at least $120 million by the start of 2008, which could be more than The Golden Compass ever sees.

In third place is This Christmas, which earned $5 million. The urban holiday flick was off an okay 37% from last weekend, and has been a huge hit for Screen Gems and Sony. This Christmas cost the studio only $13 million to make, and has now earned them $42.8 million, more than three times the production budget.

Fourth spot goes to Fred Claus, the Warner Bros. Christmas release. Fred earned $4.7 million this weekend, and was off an excellent 15%, as the seasonal release lowers the percentage drops. Unfortunately for WB, it's too little too late, as the $100 million production has now earned $65.6 million.

Beowulf falls behind Fred Claus, as the 3-D CGI piece falls further and further away from its monstrous $150 million production cost. Beowulf, no longer the only big effects movie in the top ten, earned an ugly $4.4 million this weekend, falling 46% compared to the previous frame. This performance pretty much ends Beowulf's shot at $100 million, as its total now sits at $76 million.

No Country For Old Men manages to rise from tenth spot last weekend to sixth spot this weekend, as it got past The Mist, Bee Movie and August Rush to finish further up the chart. No Country earned $4.2 million in its third weekend of wide release, and was off a tiny 3% compared to last weekend. No Country has now earned $28.9 million, and continues to be the front runner of this year's Oscar race.

The rest of the top ten is a mish-mash of bad ideas and aging holdovers. Seventh goes to August Rush, the sentimental Warner Bros. fantasy. August Rush earned $3.5 million and was off 30%. So far, this one has earned $25.1 million, and won't see more than $35 million.

Hitman is our number eight film as again, nothing is around to move this out of the top ten. Hitman earned $3.5 million and was off 42%. So far, the movie based on the game has earned $35.8 million.

Ninth goes to Awake, last weekend's sole opener and Hollywood's latest miss. After earning $5.9 million last weekend (all tickets sold were to the Jessica Alba fan club), Awake only managed to earn $3.3 million in its second weekend. That equals a 44% drop, and a gross so far of $10.7 million. Bye bye to rubbish.

Rounding out the top ten is Bee Movie, the Jerry Seinfeld flick that won't go away. Bee Movie earned $2.6 million, dropping 41% compared to its previous frame. Bee Movie has now earned $121 million, which sounds great, but it carries a production budget of $150 million.

Overall, it's sad times at the box office, but that may change next weekend (but that's what I thought last weekend). The top 12 films earned a woeful $73.2 million this weekend, which is close to what The Lion, The Witch and The Wardrobe opened to two years ago. Last year, the top 12 were led by low Apocalypto ($15 million opening), but still managed to earn an overall score of $87.1 million. Next weekend brings I Am Legend, so maybe that one will blow the stink off the current box office.