Weekend Wrap-Up for November 30 - December 2, 2007
Leftovers Enchanted at the Box Office
By John Hamann
December 2, 2007
BoxOfficeProphets.com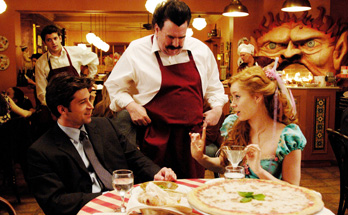 ---
The post-Thanksgiving weekend at the box office brought exactly what was expected; low box office totals, and a single opener that barely finished in the top five. Awake, the lone new opener from MGM and the Weinstein Brothers, tried to take advantage of a weekend with no other new releases, but the post-Thanksgiving weekend is notorious for its bah humbug-ishness. The winner of the weekend, much like last weekend, was Enchanted, as Disney's mix of live action and animation is captivating audiences across the continent.

The post-Thanksgiving weekend is a killer. Last year, the top 12 films went from earning $146.5 million over the turkey weekend, and then dropped to $81.2 million the weekend after. Three films decided to open, and like Awake, tried to take advantage of a quiet weekend. The Nativity Story, Turistas, and Van Wilder: The Rise of Taj, all flopped, with $8 million, $3.5 million, and $2 million openings. The nine holdovers in the top 12 dropped an average of 51%, with Flushed Away, an animated family film, dropping a weekend-worst 62%. In 2005 things were even worse. The heavily advertised Charlize Theron starrer, Aeon Flux, was the only opener at $12.6 million, and the rest of the top 12 dropped an average of 54%. Simply put, the post-turkey frame is not a friendly one for openers or returning films, and it was no different this year.

Our number one film is again Enchanted from Disney, which follows up its domination last weekend with more of the same this weekend. Enchanted earned $17 million from a same-as-last-weekend venue count of 3,730. Enchanted dropped 51% from its three-day haul last weekend of $34.4 million, and had a venue average of $4,564. How does this compare with other Thanksgiving openers? Last year, films that opened over Thanksgiving fared the best compared to their top 12 compatriots, as Deck the Halls dropped 44% and Déjà Vu fell 47%. What's different with Enchanted, though, is the demographic. Deck and Deja were both looking for older audiences than Enchanted, as the Disney target market opened Enchanted strongly last Friday, a day off for the kidlets. Without that daytime showing possibility this weekend, the percentage drop inherently goes up. Still, these are two solid weekends for Disney and Enchanted, and I have a feeling they will want to earn as much as possible before New Line's The Golden Compass shows up next weekend. Speaking of the Compass, sneak previews this weekend would have burned into Enchanted's core audience as well. Currently, the gross for the most-likely inexpensive production stands at $70.6 million. At this point, I would say $100 million is a given for Enchanted.

Landing in second is This Christmas, Screen Gems' surprise second place finisher over the long weekend with a three-day take of $18 million and a five-day haul of $26.3 million. Things aren't quite as happy this weekend, but last weekend's haul doubled the production budget, so no one will be too upset. This Christmas earned $8.4 million from a tiny venue count of only 1,858, and had a venue average of $4,521. With a budget of only $13 million, and a total so far of $36.9 million, This Christmas is making it a happy season for the folks at Screen Gems. In fact, This Christmas could be Screen Gems' biggest film of the year, if it can get past the $61 million that Stomp The Yard earned last January. That one cost the studio only $14 million to make, so maybe Screen Gems is becoming the new Lionsgate.

Finishing third is Beowulf, the three-weekend old CGI flick from Paramount. Beowulf, pulling along its $150 million production cost, could only muster a gross this weekend of $7.9 million, off 52% from the holiday frame. Paramount even added 31 venues to Beowulf's count this weekend, but it wasn't enough to keep momentum going. The total so far for the CGI release sits at $68.6 million, and won't be a total disaster as the overseas grosses have already reached $50 million.

In fourth we have our lone new release of the weekend, Awake. The Hayden Christensen/Jessica Alba thriller managed a top five finish this weekend, but earned only $6 million from 2,002 venues. This one had been on the shelf forever, and audiences smelled the dust. Shot back in 2005, the very few critics that saw this one, hated it, as there is only one positive review out of a possible 13 at RottenTomatoes. This one probably should have gone straight to video, and will be a memory in no time.

Dropping to fifth is another of last weekend's new releases, Hitman. The movie based on the video game earned $5.8 million, off 56% from the holiday frame. So far, Hitman has earned $30.2 million, and will top out around $50 million, which isn't bad for a bad movie.

Sixth spot goes to Fred Claus, another Christmas themed flick. Fred Claus is now in its fourth weekend, and earned $5.6 million over the post-Thanksgiving frame. The Vince Vaughn flick dropped 47% compared to last weekend, and has now earned $59.8 million. Look for Fred to finish with about $75 million, well back of its $100 million budget.

August Rush, the sickeningly sweet fantasy, earned $5.2 million. The Warner Bros. release dropped 45% compared to last weekend, and now has a cume of $20.4 million.

Finishing eighth is No Country For Old Men, the Coen Brothers' shot at a Best Picture win, and a clear favorite in the pack so far. No Country earned $4.5 million, as Miramax added another 135 venues this weekend. So far, the thriller has earned $23 million and could usurp O Brother Where Art Thou as their highest grossing film; that one earned $45.5 million.

Finishing ninth this weekend is Bee Movie, Jerry Seinfeld's somewhat successful return to mass media. Bee Movie, now in its fifth weekend, earned $4.5 million and was off a hefty 62% compared to the Thanksgiving weekend. Bee Movie dropped four spots from fifth, signaling the end of this film's run. Currently, the animated Paramount/DreamWorks production has earned $117.6 million, still well back of its $150 million production budget.

American Gangster finishes tenth, as the Denzel Washington flick continues to add to its impressive totals. Gangster earned $4.3 million for Universal and was off 53%. Currently, the Ridley Scott flick has earned an impressive $121.7 million.

Overall, things aren't great at the box office. The top 12 last year earned $81.2 million, and this year lags behind again, as the top 12 this year took in $76.6 million. All that could change next weekend, as I'm sure The Golden Compass is going to break out. How big will it be? Check back next weekend to find out.