Weekend Forecast for November 30-December 2, 2007
By Reagen Sulewski
November 30, 2007
BoxOfficeProphets.com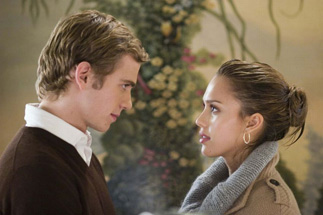 ---
The weekend after Thanksgiving, it's mostly leftovers at the box office.

With Thanksgiving being such a lucrative weekend, there's no advantage to studios to releasing films the weekend after it. As such, the sole new wide release film is [tm:1684_]Awake[/tm], a horror-thriller starring [bp:5338_]Jessica Alba[/bp] and [bp:2030_]Hayden Christensen[/bp].

Awake deals with the phenomenon of anesthesia awareness, a relatively rare occurrence in surgery where a patient is paralyzed but awake and feels everything. Christensen finally finds his range as an actor, playing a comatose heart patient who has this happen to him, and overhears that the doctors are planning to kill him, which will somehow make them rich. Some HMOs are clearly better than others.

Since watching a guy bleed to death while paralyzed would make for a rather dull and sadistic movie (quick! Someone call Eli Roth!), they expand the plot by casting Alba as his wife, whose part in the movie is described as "wrestling with her personal demons". Apparently this somehow ties into the anesthesia plot, but seeing as the movie wasn't screened for critics, it's nearly impossible to say if it makes any sense. My educated guess: probably not.

To round out the cast, there's also Terence Howard, Christopher MacDonald and Fisher Stevens(!) as the possibly evil doctors, along with a guy named David Harbour, whose character name is listed as "Dracula". If this plot actually works in vampires, then it might just be the most awesome movie ever. Every movie could use more vampires in it, including movies about vampires.

Awake opens on 2,002 theatres, and is being released by the MGM branch of the Weinstein Group, which has had a number of loud failures this year, as the Weinsteins have had a fair amount of trouble refinding their mojo after leaving Miramax. The ads do a valiant job of creepifying up the premise - and creepy it is, it's but a lot better suited to a short story than a film. I expect people to give this one a pass, with it earning about $6 million this weekend.

With that, the order for this weekend's box office should look a lot like last weekend's, which means [tm:2658_]Enchanted[/tm] gets an easy second weekend at the top. This fractured fairy tale, Disney's post-modernist take on itself, earned an impressive $49 million over the five-day holiday weekend. It's especially impressive when you consider that its biggest star was arguably Patrick Dempsey, though Amy Adams may have passed him in name recognition at this point.

Although family trips to the theater drop off considerably in the weekend after Thanksgiving, Enchanted is still going to be in pretty good shape, as its word-of-mouth is excellent, and it's got a reasonable amount of adult cross-over. Look for about $20 million this weekend, getting it very close to $75 million total.

[tm:3952_]This Christmas[/tm] was a surprise second place finisher, with $26 million over five days. This hit just the right note as a compromise pick for family holiday viewing, and is a beneficiary of the Tyler Perry Effect – although he didn't have a single thing to do with this film, it certainly looked like he might have. You just can't underestimate the appeal of a large black lady laying down the law to unruly family members, apparently. This might see a bit of a tumble to around $8 million this weekend, but it's already beaten expectations for its entire run.

[tm:2727_]Beowulf[/tm] "only" fell 40% in its second weekend, although that was the most of any film in the top 12, as the holiday weekend's high tide lifted all boats. That actually translates into heavy front-loading for a weekend where a lot of returning films dropped only 20% or so. At just under $60 million after two weeks, it's still doing okay, but it's a long way from blockbuster status. As I've said before, I don't think real-live actors have much to fear just yet. It should stay in third place this weekend with about $7 million.

A couple of family films, [tm:2517_]Bee Movie[/tm] and [tm:3125_]Fred Claus[/tm], look set to slip by [tm:2722_]Hitman[/tm] with one of them getting to stay in the top five overall. Odds are slightly better for Bee Movie, given that it's got a couple million headstart, but Fred Claus is surprisingly holding up better with audiences. Bee Movie is just the second movie since the end of summer to gross over $100 million, and could surpass [tm:1229_]American Gangster[/tm] as the top grossing movie since Superbad this weekend. Look for around $6 million for each of these two films this weekend.

An expanding No Country For Old Men could sneak in here, as it adds a couple hundred more venues in its fourth weekend. The probable Oscar-nominee (it's possibly even the front-runner at this point) earned an impressive $7.7 million on 860 screens last weekend, moving its total take to $16 million. The Coen Brothers seem to have returned to form quality wise (some of their lesser regarded films have actually earned significantly more than their Oscar films), but it also seems to have brought the box office with it. Look for another $5 million this weekend.

The aforementioned Hitman should come in around here, with about $5 million of its own, though this would represent a drop of nearly 60% over comparable time periods. Yet another video game adaptation that doesn't seem to have a great reason to exist, it may be the very definition of style over substance. It'll get crowded in the lower realms of the box office charts, as American Gangster, [tm:1832_]August Rush[/tm], and [tm:3852_]The Mist[/tm] all look to find this mark as well. December's films are just about ready to steal their screens.