Weekend Forecast for November 23-25, 2007
By Reagen Sulewski
November 23, 2007
BoxOfficeProphets.com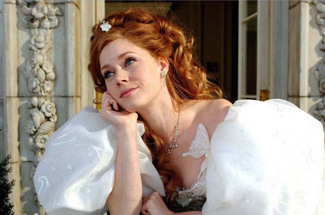 ---
Thanksgiving is traditionally one of the busiest weekends of the year at the box office; that is, if there's anything out there worth seeing. Although one studio (maybe two) will have something to be thankful for, this fall is quickly turning into the season that blockbusters forgot.

Perhaps only Disney could make a movie like [tm:2658_]Enchanted[/tm]. A modernist riff on the traditional fairy tale movies like Sleeping Beauty and Snow White, the parody might come off as crass and mean-spirited from any other studio. But Disney knows this stuff backwards and forwards, so who better to tear it apart – with love, of course?

A mix of traditional animation and live action, Enchanted starts off in a fairytale land where Princess Giselle (Amy Adams) meets up with who she thinks is the Prince of her dreams, Edward (James Marsden). When the evil Queen Narissa (Susan Sarandon) banishes her out of the kingdom and into the real world, she's suddenly forced to fend for herself for the first time. What's a princess to do?

Upon arriving in New York, she meets up with what passes for a prince in these times – a lawyer (Patrick Dempsey) though he carries a pretty dim view of the stereotypical princess role. Luckily for Giselle, some of her fairytale powers still work in the real world, which definitely comes in handy when Narissa and Edward come looking for her.

Directed by Disney stalwart Kevin Lima, Enchanted tries to poke fun at the tropes and traditions of fairy tales while still being one – kind of like Shrek without the lame pop culture jokes. As such, it's trying to do what a lot of family films do these days – work at two different levels, both for the kids that are the primary audience, and the adults that take them, so they don't skip out and see [tm:1229_]American Gangster[/tm]. It's something that Disney does very very well, and this should be a prime example of exactly that. Although the star power isn't fantastic, it's got some people on the verge of a breakthrough (or comeback) and the all-powerful Disney marketing machine. The widest opening film of the Thanksgiving weekend, it should have an easy win with about $34 million in three days, and $49 million over five days.

Although horror isn't traditionally a Thanksgiving genre, [tm:3852_]The Mist[/tm] has a better chance than most to break through on this family holiday. For one thing, it carries the Stephen King name, being based on one of his better stories. For another, it boasts strong above-the-line talent and a terrific premise.

A mysterious storm set in over a small Maine town, bringing with it an impenetrable fog that just won't lift. The setting of the film is a supermarket in that town, and the people trapped in it as it becomes clear that there's something a little menacing in it – something hungry that wants in.

As in many King stories, it's the people that are just as big a danger as the monsters outside. In this case, it's a miniature religious cult that springs up as people start to fear what's outside. A father (Thomas Jane) is then forced to choose between the unnatural horrors outside and a potentially murderous group of people inside – without knowing where he could run.

The Mist is directed by [bp:2545_]Frank Darabont[/bp], who's had some experience with helming Stephen King adaptations before, in The Shawshank Redemption and The Green Mile, both of which were nominated for Best Picture. There's no one predicting that for The Mist, but there are a lot of people saying that it's far more than an average horror film. Opening on a modest 2,400 screens, it's set for an opening three-day total of $17 million, with a $20 million holiday figure.

If you're avoiding the family and horror's not your thing, there's some action in the multiplexes with [tm:2722_]Hitman[/tm]. Based on the popular video game, it stars Timothy Olyphant as a nameless killer-for-hire with a distinctive (you'd think this is a bad adjective for an assassin, but I digress) bald pate and bar code on his skull. As he's pursued by both international police and shadowy conspirators, he moves across Eastern Europe eliminating his targets and trying to discover exactly who he is.

Directed by relative unknown French director Xavier Gens, it plays a bit like a Euro-trash, CGI'd up version of The Bourne Identity. The only other name in the cast you might recognize is Dougray Scott, though Thomas Knepper would be recognizable to Prison Break fans. In theory, this should keep it from making too much at the box office, though other videogame adaptations have done well with less. Just last year, Silent Hill opened to $20 million on the strength of Radha Mitchell, and of course there are the continually surprising Resident Evil movies.

Hitman simply doesn't look up to the quality of those films, as meager as they were, and reviews are abysmal. Not that Silent Hill was a critical darling, but at least it looked visually interesting. Hitman looks like a lot of mindless action, and while that can often be a recipe for success with big names, with someone like [bp:1214_]Jason Statham[/bp] or Timothy Olyphant, it's a recipe for mediocrity at the box office. Look for $11 million over three days, and $15 over five.

Finally, we get to two films that are actually about family. [tm:3952_]This Christmas[/tm] may be about the wrong holiday, but as we discussed with [tm:3125_]Fred Claus[/tm] a couple weeks ago, that's par for the course. Starring Regina King, Mekhi Phifer, Delroy Lindo and singer Chris Brown, it's about the first Christmas in four years for a family, with the egos and family pressures and the general holiday wackiness that really only happen in the movies. A generally bland looking "heart-warming" film, This Christmas looks inoffensive enough with enough star power to earn a few million over the next few days; give it about $7 million in three days and $9 million in five.

[tm:1832_]August Rush[/tm] is at least distinct; I'll give it that. A modern fairy tale with musical elements, it stars Freddie Highmore, of Finding Neverland and Charlie and the Chocolate Factory fame, as a musically gifted child whose musician parents (Keri Russell and Jonathan Rhys Meyers) don't know he's alive. Returning unknowingly to the spot where they met, he believes he can find them using his ability to hear music in anything (maybe the real mother was Bjork).

Directed by Kirsten Sheridan, daughter of Jim Sheridan and co-writer of In America, August Rush also stars Terrence Howard, William Sadler and [bp:2557_]Robin Williams[/bp]. It's a motley cast, though not without its charm. It's received mixed reviews, although with a few raves mixed in, so I wouldn't be surprised to see some passionate advocates for the film after this week. For now though, give it $6 million over three days and $9 in five.

After starting out with a $10 million plus opening day, [tm:2727_]Beowulf[/tm] looked like it might take off. It still won the weekend, albeit with a $27 million total, which is more than many expected, but it still reflects that audiences are somewhat reticent to check out adult-targeted animation. It's a big step up from Final Fantasy in terms of earnings and quality, but I think actors can breathe easy for a little while longer. It shouldn't crater on its second weekend, but $16 million seems a fair bet for Beowulf's second weekend.

[tm:2517_]Bee Movie[/tm] couldn't keep the momentum of its low second-weekend drop off on its third try, dropping 45% and falling to second place. However, it's nosing up to the $100 million mark, and is coming into its prime time. The analogous movie from last year, Happy Feet, ended up earning almost $200 million. I doubt it will get quite that high, but $150 million seems entirely possible.

Although it has plenty of competition, Fred Claus may be able to capture some of the family audience over the holiday. It's in a much weaker position than I'm sure that Warner Bros. had hoped and will almost certainly be under $10 million for this weekend, but this could be its last chance to prove itself before it sheds screens for December's blockbusters.

Two crime dramas, one on the way up, the other on the way down, are in the mix – No Country For Old Men, after reaching seventh spot on just 148 screens, expands to over 800. American Gangster slipped to third last frame, but has already earned over $100 million. Look for these two films to meet in the middle at about $6 million over the holiday weekend.