The Amazing Race 12 Episode 3
Please Lord Give Me Milk
By Reagen Sulewski
November 24, 2007
BoxOfficeProphets.com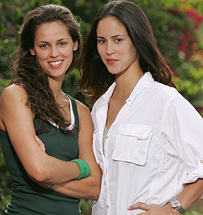 ---
Last week's Amazing Race brought us our typical dysfunctional couples soon to break up, but also a father whose daughter just couldn't please him, a heavy dose of freaks and a disoriented, nearly naked man covered in mud. And I was worried about the writer's strike affecting the quality of TV.

There's a medical note at the start of this episode, which is a rarity for the show. At the end of the previous leg, Ronald (who apparently has all his shirts labeled so as to question the patrelineal descent of everyone he meets) pulled a hernia – so now he's annoying and useless.

Lorena & Jason are first to leave at 4:19 a.m. on this leg, with the clue being the start of the annual third-world trip, where at least one team is guaranteed to embarrass their country. The destination is Ouagadougou, the capital of Burkina Faso. Naturally this team butchers the name of the city – and while I'll admit it's kind of a funny name, it's pretty straight forward, no? I mean, it's not like it's Albuquerque or Puyallup or something. Both they and the second team out, Nathan & Jennifer, stress just how much they drive their teammates crazy, which is why I'm sure a race around the world sounded like a good idea to them, so they could spread their crazy to the world!

Shana & Jennifer are closest to pronouncing their destination correctly, though they make up for that cultural savvy by complaining about how the race is affecting their beauty regimen. Meanwhile, Kynt & Vyxsin are turning into real-life Todd McFarlane dolls.

Azaria and Hendekea feel they'll be at home in Burkina Faso since they're from Ethiopia.... Which is like saying I'll feel at home in Spain since I'm from Poland. Big advantage you'll have there, I'm sure.

This leaves us with the trailing three teams to catch up, though this feels like one of those situations where everyone gets to catch up at the airport. I doubt there're five flights daily from Amsterdam to Burkina Faso.

My suspicions prove largely correct, as there's just one real flight a day from this part of the world, connecting through Paris. Nathan & Jennifer make a stab at an earlier flight to Paris, although since they're all connecting on the same flight, I'm not too sure of the point.

Every other team does get to the later flight to Paris, but with just a few minutes to spare for Ronald & Christina, who are hamstrung by starting an hour later, and Ronald's physical ailment. As it happens, there is a delay on the second flight due to mechanical issues, which could give Nathan & Jennifer as much as a day lead. I'd expect to see the producers out breaking the next plane in that eventuality, so it's good the second plane arrive just in time. Once again, airport drama amounts to nothing, though it's a tighter call than usual.


After landing in Ouagadougou, it becomes a scramble for taxis to get to the train station. A couple of teams, notably Marianna & Julia, break out the official foreign language of The Amazing Race, Spanish, to talk to the locals (though to be fair, they are Latino, and they do mix it up with French, the official language of the country).

The teams must now board the train to Bingo, a wide spot in the middle of the savannah. The odds that one of these teams will be lost permanently just jumped to 5:1. The train doesn't leave until the next day however, and everyone's stuck at the station overnight.

This allows the producers to throw in some local color as the teams partake in some ethnic dancing that apparently just strikes up every night, and it also gives creepy Grandpa Donald a chance to leer at a few of the women on the race. "They're feisty, they're hot. A little bitchy but not bad. A guy could learn to live with it." Oh, and you're the catch of the race, aren't you?

Our first big Ugly American moment comes as the teams decide that the fragrance of the train car isn't quite up to their standards. And okay, there's garbage piled beside the tracks, but you're not endearing yourself by waving at the air. I'm looking at you, Shana & Jennifer.

Despite the promised potential that one team could miss the stop and end up completely stranded in Africa, all the teams find the clue box promptly, which is the Roadblock challenge for this leg. In it, one team member has to milk a camel to get enough to drink, then down it.

It's pretty much a straight milk-off, as every team is there at the same time. To the calmest go the spoils, which is definitely not Lorena. Apparently, it's a bad idea to send the teammate that's nervous around animals to do the Roadblock that involves touching them in a fairly intimate place. Who knew?

This Roadblock in general is kind of surreal and PG-13, verging on R rated at times, with cries of "Nipples!" and "Swallow every drop, baby!" being my favorite out-of-context quotes. The first racer to complete the task, TK, looks extremely happy to not have to drink any more of the milk. To get to the next task the teams have to lead a group of four camels to a nearby village.

Roadblock struggles continue for Lorena, as her camel seems to have a sense of humour, continually kneeing her bowl and knocking it onto the ground. We're well on our way to a complete meltdown for her, as she starts unintentionally mimicking the camel's yells. Hey, let's see someone grab your boobs and we'll see how it feels.

At this point five teams have finished the Roadblock, but four started out going the wrong way. This evens things out considerably, and Nathan & Jennifer, the fifth team, close in on the others. The other Jennifer uses an... interesting technique to extract some milk, that has Vivid video dialing her number as we speak. The four remaining teams have to switch camels, though Lorena is clearly in the bad place as far as rational thought goes.

TK & Rachel reach the clue box first, giving them the Detour clue. They'll have to either learn ten words in the local language or teach ten words to a local schoolchild. In other words, it's Citizen of the World, or Cultural Imperialist. There's an interesting strategic angle to this task, as teaching relies on the abilities of the kid a team picks, while learning is all on them. Some of the fatigued teams, including Ronald & Christina and Nicolas & Donald decide that they're too dazed to think about learning, which makes a certain amount of sense. Of course, Ronald immediately embarrasses himself by trying to relate a skyscraper to an African child through King Kong.

Azaria and Hendekea hit on the winning strategy for the learning task, which is to each learn five words each, halving their learning time. This works brilliantly for them, getting them out in front, except that this puts them right in the middle of a sudden storm. This gets them to the Pit Stop in a rainy and wet first place.

It could be worse, though, they could still be stuck at the Roadblock. I mean that would just suck. Wait – there are still teams there? It's down to Marianna and Julia and Lorena & Jason, and it looks like Lorena may get an epic fail in this task, until Marianna (or Julia?) tells her to try a camel with a baby. That's it – steal the food right out from the baby camel! This is an insanely bad idea for them, even though it establishes them as basic human beings. As the second to last team, never offer the last team any help. It's a frickin' race, people.

The Detour proves relatively simple for most of the teams that have made it there so far, leading to one of the closest, and ultimately pointless finishes in The Amazing Race's history, with five teams arriving within seconds of each other.

This leaves Shana & Jennifer, Marianna & Julia and Lorena & Jason in danger of being eliminated, though Shana & Jennifer have enough of a lead to make it for seventh. Jennifer has a near meltdown at the mat at this information, and I'm expecting a Prozac eating contest for the next leg.

The two remaining teams are trading word for word at the learning Detour, with Marianna & Julia stumbling a bit on the word for hut. Lorena & Jason beat them out by one word, and in the foot race to the Pit Stop, they are ultimately faster. This knocks out Marianna & Julia, which makes them the annual team that is eliminated before any of us can tell which person is which.

The lesson as always – altruism is for suckers.