Weekend Wrap-Up for November 16-18, 2007
Beowulf and Old Men Winners at Slow Box Office
By John Hamann
November 18, 2007
BoxOfficeProphets.com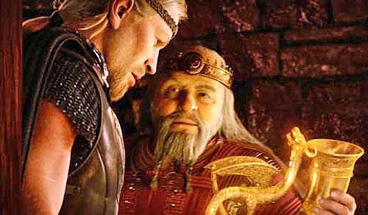 ---
It was a weekend of good news and bad news at the box office. The good news is that Beowulf, the CGI action fantasy, opened at number one, almost reaching $30 million. The other good news is that the Coen Brothers' No Country for Old Men finished very strongly this weekend, earning a top ten spot despite being out to only 148 venues. The bad news is everywhere. Mr. Magorium's Wonder Emporium flopped, holdovers fell hard, and the top 12 films this year were absolutely crushed by the top 12 films last year. The scary thing is that even the Thanksgiving weekend crop is looking quite unfriendly.

Our number one film is Beowulf, the $150 million co-production between Paramount, Warner Bros., and Steve Bing's Shangri-La Entertainment. Beowulf earned an only so-so $28.1 million from 3,153 venues, grabbing a venue average of $8,912. Is this weekend total something to get excited about? Not really. Considering the ambush marketing we've seen from Beowulf, domestic distributor Paramount can't be happy that its mega budgeted flick failed to reach $30 million, even though tracking was right on target. Let's not forget that 300, another historical epic, found over $70 million over its opening frame in March, and that this opening is not much better than the $23 million that the similarly creepy looking Polar Express opened to in 2004. The TV ads trumpeted Beowulf as opening at IMAX 3-D, 3-D Digital cinemas and movie theatres everywhere, which left me not wanting to see this on a regular screen, and waiting for the 3-D experience. Major critics were shown Beowulf in 3-D, with their reviews trumpeting the 3-D process. Without a 3-D venue in my market, my 'want-to-see' level for Beowulf was completely destroyed. With the result this weekend, I don't think I was the only one.

Reviews at RottenTomatoes were good for Beowulf, but it certainly was no home run. Of the 129 reviews counted at RottenTomatoes, 91 were positive, leaving Beowulf with a 71% fresh rating. Because of the impending holiday season, I think Grendel and his killer will see $100 million domestically, and international grosses will match that of domestic, making Beowulf a moderate hit. I also think - whether I like it or not - that this is the future of the blockbuster, and eventually we will see a huge earner come out of this motion capture process.

Finishing second this weekend is Jerry Seinfeld's $150 million Bee Movie, and for the second weekend in a row, we are going to have to hear what a success Bee Movie is due to the fact that it's either been number one or number two for three consecutive weekends - but don't believe it. Bee Movie earned $14.3 million from 3,984 venues, and had an average of $3,589. It plunged 44% compared to last weekend after dropping 33% in that frame - drops that are much too high for a film aimed at the family set. Bee Movie will have to wait another weekend to reach the $100 million mark, as its total so far is $93.9 million - about $10 million behind American Gangster - an R rated violent film for adults - which was released on the same weekend.

Third spot goes to American Gangster, and like Bee Movie, the Denzel Washington flick saw a bigger than expected drop. After earning $24 million last weekend, American Gangster took in $13.2 million and was off 45%. The good news for Gangster was that it was able to get across the $100 million mark this weekend, bringing its total up to $101 million. That's only the third time Denzel has crossed the $100 million mark in his career. Look for American Gangster to earn about $140 million.

Fred Claus is our number four movie, and unlike some other holiday themed films, its drop may hold Vince Vaughn's career up as a family film star. Fred Claus earned $12 million from 3,603 venues, and was off an okay but not good enough 35%. The original Santa Clause with Tim Allen fell only 11% the weekend after it was released, and its sequel fell 15% in its second frame. Fred Claus will need a significant lift next weekend to keep momentum going heading into the Christmas season. So far, Fred Claus has earned $35.8 million.

Walden Media's Mr. Magorium's Wonder Emporium opens in a disappointing fifth, as the studio takes another hit following the flop of The Seeker ($8.7 million domestic finish) earlier this year. Magorium earned only $10 million this weekend from 3,164 venues, and had an atrocious venue average of $3,168. Did Fox-Walden forget to market this one? Did they shy away from any investment because they knew they had another turkey on their hands? Reviews were not great. RottenTomatoes found 78 reviewers who sat through it, and only 29 liked it enough to give it a positive review. That's 37% fresh for this kids flick, and follows the 13% fresh rating that The Seeker received in early October. Even with Thanksgiving approaching, Magorium will be lucky to earn $50 million at the domestic box office.

Dan in Real Life continues to be one of the few bright spots at the box office, as after a slow opening frame, the Steve Carell flick has held quite well. Dan in Real Life earned $4.5 million, but fell only 25% after dropping a slim 24% last weekend. Dan has turned a quiet $11.9 million opening into $37.1 million so far, and should have another healthy take next weekend. I'm looking for the Disney dramedy to earn $50 million by the end of its run.

The best news of the weekend finishes seventh, as Joel and Ethan Coen are back this year in a very big way with No Country for Old Men, a film I had the pleasure of seeing on Wednesday night. No Country for Old Men earned $3.1 million this weekend from only 148 venues, giving the Coen's a blistering venue average of $20,932. This movie is that good - a super thriller combined with a biting social commentary. It has multiple Oscar written all over it - Javier Bardem, Tommy Lee Jones and especially Josh Brolin deserve Oscar nominations for this one, as well as Joel and Ethan Coen for directing and writing. No Country is 96% fresh at RottenTomatoes, and will hopefully be embraced by the larger movie going public. So far, No Country for Old Men has earned $4.9 million, and I encourage everyone to see this film.

Finishing eighth is Lions for Lambs, the Tom Cruise, Robert Redford, Meryl Streep flick that landed with a loud thud last weekend. Lions earned $2.9 million in its second frame, dropping 57%. This $35 million film has now earned $11.6 million, and will be lucky to reach $20 million.

Ninth goes to Saw IV, as a weak crop keeps this one in the top ten. Saw IV earned $2.3 million and was off 53%. So far, the fourth film in the Saw franchise has earned $61.9 million.

Tenth goes to Love in the Time of Cholera, another Javier Bardem film in the top 12 this weekend. Cholera could only manage $1.9 million from 852 venues, and will disappear next weekend.

Overall, things are not great at the box office, and I don't see things picking up any time soon. The top 12 this weekend pulled in a lame $94.7 million. That's a wicked 29% drop from last year's top 12 take of $133.6 million. We have now had two consecutive November weekends where the the top 12 failed to earn $100 million - the last time a single November weekend had a sub-$100 million frame was 2001, and the last time we had two was seven years ago. Next weekend doesn't look all that much better with The Mist, Enchanted and Hitman hitting screens.