Weekend Forecast for November 16-18, 2007
By Reagen Sulewski
November 16, 2007
BoxOfficeProphets.com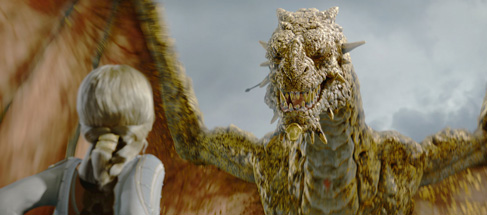 ---
Studios are trying hard to roll out their big fall films in advance of Thanksgiving, but the noisy failure of a couple of high profile films last weekend put a damper on the potential of that weekend's bonanza. This weekend's releases aren't helping matters either.

The future of computer animation, or at least what [bp:5228_]Robert Zemeckis[/bp] hopes is the future of computer animation, gets previewed this weekend with the debut of [tm:2727_]Beowulf[/tm]. An adaptation of the Old English legend, bane of literature students everywhere, into photo-realistic animation, it's the first attempt at making an animated action film solely for older audiences since Final Fantasy in 2001, which took the world by storm and changed cinema forev... oh, right.

Zemeckis is no stranger to this medium, having brought The Polar Express to the big screen in this format three years ago, with that ultra-creepy [bp:3277_]Tom Hanks[/bp]. That was a huge hit, so he's decided to try again with ultra-creepy [bp:101_]Angelina Jolie[/bp]. Okay, so Ray Winstone is the lead character, but no one's heard of him anyway. Winstone voices the legendary warrior Beowulf, who is tasked to kill the beast Grendel, along with his mother (where Jolie comes in). It's an epic in the literal sense of the word, and one of the oldest recorded tales of English literature.

Much has been made of the digital effects and the fact that most of the characters are near perfect recreations of the actors that are voicing them. This also includes a lot of hype about virtual Angelina Jolie nudity, which is sort of sad, considering the mountains of porn out there, and that so many of you probably haven't rented Gia (go rent it. Trust me). I suppose to be fair, this Jolie is only slightly more fake than the one in Tomb Raider. The pursuit of photo-realism is kind of this film's downfall, as it simply isn't perfected to the point where it's not distracting, especially in some of the action scenes we've been presented, which have a distinct videogame feel to them.

This film likely would be in a lot of trouble, save for a 3-D IMAX version, which is reportedly outstanding and breathtaking. Reviews are also stronger than expected, though they're mostly directed towards the visual elements of the film. It's still going to struggle to impress at the box office, and we should be looking at about $19 million on the weekend.

Almost as reliant on visual effects is Mr. Magorium's Wonder Emporium, an unwieldy yet fun to say title. Written and directed by Stranger Than Fiction scribe Zach Helm, it stars [bp:175_]Natalie Portman[/bp] as a woman who inherits a magical and sentient toy store from its original owner, the Wonka-esque Magorium, who is played by [bp:6_]Dustin Hoffman[/bp]. But when he leaves the store and a corporate influence tries to sneak in, it starts to misbehave in unpredictable ways, causing chaos and threatening the wonder of the store.

An art director's dream, this film seems to have an aggressive cuteness that might be a bit much to take, though for kids (whom it seems to be pitched at), it might just be perfect. Reviews are pretty savage, with many critics particularly singling out Hoffman as a low point. The bright and shiny visual design should attract some audiences, but ultimately this is probably going to be an off-putting movie to most audiences. Give it $11 million on the weekend.

[tm:1539_]Love in the Time of Cholera[/tm] is the third new film of the weekend, opening at 852 venues. Based on the Gabriel Garcia Marquez novel, it's a classic of Spanish literature set in the 19th and early 20th centuries in Colombia. A tale of forbidden and unrequited love, it stars Javier Bardem as a man who carries a torch for over 50 years for a woman, although he passes the time sleeping with every woman from Bogota to Cali. Hey, everyone deals with grief in their own way.

Also starring Benjamin Bratt, [bp:2326_]John Leguizamo[/bp], Liev Schrieber and Italian actress Giovanna Mezzogiornoas as the object of lust, Cholera boasts a reasonably strong cast overall, though critics have been teeing off on it like they were John Daly. Their targets include the acting and the adjustments made to get the film down to two hours, with many having issues with the liberties taken by the script. It is a classic and well-known novel, so there is an audience for it, but it may be scared off by what appears to be a poorly done version. Look for a weekend of about $3 million.

With these movies as the competition, that gives [tm:2517_]Bee Movie[/tm] a chance to keep the top spot at the box office. Despite a mediocre critical reception, audience word-of-mouth kept it afloat, and it moved up from second place to first, the first film in over two years to do so. It's the premiere family film out there right now, and if Beowulf doesn't catch on, could very well win another weekend. Another $17 million or so should bring close to $100 million, with the potential for big bucks through the holiday period.

[tm:1229_]American Gangster[/tm] slipped to second, but just barely, adding $24 million to its total and securing its place in the Oscar discussion. It's a sure bet to pass $100 million this weekend, revitalizing [bp:124_]Russell Crowe[/bp]'s career and bumping [bp:2065_]Denzel Washington[/bp] into a new stratosphere. It should stick around for at least third with $14 million.

[tm:3125_]Fred Claus[/tm] was a huge disappointment in its opening weekend, opening to $18 million and third place. I still think it can recover to respectability, but it's really a terrible start for a film with [bp:967_]Vince Vaughn[/bp] headlining it and a family friendly and seasonally appropriate premise. It appears clear that families didn't trust Vaughn completely with entertaining their kids. A second weekend of about $12 million seems in order here.

[tm:3754_]Lions for Lambs[/tm] was an out and out flop, earning just $6 million in its first weekend. It high powered cast was no help for a film that looked like a series of speeches on a subject the public is tired of, or at least doesn't view as entertainment, the war on terror. It's pound for pound the worst opening of [bp:145_]Tom Cruise[/bp]'s career, although he's lucky in that it'll be gone so soon that few are going to remember it was out there. I see a really steep drop of over 50% to $3 million, and maybe $15 million total.