Weekend Wrap-Up for November 9-11, 2007
Fred Claus Left Bee-hind at Weekend Box Office
By John Hamann
November 11, 2007
BoxOfficeProphets.com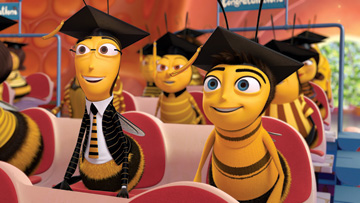 ---
Last weekend the stars came out at the box office, and the likes of [bp:2065_]Denzel Washington[/bp], [bp:124_]Russell Crowe[/bp] and Jerry Seinfeld lifted the pressure off the box office, as [tm:1229_]American Gangster[/tm] and [tm:2517_]Bee Movie[/tm] pushed the top 12 films over last year's totals for the first time in six weeks. This weekend, the stars are out again, with [bp:145_]Tom Cruise[/bp], [bp:967_]Vince Vaughn[/bp], [bp:2940_]Robert Redford[/bp] and [bp:3463_]Meryl Streep[/bp] bringing out [tm:3125_]Fred Claus[/tm] and [tm:3754_]Lions for Lambs[/tm]. Would a Christmas movie and a political drama be enough to lift the box office over last year? Don't count on it.

Unfortunately for Fred Claus and Warner Bros., the Christmas movie was not part of the race to be number one at the box office this weekend. The race was between American Gangster and Bee Movie, and thanks to the Veteran's Day holiday, Bee Movie is our number one film of the weekend. Bee Movie, written, produced and voiced by Jerry Seinfeld, climbs into the number one position after lagging behind American Gangster by about $7 million last weekend.

Bee Movie earned $26 million in its second frame, off 32% compared to its debut. While not the most stellar of holds, one must remember that Fred Claus did roll out this weekend, stealing a fair chunk of Bee Movie`s demographic. The animated DreamWorks/Paramount flick cost the studio $150 million to make, and at best, it will only match that figure domestically. At this point, I have Bee Movie`'s 51% fresh rating leading it to about $125 million, unless it hits a home run over Thanksgiving weekend. So far, the CGI flick about a bee suing humans over honey has earned $72.2 million.

Our number two movie is American Gangster, the Denzel Washington/Russell Crowe tour de force. Being the more adult film, Gangster didn`t hold as well as Bee Movie, as it earned $24.3 million and fell an expected 44% compared to last weekend. I think that from here, we will start to see some better holds for Gangster as the weekends progress towards Christmas. The $100 million film should earn at least $125 million before the end of its run, making it Denzel Washington's highest earning film, surpassing Remember the Titans $115.6 million. So far, American Gangster has earned $80.7 million.

Finishing third is Fred Claus, which is stealing the early November release date made famous by Tim Allen and the Santa Clause movies. The Vince Vaughn/[bp:225_]Paul Giamatti[/bp] comedy didn't break out, but it didn't flop either. Fred Claus earned an okay $19.2 million this weekend from 3,603 venues. It had an average of $5,33. While Warner Bros. was certainly looking for higher ticket sales this weekend, let's have a look at what the first Santa Clause did back in 1994. The good news is that the first Clause opened to $19.3 million 13 years ago; however, adjusted for inflation that opening would equal about $28.6 million today, a figure that tracking and the studio were looking for from Fred Claus this weekend. Vince Vaughn had to be hoping for more himself, as he has quietly become a box office force to be reckoned with over the last few years. Vaughn and [bp:1156_]Jennifer Aniston[/bp] opened The Break-Up to $39.2 million in June 2006, and opened The Wedding Crashers to almost $34 million and sent it on to earn over $200 million at the 2005 summer box office. He has been in 11 films that have opened above $15 million, and Fred Claus makes that a cool dozen. What could be a problem for Fred Claus is holding power, as a film like this needs to stay strong until Christmas if it hopes to cash in. Critics weren't kind. At RottenTomatoes, 87 critics chimed in on Fred Claus and only 20 found something to like. That gives Fred a rotten rating of 23%, which could hamper its legs in the future, although Fred's audience shouldn't be reading reviews.

Who was director David Dobkin (The Wedding Crashers) aiming Fred Claus at anyway? Vince Vaughn is the last person I would cast in a kids movie, as the first movie we think of Vaughn in is The Wedding Crashers, a decidedly adult film to begin with. Sure, Elf worked with [bp:121_]Will Ferrell[/bp], but Elf was aimed at adults, really, but worked with kids anyway (that's how it earned $173 million at the domestic box office). The running time at just under two hours is probably too long for kids as well. The marketing for Fred was scattered at best, and not really funny, so it's no wonder it opened to less than $20 million.

Finishing fourth is the Robert Redford-directed Lions for Lambs, which stars Redford, Tom Cruise and Meryl Streep. Lambs did not do well, earning only $6.7 million from 2, 215 venues. It had a sorry venue average of $3,029. This open is the lowest for Tom Cruise since Magnolia, when the Paul Thomas Anderson flick went wide (albeit to only 1,034 venues) and earned $5.7 million. Critics slaughtered Lambs, as the star-studded drama earned reviews that were worse than P2, the horror flick that opened this weekend. At RottenTomatoes, 136 critics weighed in and only 37 found something to like. That's a fresh rating of only 27%, which is a disaster for a film like this. Look for Lambs to disappear quickly.

[tm:3011_]Dan in Real Life[/tm] finishes fifth, but in terms of holds the [bp:7561_]Steve Carell[/bp] flick is one of the few bright spots this weekend. Dan earned $5.9 million in its third weekend, and was off a small 25% this weekend. Given its small $12 million open, Carell and company have turned this into a very small win for Disney, as its total has now reached $30.7 million, and could earn as much as $50 million before the Real Life ends.

[tm:3849_]Saw IV[/tm] finishes sixth, and fares somewhat better than its ludicrous 67% plunge last weekend. In its third weekend, Saw IV earned $5 million, dropping 52%. Saw IV will end up being the lowest earning Saw film so far, finishing about $10 million behind Saw III's $80.2 million. So far, the Lionsgate horror flick has earned $58.1 million.

Seventh spot goes to The Rock's Game Plan, as the family friendly comedy runs into more new competition in Fred Claus after working against Bee Movie last weekend. [tm:3553_]The Game Plan[/tm] took in $2.4 million and was off 39% as families found other options for their movie going dollar. The Game Plan is still a huge success for Disney, as so far, it has earned $85.4 million, The Rock's largest score since The Scorpion King.

Eighth spot goes to horror flick P2, starring Wes Bentley. P2 stayed in the basement this weekend, earning only $2.2 million from 2,131 venues this weekend. Maybe the oddest thing about P2 is that it ended up being the best reviewed wide release of the weekend, but was still only 36% fresh.

Landing in ninth is [tm:1946_]30 Days of Night[/tm], the four-weekend-old vampire flick from Sony. 30 Days earned $2.1 million and fell 44%. So far, the [bp:689_]Sam Raimi[/bp] produced flick has earned $37.4 million.

Tenth spot goes to the lifeless Martian Child with [bp:187_]John Cusack[/bp]. After a poor opening of $3.8 million last weekend, things don't get any better this weekend. Martian Child earned $1.8 million and was off 48%. Its total so far is $6 million.

What may be the best news of the weekend is that [tm:2106_]No Country for Old Men[/tm], the latest flick from the Coen Brothers, got off to a fantastic start. No Country and its 95% fresh rating earned $1.2 million from only 28 venues this weekend, giving it a white hot venue average of $42,929.

Overall, though, things are not great. The top 12 films last year, on the strength of Borat's stunning second weekend, earned $111.4 million. This weekend, with two holdovers on top, the top 12 could only muster $98.9 million, about 11% behind last year's take.