Weekend Forecast for November 9-11, 2007
By Reagen Sulewski
November 9, 2007
BoxOfficeProphets.com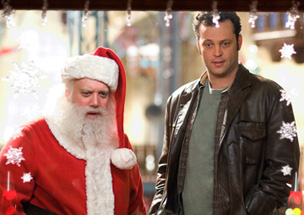 ---
If stores can start Christmas season six weeks early, then so can Hollywood. Yes, it's time for the annual "Wait, a Christmas movie already?" movie, and you know what – you complain, but you're gonna go see it anyway.

[tm:3125_]Fred Claus[/tm] is attempting to walk a strange and difficult line. As a Christmas-themed film hoping to be a blockbuster, it has to be family-friendly. Yet it's also banking on the star power of [bp:967_]Vince Vaughn[/bp], who's best known for some, let's say, ribald roles, and who is not switching up his basic movie persona as a fast-talking alpha-jerk for this film (but then: the PG rating means there's probably no repeat of the opening scene of Wedding Crashers).

Vaughn stars as the titular character, the lay-about brother of Santa (played with great casting by [bp:225_]Paul Giamatti[/bp]), who's never quite lived up to the golden boy of the family. After a run-in with the law that costs him his job and his girlfriend, he heads back home to the North Pole where sibling rivalry heats up once again, and Fred wrecks havoc in the Workshop in PG-rated fashion. They're trying to grab a couple of very disparate demographics with this film in families and the 20/30-something adults, and it'll be interesting to see just how well they can do it.

Elf is the obvious comparison for this film, with [bp:121_]Will Ferrell[/bp] cashing in on his comedy chops for a family comedy, to great success. It's seemingly impossible to fail with a family comedy lately, at least if you give it one recognizable star. See also the recent [tm:3553_]The Game Plan[/tm] for a film doing much better than it had any reason to. Fred Claus doesn't look great, but it should be able to at least do well for this weekend, with around $32 million.

Among the recent films about terror or war, none have managed to make much of an impact at the box office. Lions For Lambs hopes that it can change that by amping up the marquee factor. Directed by and starring [bp:2940_]Robert Redford[/bp], it also includes in its cast [bp:3463_]Meryl Streep[/bp], Peter Perg, Derek Luke, and, oh right, [bp:145_]Tom Cruise[/bp].

When two Army Rangers are trapped behind enemy lines on a covert mission in Afghanistan, it starts events in motion back home that could have national political significance. Cruise plays a young Senator that is sitting on some potentially Earth-shattering information, which he decides he must share with a TV journalist, played by Streep. Meanwhile, across the country, Redford's professor character, who taught the two Rangers, attempts to dissuade other students from making what he feels to be the same mistake. The three stories intertwine in unexpected ways, leading to a dramatic and profound effect on the world.

Lions For Lambs comes into theaters carrying the mantle of being an Important Film, which can sometimes work for box office, but more often than not leads to middling performance and Oscar nominations based on critical reception. See: Good Night, and Good Luck or The Insider. Unfortunately for Redford, this one's getting trashed by critics, and it's throwing under the Santa movie right now for reviews.

This one's got "pretentious flop" written all over it, to be frank, and the ads aren't doing a great job of selling it. Mostly it looks like a bunch of people performing speeches at each other, which doesn't make for great drama. Cruise's presence is what gives this film a shot, but this really isn't the kind of movie that people rush out to see him in anyway. Releasing on just over 2,200 screens, this one should come in with about $12 million.

The final new movie of the weekend in wide release, P2, features one of the strangest setups and worst titles for a horror movie that I can recall. It stars Rachel Nicholls, who you may or may not recognize from Alias, as a businesswoman who has been stalked for several years by a parking attendant played by Wes Bentley. If you'll recall, he played the voyeur love-interest in American Beauty, so at least we know he can do creepy. I wonder if he even knew they were filming a movie.

For there on, it's your typical-looking damsel-in-distress thriller, with maybe a touch of style. It's actually the best reviewed movie of the weekend, for what that says. However, premiering in about 2,100 venues, and with no actual stars means this one's not going to make an impact. Think High Tension, which actually has a connection to this film – P2's director was an actor in that film. Give this about $3 million in it's debut.

That [tm:1229_]American Gangster[/tm] won last weekend's box office isn't so much of a surprise as how much it won it by. Bringing in $43 million, Gangster was well over anything that either of its stars, [bp:2065_]Denzel Washington[/bp] and [bp:124_]Russell Crowe[/bp], have ever seen for opening weekends, especially for a recently down-on-his luck Crowe. Credit a lot of this to a brilliant campaign that focused on the tête-à-tête between Crowe's detective and Washington's Harlem drug lord, and the notably used Jay-Z soundtrack to perfect effect. With a tremendous opening like this, I expect it to slide back some this weekend to around $25 million, although we're aiming well above $100 million for a final total for this film, and maybe some Oscars to boot.

Thus, Gangster usurped [tm:2517_]Bee Movie[/tm]'s spot in the box office charts, which earned "only" $38 million on the weekend. Jerry Seinfeld's animated debut came in almost exactly where it was expected, in line with some of the other second-tier animated projects like Shark Tale and Robots. Response to this was pretty tepid, so look for about $19 million this frame, with Fred Claus chipping away a couple million in business.

[tm:3849_]Saw IV[/tm] crated in its second weekend, shedding over two-thirds of its opening weekend total. As it's already grossed over $50 million on a $10 million or so budget, there's no chance of this hurting Saw V's greenlight, so no break there. This should be out of the top ten by next week, though, and let's say about $4 million this week.

[tm:3011_]Dan in Real Life[/tm] will be the only other film to crack $5 million this weekend in a top-heavy box office chart. It held pretty decently in its second weekend, losing only a third of its opening weekend number, and looks headed for about a $50 million final total.

Limited release sees one of the year's potential heavyweights enter the marketplace as The Coen Brothers' No Country For Old Men starts out in 28 theaters on the weekend. This highly anticipated thriller could get close to $1 million in these few screens.