Weekend Wrap-Up for November2-4, 2007
Top Heavy Box Office Excited By Gangster, Bee Movie
By John Hamann
November 4, 2007
BoxOfficeProphets.com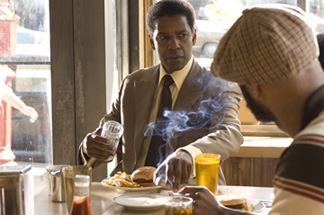 ---
The box office finally got excited this weekend after frame after frame of uninspired movie choices and monetary returns. Mr. Reliable at the box office, [bp:2065_]Denzel Washington[/bp], finally broke the $30 million opening weekend barrier with [tm:1229_]American Gangster[/tm], and Mr. Unreliable, [bp:124_]Russell Crowe[/bp], rode Denzel's coattails to break a four-year slump at the North American box office. More good news came in Jerry Seinfeld's [tm:2517_]Bee Movie[/tm], as kids - starved for filmed entertainment - turned out in droves to see the Paramount/DreamWorks creation. Finally, [bp:187_]John Cusack[/bp] returned to the screen following his success in 1408, this time with the odd-looking Martian Child. Would the Gangster dominate or would the Bee swoop in for the victory? Read on to find out.

The number one film of the weekend is American Gangster, the Denzel Washington tour-de-force from Universal and uber-director [bp:863_]Ridley Scott[/bp]. After a strong marketing campaign leading up to the release, Gangster cashed in, and took in an awesome $46.3 million over its opening frame. Universal put Gangster out to a quite wide 3,054 venues, and the gamble paid off, as the Oscar worthy flick pulled in a venue average of $15,175.

Denzel Washington proves again that he can open anything, and his hard work has paid off with American Gangster as it is far and away his biggest opening ever. His previous biggest opening was Inside Man, the 2006 heist flick with [bp:2748_]Jodie Foster[/bp] and [bp:755_]Clive Owen[/bp]. That one opened to $28 million, but failed to reach the $100 million mark, something that American Gangster will have no problem accomplishing. In fact, Denzel has only pushed two films over the $100 million domestic mark - 2000's Remember the Titans ($115.6 million domestic) and 1993's The Pelican Brief ($100.8 million finish, but he should thank [bp:167_]Julia Roberts[/bp] for that one). Despite not reaching the $100 million mark all that often, Washington is still one of the more bankable stars in Hollywood. He has opened 11 films over $16 million (half of his above the title releases), and seven of those over $20 million (one-third of his releases). Remarkably, only one of those $16 million plus films was released over the summer (The Manchurian Candidate), and zero were sequels, meaning Denzel has had to work extremely hard for every box office dollar he has brought in. His next film may be a tough sell, but he will have the queen of daytime TV lending some assistance. That project is The Great Debaters, another true story for Washington (this time he directs), and it is produced by Oprah Winfrey, amongst others.

While the last few years have been kind to Denzel Washington, it's been the complete opposite for co-star Russell Crowe. The Gladiator star has had to work to redesign his image, and his last few film choices ([tm:3702_]3:10 to Yuma[/tm], American Gangster) have smartly taken him out of the lead position, which is helping reduce audience perception that he is egotistical slime. He needs any help he can get. Crowe has hit the skids since winning an Oscar for Gladiator and being nominated for A Beautiful Mind, as his off screen behavior has turned North American audiences against him. After A Beautiful Mind, Crowe released Master and Commander: The Far Side of the World, a film that should have been a $200 million earner but failed to crack $100 million. He then released Cinderella Man, but that didn't excite audiences either, finishing with $62 million despite pre-release Oscar expectations. The actor really hit the skids with A Good Year, Crowe's November 2006 release that flopped badly ($3 million open, $7.5 million finish), and may have made him reconsider what kind of roles to take in the future. He followed up A Good Year with September's 3:10 to Yuma, which put him back on the right track, co-starring with [bp:1327_]Christian Bale[/bp] in a well-received western that finished with $53 million. He has a small film called [tm:3213_]Tenderness[/tm] set to release at the end of November, and then goes back to the co-starring plan with Body of Lies, in which he appears with [bp:3444_]Leonardo DiCaprio[/bp], and repeats working with director Ridley Scott, who did American Gangster and A Good Year.

Reviews for American Gangster were good but not fantastic, but I still believe a long successful run and an Oscar nomination for Washington are in this film's future. At RottenTomatoes, 123 reviewers had chimed in at the time of this writing, and 97 gave it a thumbs up, leading to a fresh rating of 79%. Universal made this one for $100 million, and should have no problem earning their investment back.

Finishing second is Bee Movie, Jerry Seinfeld's return to mainstream entertainment. Bee Movie was solid for Paramount and DreamWorks, earning $39.1 million, right around where tracking expectations were. Paramount put its Bee Movie out to a huge amount of venues - 3,928 - and saw a resulting venue average of $9,954. Seinfeld is the star of this show, taking credits for acting in, producing and writing Bee Movie. The pressure was certainly on, as this animated feature carried a price tag of $150 million. Will a $39.1 million opening be enough to take this one to the $150 million mark? Maybe. Over the Hedge, the Paramount animated release that debuted in May 2006 opened to $38.5 million and finished with about $155 million domestic, before earning another $180 million overseas. Over the Hedge certainly reviewed better than Bee Movie, as the [bp:70_]Bruce Willis[/bp] starrer earned a fresh rating of 74%, where Bee Movie is only 53% fresh, with 47 positive reviews out of a possible 88 at this point. The competition is going to stack up against Bee Movie in the weeks to come. In the next frame we get the live action [tm:3125_]Fred Claus[/tm] with [bp:967_]Vince Vaughn[/bp] and [bp:225_]Paul Giamatti[/bp]. The following weekend brings Mr. Magorium's Magic Emporium with [bp:6_]Dustin Hoffman[/bp] and [bp:175_]Natalie Portman[/bp], which is followed by the Disney movie [tm:2658_]Enchanted[/tm]. It will be very interesting to see how it all turns out for Bee Movie, Seinfeld and company.

Finishing third is [tm:3849_]Saw IV[/tm], but instead of the characters getting butchered in the second weekend, it's the audience that got the chop. After opening to a respectable $31.8 million last weekend, Saw IV plummeted a severe 65%, earning only $11 million. Saw III dropped 56% heading into its second frame, so we are seeing even more signs that the shine is coming off the Saw. Currently, the fourth in the franchise film has earned $51.1 million.

[tm:3011_]Dan in Real Life[/tm] gets some better news this weekend, as the [bp:7561_]Steve Carell[/bp] flick doesn't fall off the face of the earth. Dan in Real Life earned $8.1 million, off an okay 31%. Disney chose to only add a handful of venues to Dan's count, leaving it with fewer than 2,000 venues and an average of $3,459. So far, Dan In Real Life has earned $23 million.

The rest of the top ten is a significant disaster, and only highlights the nastiness we have seen over the last two months at the box office. Finishing fifth is [tm:1946_]30 Days of Night[/tm], the cool-looking but ultimately only so-so flick from Sony. The [bp:25_]Josh Hartnett[/bp] release earned $4 million and was off 42%. At least Sony recouped its $30 million budget domestically, as 30 Days of Night has now earned $34.1 million.

Sixth place goes to one of the few box office bright spots (regardless of film quality) over the last few months - [tm:3553_]The Game Plan[/tm] with The Rock - but it appears the party is over. Now with some family competition, The Game Plan earned $3.9 million, off 37% - its biggest drop so far. This drop will probably take $100 million out of the equation, as it now sits with $82 million, and will probably finish with about $95 million.

Seventh has to be a large disappointment for Cusack family, as John and Joan's Martian Child fails to achieve lift off. [tm:1404_]The Martian Child[/tm] earned a cold $3.7 million from 2,020 venues, giving it a poor venue average of $1,807. Martian Child cost New Line $27 million to get it to theatres, and it won't come close to earning that much domestically.

Eighth goes to [tm:2565_]Michael Clayton[/tm], who also took a hit from competititon in American Gangster. The [bp:443_]George Clooney[/bp] thriller earned $2.9 million and was off 41%. This Warner Bros. release has now earned $28.7 million.

[tm:4032_]Tyler Perry's Why Did I Get Married?[/tm] finishes the weekend in ninth spot, and was again off a large amount compared to last weekend. Married sold $2.7 million worth of tickets and was off 52% compared to the previous frame. The good news for Perry is that Married has crossed the $50 million mark, and sits with $51.2 million.

Finishing tenth is [tm:2353_]Gone Baby Gone[/tm], the directorial debut for [bp:105_]Ben Affleck[/bp]. This one has not gone as well as the star turned Bennifer turned director would have liked. Gone Baby Gone earned $2.4 million, was off 37%, and actually lost 96 venues compared to last weekend. So far, Gone Baby Gone has earned $14.9 million, and will be just like its title next weekend.

Overall, the box office is way up over last weekend, and for the first weekend in a month and a half is up over last year's totals. The top 12 at the box office this weekend pulled in $127.2 million, slightly better than last year's top 12 take of $113.7 million.