Friday Box Office Analysis
By Tim Briody
November 3, 2007
BoxOfficeProphets.com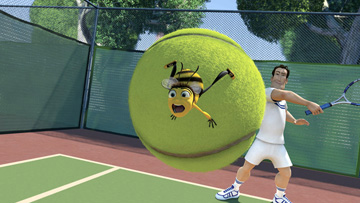 ---
[tm:1229_]American Gangster[/tm]

The heavily-advertised and well-received American Gangster got off to a gangbusters start Friday with $15.8 million. [bp:2065_]Denzel Washington[/bp] has always been a very consistent draw and [bp:124_]Russell Crowe[/bp] recently rebounded nicely with 3:10 To Yuma. [tm:2517_]Bee Movie[/tm] will likely have the better weekend multiplier, but American Gangster should come out on top easily with a spectacular $47.2 million.

Bee Movie

Jerry Seinfeld's even more heavily-advertised Bee Movie opened to $10.1 million on Friday. Considering promotion for the film crossed into overkill over the last few weeks, especially if you watched anything on NBC, it either had no effect, or even a negative effect if you were never really into Seinfeld. Opening night aside, it's going to do very well over the rest of the weekend proper, but it's not going to catch American Gangster. A 3.6 multiplier would give it $36.3 million for the weekend.

Martian Child

Way in the back we have [bp:187_]John Cusack[/bp]'s Martian Child, which could only manage $1 million on Friday. The best it could hope for is $3 million for the weekend, and then we'll never hear from it again. Sorry, Lloyd Dobler fans.

Notable Holdovers

Not unexpectedly, [tm:3849_]Saw IV[/tm] plunges 75% from last Friday. While I mentioned last week that this franchise wasn't seeing diminishing returns as far as opening weekends go, the second weekend has been a different story. The original Saw dropped 39% in its second weekend. Saw II dropped 52% and last year's Saw III fell 62%. So I guess we should pencil in Saw V for the unprecedented 80% decline, huh? Anyway, a second weekend of about $14.2 million should be in the works for Saw IV.

[bp:7561_]Steve Carell[/bp]'s Dan In Real Life holds fairly well, off only 37% from last Friday. It's going to face some heavy hitters over the rest of the month, but decent holds like that will go a long way to establishing Carell as a leading actor.