Weekend Forecast for November 2-4, 2007
By Reagen Sulewski
November 2, 2007
BoxOfficeProphets.com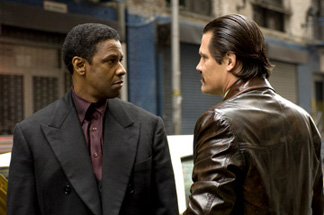 ---
After a miserable couple of months at the box office, November looks to be starting out strong, with two films that could open to larger numbers than anything since the middle of August.

Jerry Seinfeld has a new movie out – perhaps you've heard of it. At least, you certainly would have if you've watched NBC in the last month or so, which has been running "alternative" promos for the film, [tm:2517_]Bee Movie[/tm], incessantly over that period.

The animated film – blessedly, the first in several months – stars Seinfeld as a bee (go figure) that yearns for life beyond just making honey in his hive. After getting lost in New York City, he's saved by a sympathetic florist. Breaking the rule about communicating with humans (apparently they've always been able to talk), he learns what we really do with their honey and decides to sue.

Well, points for originality, anyway.

Jerry Seinfeld is almost entirely untested as a leading man for movies. The closest thing he's had to a top-billed "role" was the documentary Comedian, which detailed the reconstruction of his stand-up act from scratch after ending his TV show. An animated film is probably a pretty natural outlet for his talent, considering he's not much of an actor and his presence would most likely be distracting in live action. With a lot of animated movies becoming extended stand-up reels anyway, this fits right in.

Like most recent animated films, this offers a pretty strong selection of actors supplying the voices, including Renee Zellweger, Matthew Broderick, John Goodman, [bp:1310_]Chris Rock[/bp] and Oprah Winfrey. However, the novelty of these kind of casts being assembled has worn off, in a similar manner to how CGI animated films have lost their luster. Although there's no Pixar-like opening in the cards for this one, Seinfeld and producer [bp:2793_]Steven Spielberg[/bp] might make this enough of an event film to get it a big opening weekend. Give it the win with about $39 million.

[tm:1229_]American Gangster[/tm] boasts another impressive pedigree, starring [bp:2065_]Denzel Washington[/bp], [bp:124_]Russell Crowe[/bp] and directed by [bp:863_]Ridley Scott[/bp]. It purports to tell the story of Frank Lucas, a heroin dealer in Harlem in the '60s and '70s who out-muscled the mob. Washington plays Lucas from his modest beginnings to his peak, while Crowe plays the detective who's working to bring him down.

There's a lot of things going for this film - it plays like Scorsese-light, with the themes of rise-and-fall and the corrupted American Dream prevalent throughout. Oscar watchers are also pointing at the film as a strong Oscar candidate in many categories, notably Washington's lead role. It's also got a crackerjack trailer, and its TV ads have been similarly great.

Denzel has been one of the most consistent box office draws in the last decade, and he's certainly no stranger to opening a film well as an anti-hero, as Man on Fire and Training Day showed. The other lead of the film, Crowe, is even on a career resurgence of his own, after a great performance in the well-received [tm:3702_]3:10 to Yuma[/tm]. With the two of them, along with Scott, American Gangster has the chance to be one of the biggest dramas of the fall. Give it about $30 million for the weekend, and a strong second place finish.

The final new film of the weekend is Martian Child, starring [bp:187_]John Cusack[/bp]. He plays a writer who adopts a troubled six-year-old to attempt to deal with the death of his wife. That's just a step above Homer abusing the Bigger Brother Foundation to get back at Bart, but I digress. The title of the film comes from the kid's specific problem, in that he believes he comes from Mars, and acts in bizarre ways because of it.

As the film progresses, Cusack's character finds himself becoming more and more attached to the strange little kid, perhaps to the detriment of his career but to the benefit of himself as a person. This seems quite a bit schmaltzier than we're used to from Cusack, though he did star in romantic comedies with [bp:837_]Diane Lane[/bp] and Kate Beckensale recently. Lloyd Dobler's gotta eat.

I don't see anything particularly special about this movie that distinguishes it from something like Raising Helen, and without a hip female lead, it falls short of quasi-family films like that in several ways. This will fall well short of the box office leaders this weekend with about $5 million in business.

The fourth installment of the Saw franchise maintained that series's remarkable consistency, being the third straight to open just above $30 million. Based on that opening and the ultra-cheap (by modern standards) production budget, we should prepare for another one of these films ever Halloween until one of them fails entirely, which may not be for a while.

While the opening weekends remain strong for Saw, the second weekends have seen a continual increase in box office bleed, with Saw III shedding over half its first weekend total. I see no reason to expect that to change for [tm:3849_]Saw IV[/tm], and I think we'll see a $13 million take for the weekend.

Although it didn't approach the lofty heights of 40-Year-Old Virgin, [tm:3011_]Dan in Real Life[/tm]'s $11.8 million opening weekend was another solid check mark for Steve Carell's career as a leading man. The slightly sappy family drama was a big departure from the broad comedy he's made his name with, although it builds on his "serious" acting credibility that he gained in Little Miss Sunshine. I figure on this film to have decent word-of-mouth, which will allow it to bring in another $8 million or so this weekend.

The remainder of the weekend's films will come in below $5 million, though in the case of [tm:3553_]The Game Plan[/tm], that's not the fairest assessment, considering it's now in its sixth weekend of release. It's been the early fall's strongest performer by far, crossing the $75 million mark last weekend. There's little else to say about this film and The Rock's role (sorry) in bringing it this far, except don't take any calls from [bp:201_]Vin Diesel[/bp].