Weekend Wrap-Up for October 26-28, 2007
Groundhog Day at Halloween Box Office
By John Hamann
October 28, 2007
BoxOfficeProphets.com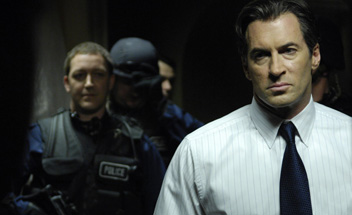 ---
It was a complete repeat of last year at the box office this weekend, as not only did another Saw film rule at the box office, but its returns were very similar to last year's grosses for the torture porn spectacular. Lionsgate rolled out [tm:3849_]Saw IV[/tm] over the Halloween box office weekend to predictably decent results, while Disney's Dan in Real Life did okay business via a moderate venue count. As far as holdovers go it was pretty humdrum - last weekend's horror flick got pummeled, while The Rock's family flick continued to hold well.

The number one film of the weekend is Saw IV, the fourth movie in the sadistic horror series. Saw IV opened to $32.1 million this weekend from 3,183 venues. It had a venue average of $10,088. Some analysts (including me) had thought the shine had come of the Saw somewhat, and that this one wouldn't equal the $33.6 million and $31.7 million that Saw III and Saw II opened to respectively (can this audience even deal with the roman numerals?). The opening take shows that the Saw franchise has reached its peak, and can't find an audience beyond those already tuned in for the macabre blood fest. Lionsgate doesn't care. The first three films combined have earned $420 million worldwide, and Saw IV should add another $170 million to that total. The first three Saw films cost Lionsgate less than $20 million to produce, so for a $30 million investment (albeit less marketing and print costs), Lionsgate will have ticket sales good for 20 times their investment. The studio doesn't put the Saw films out for review. They always tank in their second weekend, and probably aren't good for the teens of today. Still, you can still expect to see another Saw movie next year, and the year after that, and the year - well, you get my point. The only thing keeping the cash registers ringing at Lionsgate these days are Tyler Perry and the Saw franchises, so don't expect the fat suits and torture porn to disappear quite yet.

Finishing second is another new release, [tm:3011_]Dan in Real Life[/tm] with [bp:7561_]Steve Carell[/bp]. Dan in Real Life looked tired before getting to movie screens, but was still able to pull in $12.1 million from a slim venue count of 1,921. It had a venue average of $6,289. After Carell crashed and burned with Evan Almighty, I wondered if this wonder bread comedy would draw audiences, and it did to a point, but is certainly no breakout success. Critics were mixed to the good side, as Dan in Real Life received a 62% fresh rating at RottenTomatoes. While this one is (currently) fresh, critics found it pleasant but unremarkable, leaving this one forgotten in about two weekends. Carell is going to have to pick it up somewhat with his next few releases, or be destined for sitcoms for his acting career. Next up for the 40-Year Old Virgin is Horton Hears a Who, an animated Dr. Seuss flick starring [bp:1155_]Jim Carrey[/bp] as Horton, and then will follow that up with Get Smart for director Peter Segal.

Finishing third this weekend is last weekend's number one film, [tm:1946_]30 Days of Night[/tm], the vampire flick from producer [bp:689_]Sam Raimi[/bp]. 30 Days of Night did the expected in its second weekend and plunged hard, earning $6.7 million and dropping 58%. I expected 30 Days to be much bigger than the $50 million it's going to finish with; however, the budget for this one was only $30 million. So far, the Sony release has earned $27.3 million.

[tm:3553_]The Game Plan[/tm] manages a fourth place finish despite being in release for five weekends. The Rock's family-friendly escapade has paid off in gold, as it earns another $6.3 million, dropping a slim 23%. So far, The Game Plan has earned $77.1 million, and with a few more good holds, could knock on the door of $100 million.

Fifth spot goes to [tm:4032_]Tyler Perry's Why Did I Get Married?[/tm], which, after a 43% drop last weekend, gets hit hard this weekend. Why Did I Get Married earned $5.7 million in its third frame, off 53% from the previous weekend. So far, Tyler Perry, Janet Jackson and friends have earned $47.3 million for Lionsgate, as both Saw IV and this one will be on the studio's highest grossing movies for 2007 list.

[tm:2565_]Michael Clayton[/tm] has another solid frame, as the Warner Bros. release seems to be finding an audience. The [bp:443_]George Clooney[/bp] thriller earned $5 million in its third weekend of wide release, off a very small 25% compared to the previous frame. So far, Michael Clayton has earned $28.8 million, and will have to work hard to best Syriana's domestic finish of $50.8 million.

[tm:2353_]Gone Baby Gone[/tm], the Miramax release from director [bp:105_]Ben Affleck[/bp] finishes seventh, down one spot from the previous frame. The critically acclaimed flick earned $3.9 million this weekend, and was off only 29% compared to last weekend, which means word-of-mouth seems to be getting out about this one. I was somewhat surprised the studio didn't raise the venue count above 1,713, but maybe they will expand it next weekend. Currently, Gone Baby Gone sits with $11.3 million.

Unfortunately, eighth spot goes to [tm:3930_]The Comebacks[/tm], as the sports parody didn't drop far enough. The Fox Atomic release earned $3.5 million and was off 38%. It has sadly earned $10 million.

Ninth spot goes to [tm:3372_]We Own the Night[/tm], the failed collaboration between [bp:1210_]Mark Wahlberg[/bp] and [bp:190_]Joaquin Phoenix[/bp]. The James Gray drama earned $3.4 million in its third weekend of release, and was off 37%. So far, the $28 million picture has earned only $25.1 million.

Finally, in tenth is Disney's 3-D take on [bp:1495_]Tim Burton[/bp]'s The Nightmare Before Christmas. Nightmare wouldn't even be in the top ten this weekend if there were better films in release, but the Henry Selick flick did earn $3.3 million this weekend, off 37% from its surprise debut in the top ten last weekend.

Overall, things were pretty much the same as last year. In 2006, on the strength of the Saw III opening of $33.6 million, the top 12 films earned $87.7 million. This year, on the strength of Saw IV's opening of $32.1 million, the top 12 films rang up $86.1 million. Unfortunately, we can probably expect the same thing to happen next year.