Friday Box Office Analysis
By Tim Briody
October 27, 2007
BoxOfficeProphets.com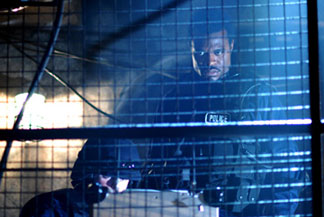 ---
[tm:3849_]Saw IV[/tm]

The most successful horror franchise in recent memory continues to chug along, as the fourth Saw entry earned $14.4 million on Friday. Saw movies don't seem to be affected by diminishing returns just yet, but we're almost there as this is virtually the same amount Saw III earned on opening night last year. Look no further than that movie for a multiplier comparison, and we have a pretty darned miserable 2.3, but that sounds about right considering what we're dealing with. Still, Saw IV easily wins the weekend with $33.5 million.

Dan In Real Life

[bp:7561_]Steve Carell[/bp]'s dramedy gets off to a decent start in under 2,000 theaters as Dan In Real Life earned $4.1 million Friday. It's not blowing anyone away, but in the face of the Saw franchise, it's not all that bad. The Buena Vista release is hoping for some positive word-of-mouth and awards buzz for Carell to carry it over the next several weeks, and over $10 million opening weekend is a good start. I look for $12.3 million this weekend.

Notable Holdovers

[tm:1946_]30 Days of Night[/tm] predictibly takes a dive in weekend number two, off 64% from last Friday. While it may be better than the average horror film, two things worked against it here: the fact that it is a horror movie, and Saw IV cannibalizing its target audience. Look for $6.3 million in the second weekend.

[tm:2353_]Gone Baby Gone[/tm] does all right in its second Friday, off just 35% from a week ago, but it's not exactly lighting the box office on fire. $3.8 million is a decent second frame, but nobody remembers the films stuck in the bottom half of the top ten come awards season.

And after sneaking into the top ten last weekend, The Nightmare Before Christmas 3D re-release hangs onto the tenth spot on Friday. The now annual [tm:3923_]Halloween[/tm] re-release should stick around one more weekend in the top ten, with about $2.8 million.