Weekend Forecast for October 26-28, 2007
By Reagen Sulewski
October 26, 2007
BoxOfficeProphets.com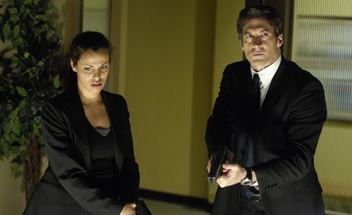 ---
After a couple of weeks of Hollywood throwing every movie they had left over in their catalog into theaters, cinephiles get a bit of a break this weekend. It's also the weekend before [tm:3923_]Halloween[/tm], which means we get the scariest movies that studios can think of. This year, they've reached a new height: [bp:7561_]Steve Carell[/bp] as a single dad.

Okay, so the real horror film is the latest in the series that just won't go away, Saw. We're up to [tm:3849_]Saw IV[/tm] now, and even the death of the main character can't stop the ludicrously elaborate death traps with grisly results.

Jigsaw has left traps behind after his demise, and possibly had a contingency plan for his work to be carried out in the event that someone turned the tables on him. A group of FBI agents... oh, who cares, right? You're just here for the blood. Aside from a few cameos, it's an almost entirely new cast – so it's sort of a Blair Witch 2 situation, although it is at least the same basic format of movie.

This is Lionsgate's one proven commodity, so they're obviously hoping they can continue to keep this series going as long as possible – the last two opened to over $30 million and grossed over $80 domestic on a budget less than the catering cost for a typical film. That said, you do wonder how many times people will come back for more of the exact same film, or even an inferior copy. I expect a little bit of slide in the opening weekend from the last two films, to about $27 million.

As mentioned earlier, Steve Carell is the star of the weekend's other movie, [tm:3011_]Dan in Real Life[/tm]. Carell stars as a Dave Barry-esque advice columnist, who isn't as put together as he portrays himself in his column, and a single-dad to three daughters.

The film follows this semi-dysfunctional group as they head to a family reunion, with Carell's character attempting to deal with overbearing family members, including his father (played by John Mahoney) and his brother (Dane Cook). Further complicating things is the spark he feels with a woman he meets in a book store along the way, who turns out to be said brother's new girlfriend.

Directed by Peter Hedges, writer of About a Boy and What's Eating Gilbert Grape, Dan in Real Life is one of those attempts to be heartwarming that Hollywood foists upon us every once in awhile, to varying degrees of success. This one looks better than most, albeit a bit sitcomy and slapsticky. Then again, that's exactly the kind of thing mainstream audiences go for.

Disney is obviously hoping here that Carell's fantastic performance in last fall's Little Miss Sunshine makes him into a feasible leading man for other family dramas. Carell had a rocky summer, and Evan Almighty was one the biggest money-losers, though I can hardly blame him for that – that film was just a bad idea altogether. Dan in Real Life may be just the thing to get him back on track, though awards talk seems quite a bit premature. Opening in a modest 1,700 venues, this should earn about $12 million this weekend.

Widening to national release is [tm:4025_]The Darjeeling Limited[/tm], the latest from Wes Anderson. Four weeks have given it about $4 million, including a solid $1.2 million last weekend, though this one is trailing significantly behind Anderson's previous films, even the disappointing performer The Life Aquatic With Steve Zissou. Starring [bp:965_]Owen Wilson[/bp], [bp:2986_]Adrien Brody[/bp] and Jason Schwartzman as brothers attempting to reconnect on a train journey through India, Darjeeling has proven to be a difficult pill to swallow, even for Anderson fans. Still, the film continues to build in venue count and Anderson's reputation and the solid cast will give it a fighting shot. Awards attention will probably be necessary to get big bucks, but look for about $3 million this weekend.

Saw IV isn't the only choice for horror this weekend, though the odds of [tm:1946_]30 Days of Night[/tm] being able to compete against it are pretty slight. Opening to a little under $16 million last weekend, the vampire flick set in a sunless Alaskan winter was a mild disappointment despite topping the box office.

Although the film fit in quite naturally with the new style of horror that is making the rounds – heavy on gore, with an ultra-stylized look – it just didn't connect strongly with horror audiences, who have become more used to gunplay in their vampire/zombie flicks. Look for a steep drop this weekend to $8 million.

Tyler Perry's Why Did I Get Married dropped to second place in its second weekend of release, adding another $12 million to its total, for about $40 million total to date. Like all of the releases in Perry's oeuvre, it has had a quick start and just as quick a fade – especially for a romantic comedy. A $21 million start will give way to a $70 million or so finish – although this is still a pretty phenomenal return on its tiny budget. If only he could bring in a film with any staying power.

For an example of staying power, look no further than [tm:3553_]The Game Plan[/tm], which has earned $70 million in four weeks and is still adding handfuls of screens. Disney's family magic continues, at least in their ability to sell it. It should bring in another $6 million or so this weekend, and might make it up to around the $90 million mark when all is said and done.

[tm:2565_]Michael Clayton[/tm] showed a little sign of life in its second weekend, dropping just 35% to $6.7 million. Its slow start means it's never going to be a big hit, but it is catching on somewhat. Without awards help, it could hit $45 million, and with awards attention, which it almost certainly will get, it could reach much loftier goals. That audience support early will go a long way towards making sure people pay attention at the end of the year.

[tm:2353_]Gone Baby Gone[/tm] is in eager need of that kind of support, opening to just $5.5 million despite rapturous reviews. [bp:105_]Ben Affleck[/bp]'s directorial debut, based on a Dennis Lehane novel, defied all logic and prophecy to actually be a pretty good film, though not so many people noticed. It might pull in $3 million this weekend, but this is a film that's really going to need awards support to give it a respectable box office total.