Weekend Wrap-Up for October 19-21, 2007
Seven New Films Fail to Stimulate Box Office; Night Rules
By John Hamann
October 21, 2007
BoxOfficeProphets.com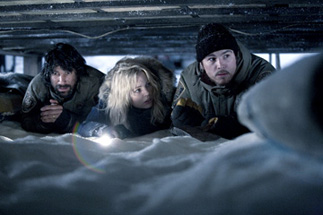 ---
A multitude of new movies assaulted the box office this weekend, and the results were mixed with one winner, a couple of mehs, and a couple of losers. Out this weekend were the new vampire flick [tm:1946_]30 Days of Night[/tm], Fox Atomic's idiotic [tm:3930_]The Comebacks[/tm], [bp:105_]Ben Affleck[/bp]'s [tm:2353_]Gone Baby Gone[/tm], [tm:3456_]Rendition[/tm] from New Line, the 3-D re-release of The Nightmare Before Christmas, [tm:2802_]Things We Lost in the Fire[/tm] featuring the great [bp:5410_]Benicio Del Toro[/bp], [tm:3954_]Sarah Landon and the Paranormal Hour[/tm], and the animated The Ten Commandments. Despite all the new product, the top flicks at the box office continued to lag behind last year's totals, and for the second weekend in a row, tracking was poor at best.

Our number one film of the weekend is Sony's 30 Days of Night, the new vampire movie from producer [bp:689_]Sam Raimi[/bp], of Evil Dead and Spider-Man fame. 30 Days of Night got off to a decent start, earning $16 million from 2,855 venues this weekend. The sub-$20 million opening for 30 Days of Night continues the box office drought for horror in 2007. Only two horror flicks released in 2007 have opened above $20 million - Rob Zombie's [tm:3923_]Halloween[/tm] earned $26 million over its opening frame, and [bp:187_]John Cusack[/bp]'s 1408, which was really a thriller, earned $20.6 million. In 2006, four horror flicks opened above $20 million, six opened above $19 million, and nine over $15 million. Horror films have declined quickly in 2007 as the market quickly became over-saturated due to low production costs for these types of films, combined with what were once big opening frames. [tm:3849_]Saw IV[/tm] could add another $20 million open next weekend, but the new unfashionable term for these types of movies, torture porn, may even halve the opening of Saw III, which opened to $33 million last year.

Critically, 30 Days of Night was a star compared to its lesser horror brethren. At RottenTomatoes, 91 critics chimed in on 30 Days, and 48 found something to like, giving the [bp:25_]Josh Hartnett[/bp] movie a rotten rating of 53%. That's great for horror, and Users at RT agree, as regular moviegoers who post to the site have given it a 76% fresh rating, which is just what Sony is looking for. For Josh Hartnett, this opening should breathe a little life into a career that has seen some serious ups and downs. After some big earners earlier in the decade like Pearl Harbor ($59 million opening) and Black Hawk Down ($108 million domestic), many thought Hartnett was the next big thing; however, he followed up those hits with turkeys like Wicker Park ($12.8 million total) and Hollywood Homicide ($30.2 million finish, despite co-starring [bp:24_]Harrison Ford[/bp]). He then found himself hot again with Sin City ($29 million opening), in a small but memorable role, but followed that up with flops like Lucky Number Slevin, The Black Dahlia and [tm:3449_]Resurrecting the Champ[/tm]. 30 Days of Night will be good for his career, especially if word-of-mouth propels this one over the Halloween weekend, but look out for that Saw in the next frame.


Finishing second is [tm:4032_]Tyler Perry's Why Did I Get Married?[/tm], last weekend's top earner at the box office. Tyler Perry can open his films, but he can't keep them from drowning in their second weekend. Why Did I Get Married plunged 43%, earning $12.1 million from 2,034 venues, only 23 more than last weekend. The percentage drop is a bit better than his other films like Madea's Family Reunion (58% second weekend drop), Daddy's Little Girls (57%), and Diary of a Mad Black Woman (50%). The good news for Perry is that Why Did I Get Married? has already earned $38.9 million, and will finish with at least $50 million.

[tm:3553_]The Game Plan[/tm], another holdover amongst a sea of new releases, finishes third. The Rock's family comedy, now in its fourth weekend, earned $8.1 million for Disney, and was off a quite respectable 26%. With a lack of choices for families over the last few weekends, The Game Plan has excelled, and now has an outside shot of making it to $100 million. So far, The Game Plan has earned $69.2 million.

[tm:2565_]Michael Clayton[/tm], another holdover from last weekend, finishes fourth. The [bp:443_]George Clooney[/bp] thriller held fairly this weekend against a lot of Oscar bait, earning $7.1 million from 2,585 venues, about 75 more than last weekend. Despite the increased venue count, Michael Clayton still fell 32%. Clooney and company are most likely going to have to settle for about $50 million from this one, not unlike the actor's Syriana.

Ben Affleck's Gone Baby Gone settles for fifth spot. Gone Baby Gone earned $6 million from a small venue count of 1,713. It had a venue average of $3,503. Gone Baby Gone is by far the best reviewed film in the top ten, as Ben and little brother Casey Affleck took critics by storm. The drama found a fantastic fresh rating of 92% after 94 out of 102 critics found something to like about this one. As much as I don't like to, you have to give Ben Affleck some credit for sticking around. He's made some of the worst movies ever (Gigli, Surviving Christmas) and went through the career killing J-Lo thing, but has come back to his roots (Good Will Hunting) to write and direct this Mystic River look-a-like. Oscar buzz is abounding for this one, but business is going to have to pick up for it to be remembered during awards season.

The Comebacks, Fox Atomic's anti-Oscar release this weekend, crashed and burned, finishing sixth despite tracking looking for a $10 million frame. The unnecessary and unfunny sports parody flick earned $5.9 million from 2,812 venues this weekend, giving it a laughable opening weekend venue average of $2,080. Much like the rise and fall of the horror film, these spoof/parody films seem to be heading the same way. While the Scary Movie franchise excelled, the lesser-thans like Date Movie ($19 million opening), Epic Movie ($18 million opening) and now The Comebacks seem to be waning in popularity. The 0% fresh rating at RottenTomatoes can't help either. One of the critics at RT said it right: "Created by the brain dead for the brain dead".

[tm:3372_]We Own the Night[/tm] lands in seventh as it grapples with a surprisingly large drop. The [bp:1210_]Mark Wahlberg[/bp]/[bp:190_]Joaquin Phoenix[/bp] drama settled for a second weekend take of $5.5 million, off a large 49% compared to its soft opening frame last weekend ($10.8 million opening). This one looks like it will struggle to earn $40 million at the domestic box office.

Finishing a surprise eighth is the 3-D re-release of [bp:1495_]Tim Burton[/bp]'s The Nightmare Before Christmas. Out to only 564 3-D theatres, the updated vision of the classic 1993 film earned $5.1 million, giving it a healthy venue average of $9,122. This is the perfect time to release the Henry Selick directed film, as the 1993 stop motion release has done well both last year and this year with the new technology to give it some extra oomph. It will be interesting to see if this has any staying power in the weekends to come.

Ninth place goes to Rendition, a star-studded film that didn't work on any level. Rendition earned only $4.2 million from 2,250 venues (despite a tracking estimate of just short of $10 million), giving it an average of $1,856. The cast members all had recent hits, including [bp:75_]Reese Witherspoon[/bp] (Walk the Line) [bp:1336_]Jake Gyllenhaal[/bp] (Brokeback Mountain), and [bp:3463_]Meryl Streep[/bp] (The Devil Wears Prada). Critics didn't care, and Rendition only found 50 positive reviews out of 117, giving it a rotten rating of 43%.

Sticking around for another week in the top ten is [tm:1311_]The Heartbreak Kid[/tm], which earned another $3.9 million. It fell an additional 46% from last week and shows that audiences are pretty savvy when it comes to good [bp:122_]Ben Stiller[/bp] product and crappy Ben Stiller product. Considering that this project reunited Stiller with the Farrelly Brothers, who made him a true star with There's Something About Mary, the $32.1 million the movie has earned so far has to be a disappointment for DreamWorks/Paramount.

As for the other new openers, Things We Lost in the Fire, the [bp:912_]Halle Berry[/bp]/Benicio Del Toro film, earned only $1.6 million from 1,142 venues, another big tracking miss. While critics weren't exactly keen on it (66% fresh at RottenTomatoes), Del Toro's performance is getting raves even from critics that didn't like the film. Freestyle Releasing put Sarah Landon and the Paranormal Hour in 1,115 venues, but it managed only $560,500 a $500 per location average. And the animated The Ten Commandments, from Rocky Mountain Pictures, earned $474,760 from its 830 locations, good for a venue average of $572. Those are some pathetic numbers for the weekend.

Overall, the top 12 saw a healthier total that it has had in the last few weekends. It still wasn't enough to keep it ahead of last year, when the top 12 earned $88.8 million on the backs of The Prestige, The Departed, and the slower than expected Flags of our Fathers. This year, with 30 Days of Night leading the way, the top ten tallied $79.7 million, off 10% compared to last year. Next weekend pits 2007's Saw IV versus 2006's Saw III, is the torture porn era over? Check back next weekend to find out.