Friday Box Office Analysis
By Kim Hollis
October 20, 2007
BoxOfficeProphets.com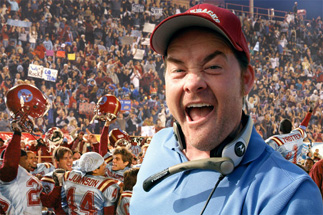 ---
Movie studios rolled out seven (!) new wide releases this week, and we'll bet you haven't even heard of half of them. That's okay, because you're not alone. Of the new movies in theaters this weekend, only one will make over $6 million over three days.

[tm:1946_]30 Days of Night[/tm]
30 Days of Night is by far the best of the new openers, but it looks likely to go down as a disappointment relative to expectations. With a killer trailer and solid marketing campaign, Sony had to be hoping for more than a $6.2 million Friday from this dark vampire flick. With a $50 million budget, it's going to struggle to make that back domestically, though it's sure to be popular on home video. With slightly better reviews than your typical horror film, 30 Days of Night should have a three-day multiplier around 2.65. That will give it $16.5 million for the weekend.

[tm:3930_]The Comebacks[/tm]
The remaining new movies in release this weekend hardly bear mentioning. The Comebacks, a sports movie spoof featuring frequent [bp:121_]Will Ferrell[/bp] supporting player David Koechner, didn't strike any kind of chord with audiences despite what appeared to be a desperate marketing push from Fox Atomic. It earned $2.1 million Friday and will go on for a three-day total of $5.7 million.

[tm:2353_]Gone Baby Gone[/tm]
Here's the movie that has the best chance at any staying power long-term. Directed by [bp:105_]Ben Affleck[/bp] and starring Casey Affleck and [bp:1017_]Morgan Freeman[/bp], Gone Baby Gone has been receiving rapturous reviews and is one of the best-looking movies of the fall season. Miramax started slow with this one, putting it into 1,713 venues. Gone Baby Gone was able to turn that into a $1.9 million Friday total. It should have appeal to a mostly mature audience, which means the crime drama is looking at a weekend total of $5.9 million.

[tm:3456_]Rendition[/tm]
Probably originally considered an awards contender, Rendition has received generally mediocre reviews and doesn't have much going for it beyond that. Despite a solid cast that includes [bp:75_]Reese Witherspoon[/bp], [bp:3463_]Meryl Streep[/bp] and [bp:1336_]Jake Gyllenhaal[/bp], Rendition earned $1.4 million on Friday and will have a three-day total of $4.2 million.

Other openers
New releases like [tm:3954_]Sarah Landon and the Paranormal Hour[/tm], The Ten Commandments and [tm:2802_]Things We Lost in the Fire[/tm] didn't even break $1.2 million. The same goes for [tm:3367_]Into the Wild[/tm], which expanded to 658 locations.

Notable Holdovers
[tm:4032_]Tyler Perry's Why Did I Get Married?[/tm] dropped a typical-for-his-movies 54% from last Friday. It should have a weekend total around $10.8 million. [tm:2565_]Michael Clayton[/tm] held up a bit better, falling 33% from last Friday to $2.2 million. It's looking at a three-day total of $7.2 million. And We Own The Night suffered an expected 51% drop to $1.8 million. It'll bring in another $5.6 million.