Weekend Wrap-Up for October 12-14, 2007
Tyler Perry Surprises Box Office Again
By John Hamann
October 14, 2007
BoxOfficeProphets.com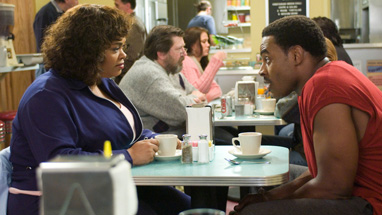 ---
A handful of new releases filled with Oscar bait got trumped by the man that usually plays a heavy-set woman in a dress (but not this time). Tyler Perry and his Why Did I Get Married rocketed past the likes of Oscar winners and nominees [bp:443_]George Clooney[/bp] ([tm:2565_]Michael Clayton[/tm]), [bp:190_]Joaquin Phoenix[/bp] and [bp:1210_]Mark Wahlberg[/bp] (We Own The Night), and [bp:165_]Cate Blanchett[/bp] ([tm:2991_]Elizabeth: The Golden Age[/tm]) to finish in a surprise top spot. Holdovers were pushed to the back of the pack, but The Rock's Game Plan continues to entice moviegoers.

Our number one film of the weekend is ([tm:4032_]Tyler Perry's Why Did I Get Married?[/tm]), as the small Lionsgate comedy/drama scored with an opening weekend take of $21.5 million from a slim 2,011 venues. It had an opening weekend venue average of $10,691 – by far the best in the top ten. Box office hopes for Married were down for this Perry effort, as his last, Daddy's Little Girls, underwhelmed over opening weekend with an $11.2 million take from 2,111 venues. That film didn't star Perry, but he moved back in front of the camera for Why Did I Get Married?, which may have resulted in a bigger opening. Married still didn't reach the heights of Perry's Madea franchise, as Madea's Family Reunion opened to $30 million and Diary of Mad Black Woman found $21.9 million from a tiny venue count of only 1,483 over its opening frame in 2005. As a director, Perry has now had three films open over $10 million, and all three had low budgets. Perry is certainly box office gold, especially over opening weekend. Follow-up frames have always proven tough for the young director, though, as his audience tends to abandon the product past opening weekend. Also abandoning Perry's work are critics, as he hasn't had a good set of reviews so far. Only 11 critics had chimed in at RottenTomatoes at the time of this writing, and only four reviewers had given this one a thumbs up, and none of those from the nation's top critics.

The real winners here are Tyler Perry (who wrote, produced, directed and acted) and Lionsgate, who produced (along with the Tyler Perry Company) and distributed. Lionsgate was desperate for a hit of any kind, as their current top opener is 3:10 to Yuma, which has earned $51.4 million to date. Other top earners for Lionsgate in 2007 have included Daddy's Little Girls, Sicko, [bp:4502_]Michael Moore[/bp]'s health care documentary that earned $24.5 million, and Good Luck Chuck. Their next release is [tm:3849_]Saw IV[/tm] which debuts in a couple of weeks, and the studio will hope it doesn't perform like their Hostel Part II, which was an extreme disappointment after finishing with only $17.5 million.

Second place goes to our first holdover in the top ten and last weekend's surprise number one film, [tm:3553_]The Game Plan[/tm], starring The Rock. The Game Plan managed to spend another weekend with a gross over $10 million, as the Disney comedy earned $11.5 million, a drop of only 31% from the previous frame. The Game Plan has now earned $59.4 million, and will have no problem reaching $80 million, if not more.

George Clooney's turn as Michael Clayton finishes third, somewhat lower than analysts (and tracking for that matter) had this pegged. Michael Clayton, the thriller from Warner Bros., earned $11.01 million in its first weekend of wide release. Last weekend, Michael Clayton earned $720,000 from only 15 venues, giving it an average of $48,000 per venue. While not the stellar start Warner Bros. was looking for, this is still a solid push for another Oscar nomination for Clooney, who won Best Supporting Actor for 2005's Syriana. Michael Clayton is the freshest thing going in the top ten this weekend, as 123 critics out of 136 liked this film, giving it a very fresh rating of 90%. This one should have solid legs, but stranger things have certainly happened at the box office.

Finishing fourth is Sony's We Own The Night, with Mark Wahlberg and Joaquin Phoenix. The 1980s-set crime drama failed to live up to expectations as the star-studded picture could only find $11 million from 2,632 venues. It had a disappointing opening weekend average of $4,657. Everything came out blah for We Own The Night, as it failed in its marketing and film making, leading to a middle of the road opening weekend. The marketing carried no impact and failed to market the stars of this flick, both of whom had recently been nominated for Oscars: Walhberg for The Departed and Phoenix for Walk the Line. Critics also mostly abandoned this project, although there were a few that thought this flick was quietly brilliant. At RottenTomatoes, 80 reviewers chimed in, and 43 found something to like, leaving We Own The Night decidedly mixed with a 54% fresh rating. The good news here is that the production cost was only $20 million, so financially, no one is going to get hurt.

Fifth spot goes to [tm:1311_]The Heartbreak Kid[/tm], but I think its Paramount that has the heartbreak, not the Kid. After underperforming over its opening weekend in the last frame, The Heartbreak Kid got slapped again, earning only $7.4 million and dropping 47%, which is severe for a comedy like this one. The Heartbreak Kid has now earned $26 million and will be Stiller's biggest disappointment since Envy ($13.5 million finish), in which he co-starred with [bp:198_]Jack Black[/bp].

Opening in sixth place is Elizabeth: The Golden Age, the sequel to the Oscar-nominated Elizabeth from 1998. The Golden Age took in more than the original did over any of its weekends at $6.2 million, but will most likely fail to reach the $30 million that the original grossed. Elizabeth: The Golden Age was released to 1,951 venues this weekend (more than three times more than the original received during the high point of its run) and has to settle for a venue average of $3,090. Critics slammed this follow-up, inverting the scores of the original picture. This one has gathered 93 reviews at RottenTomatoes, and only 23 were positive, leaving this Elizabeth with a rotten rating of 25%. Expect this Queen to disappear quickly.

Seventh spot goes to [tm:1950_]The Kingdom[/tm], the failed counter-terrorism movie from Universal. The Kingdom, now in its third weekend, earned a measly $4.6 million, and was off a painful 53%. This $80 million production has now earned $40 million, and will be lucky to make it to $50 million.

Landing in eighth is the expanding [tm:1918_]Across the Universe[/tm], as the Julie Taymor release brings its venue count up from 364 venues last weekend to 954 this weekend. Across the Universe increased its gross to $4 million, leaving it with a venue average of $4,193. The Beatles infused musical now has a running total of $12.9 million, and will end up a success for the folks at Sony.

Ninth goes to [tm:3188_]Resident Evil: Extinction[/tm], as it enjoys its last weekend in the top ten. The video game/zombie flick earned $2.7 million in its fourth weekend of release, dropping 41% from last weekend's frame. Extinction looks like it will finish exactly where the second film in the series, Apocalypse, did, right at $50 million. So far, Resident Evil: Extinction has earned $48.1 million.

Finishing tenth is [tm:2555_]The Seeker: The Dark Is Rising[/tm], which somehow manages to hang on for a second weekend on the charts. It earned another $2.2 million, and dropped a hefty-for-a-family-film amount of 43%. Its current total is $7.1 million, and it will shed the bulk of its theaters next weekend.

Overall, things were better than last weekend, but still deplorable compared to last year. In 2006, The Grudge 2 and Man of the Year disappointed over their opening weekends, but the top 12 at the box office still managed to ring up $99.1 million. This year, with a poor crop of holdovers, the top 12 earned $85.5 million. Next weekend, the box office will get a pick up when [tm:1946_]30 Days of Night[/tm], the new vampire flick produced by The Evil Dead's [bp:689_]Sam Raimi[/bp], hits movie theaters.