Friday Box Office Analysis
By Tim Briody
October 13, 2007
BoxOfficeProphets.com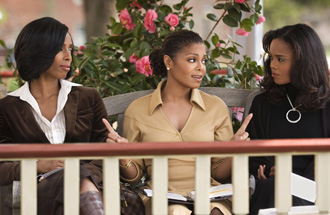 ---
BOP promises to finally stop underestimating the power of Tyler Perry movies, lest Madea pay us a visit.

[tm:4032_]Tyler Perry's Why Did I Get Married[/tm]

After a misstep with this February's (really?) Daddy's Little Girls, Tyler Perry returns to surprising us by topping the box office with ease. Why Did I Get Married? earned $7.4 million on Friday. This is right around what Perry's first breakout movie, Diary of a Mad Black Woman earned in February 2005. Perry's films have historically performed well over entire weekends and this shouldn't differ at all. Why Did I Get Married should come in with $20.7 million for the weekend.

[tm:3372_]We Own the Night[/tm]

The crime drama had a very Departed vibe to it, but that really didn't translate into box office as it only earned $3.7 million on Friday. That's fairly disappointing, especially considering [bp:1210_]Mark Wahlberg[/bp] and [bp:190_]Joaquin Phoenix[/bp] were riding hot streaks lately. The cop drama retread looks to earn $10.3 million over the entire weekend.

[tm:2565_]Michael Clayton[/tm]

[bp:443_]George Clooney[/bp]'s latest effort also struggled somewhat on Friday, as Michael Clayton only earned $3.2 million. Looking at Syriana, another socially-conscious film, which opened to $3.8 million in December 2005 on its way to a $11.7 million weekend, I think this is likely the best comparison. I'll give Michael Clayton $9.8 million for the weekend,.

[tm:2991_]Elizabeth: The Golden Age[/tm]

Probably the oddest sequel ever, Elizabeth: The Golden Age earned $2 million on Friday. Fun fact: It took 17 days for Elizabeth to earn that back in 1998. Minus the Oscar buzz that release had, The Golden Age will likely disappear quickly from here, however. It should still be good for about $6 million this weekend.

Notable Holdovers

[tm:3553_]The Game Plan[/tm] is bumped down to fourth on Friday thanks to all the newcomers but it still hold well, off only 32% from its second Friday number. The Rock's hit family film should come in with $11.3 million in weekend number three.

[tm:1311_]The Heartbreak Kid[/tm] plunges 51% from last week, so now we definitely know it's not another There's Something About Mary. Call it about $7.2 million for the second weekend.