Weekend Wrap-Up
Box Office Takes Another Beating as Heartbreak Kid Flops
By John Hamann
October 7, 2007
BoxOfficeProphets.com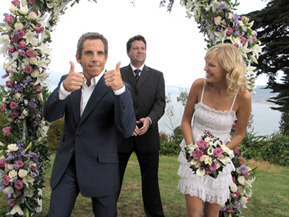 ---
New release [tm:1311_]The Heartbreak Kid[/tm] got off to a not so good start at the box office this weekend as recent box office god [bp:122_]Ben Stiller[/bp] reteamed with his There's Something About Mary cohorts, Peter and Bobby Farrelly. In the week leading up to its release, Heartbreak was being compared to Mary; however, Along Came Polly, Stiller's critically reviled January 2004 release, might be a better example. Also landing hard is Walden Media's The Seeker: The Dark is Rising, which went out to way too many venues, and crashed and burned horribly at the box office. Overall, there is little good news at the box office.

The unexpected number one film at the box office is The Rock's [tm:3553_]The Game Plan[/tm], which debuted to $23 million last weekend. The movie had magnificent staying power as it dropped only 29% and earned $16.3 million in its second frame. The Pacifier, [bp:201_]Vin Diesel[/bp]'s film with similar subject matter, dropped 41% in its second weekend before going on to earn $118 million at the domestic box office. I doubt The Game Plan will be as lucky, but The Rock could see $75 million domestic (his biggest total since The Scorpion King's $90 million finish) before going on to make a small fortune on DVD. Currently, the family-friendly Disney flick has earned $42.8 million.

With the game plan surprising in first place, that relegates the aforementioned The Heartbreak Kid to number two. The Heartbreak Kid is Ben Stiller's first release since Night at the Museum, which earned $250 million at the domestic box office, and over $570 million worldwide. The Heartbreak Kid is certainly no Night at the Museum, as Stiller's latest comedy opened to a poor $14.0 million from 3,229 venues (Museum opened to $30.4 million before Christmas last year). The Kid had a crummy venue average of $5,237. While no Duplex (Stiller's late September 2003 flop with [bp:27_]Drew Barrymore[/bp] - it opened to $4 million and finished with $9 million), DreamWorks and Paramount won't be happy with this one, considering the pedigree of Stiller and his reunion with the Farrelly brothers. When the comic and directors teamed up the last time, they made 1998's There's Something About Mary, which turned into a huge hit for 20th Century Fox, as Mary opened to $13.7 million and went on to earn $176 million domestically, and over $300 million worldwide (against a production budget just north of $20 million). Since Mary, though, the Farrelly brothers and Stiller have gone in separate directions. Stiller did two hugely successful Meet the Parents pictures (combined domestic gross: $445 million) along with Dodgeball ($114 million finish) and Madagascar ($193 million), amongst others. The Farrellys, on the other hand, went into the sink after Mary. They made horrible films like Osmosis Jones ($13.6 million finish) and Fever Pitch ($42 million finish), and some good ones like Shallow Hal ($70.8 million), but have not achieved the comedic level of Mary or even their first film, Dumb and Dumber ($127 million). Hopes were high for The Heartbreak Kid, as it was a remake of Elaine May's 1972 comedy with Charles Grodin and Cybill Shepherd, and it had a good, but not great marketing campaign. Reviews hurt. At RottenTomatoes, 107 reviewers chimed in and only 34 found something to like, giving The Heartbreak Kid a rotten rating of 32%. Regardless of film quality, The Heartbreak Kid should have doubled its opening weekend, making this one a bigger than expected disappointment. The Heartbreak Kid shouldn't last long, but Stiller's films have surprised with legs before, so let's wait and see what happens next weekend.

Finishing third is last weekend's runner up [tm:1950_]The Kingdom[/tm], with [bp:2633_]Jamie Foxx[/bp] and [bp:185_]Jennifer Garner[/bp]. After getting off to an only okay start last weekend ($17.1 million opening), The Kingdom found no hold this weekend, as the action flick settled for $9.3 million from 2,802 venues. It was off a crippling 45%. This Universal effort should have been bigger, and with this drop, the $80 million [bp:2638_]Michael Mann[/bp]-produced, Peter Berg-directed flick is going to finish below $60 million. Its current total is $31.4 million.

Fourth spot, only due to a lack of quality films in the top ten, goes to [tm:3188_]Resident Evil: Extinction[/tm]. The former number one film grossed an estimated $4.3 million, and follows last weekend's 66% plunge with a drop of 46%. Extinction should finish with a similar total of that of the second film in the series, Apocalypse, which ended its run with $50 million. Currently, the Milla Jovovich zombie hunt has earned $43.5 million.

Finishing down in fifth place is Fox and Walden Media's The Seeker: The Dark is Rising. The live action kid's fantasy got embarrassed this weekend, earning only $3.7 million from a way too high venue count of 3,141 venues. It had a laughable average of $1,186. Walden and Fox forgot to market their product - and why they released it to such a ridiculous amount of venues is a complete mystery to me. It would have cost much more to make all those prints than this one earned in opening weekend. The Seeker had all sorts of problems heading into release - the writer of the original material, Susan Cooper, wasn't happy with the changes to the book, the title was changed weeks before the release date, and advanced screenings were cancelled. Then reviews started to come in, which was the death knell for this effort. From the 53 critics polled at RottenTomatoes, The Seeker received a rotten rating of 17%, which piled on the doom. While probably made on the cheap, the first Fox Walden picture is officially a disaster.

Somehow still managing to finish sixth is [tm:2361_]Good Luck Chuck[/tm], the comedy with [bp:5338_]Jessica Alba[/bp] and Dane Cook. Down two spots from last weekend, Chuck earned $3.5 million this weekend, off 44% from last weekend. So far, Chuck has swindled $29.1 million.

Seventh spot goes to [tm:4031_]Feel the Noise[/tm], a film I didn't even realize was being released this weekend. Out to only 1,015 venues, Feel the Noise earned $3.4 million and had a venue average of $3,350. It will be long gone by next weekend.

The slow weekend gives [tm:3702_]3:10 to Yuma[/tm] another weekend in the top ten, as [bp:124_]Russell Crowe[/bp] and [bp:1327_]Christian Bale[/bp] roped in another $3.0 million. Yuma was off 28% from last weekend, and has now earned $4.9 million.

[bp:2748_]Jodie Foster[/bp]'s [tm:2948_]The Brave One[/tm] also finds another week in the top ten courtesy of a weak outing from openers the past two weeks. The Brave One earned $2.3 million, off another 39% from its previous frame. The cumulative total for the revenge flick is $2.3 million.

Tenth spot goes to [tm:1563_]Mr. Woodcock[/tm], the [bp:133_]Billy Bob Thornton[/bp] comedy. The New Line film was able to cross the $20 million mark this weekend (woo!) with a gross of $2.2 million. It was off 31% and has now earned $22.3 million.

Overall, the top 12 films disappointed in a very large way. Last year, The Departed got off to a great start with $26.9 million, and torture-porn spectacular The Texas Chainsaw Massacre: The Beginning debuted with $18.5 million, leading the top 12 at the box office to $100.9 million. This year, the top 12 could only muster $65.7 million, a staggering 35% drop from the same weekend last year.