Weekend Wrap-Up
Rock and Foxx Vie For Box Office Dominance
By John Hamann
September 30, 2007
BoxOfficeProphets.com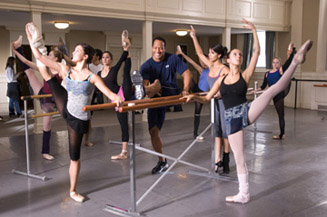 ---
As September comes to a close, we had two new opening films with the potential to break out. The Kingdom was directed by Peter Berg, produced by Michael Mann, and had a great cast that included Jamie Foxx, Jennifer Garner and Jason Bateman, but it was not the victor this weekend. Instead, the movie that impressed was a family-friendly flick from The Rock and Disney. The other opener was Feast of Love, with Morgan Freeman and Greg Kinnear. Holdovers were ground down and chucked out, as Good Luck Chuck got buried and Resident Evil: Extinction got annihilated.

The number one film over the September 28-30, 2007 weekend is The Game Plan, which got ahead of The Kingdom based purely on audience demographic. Both films finished within $300,000 of each other on Friday night, but The Game Plan's family-friendly audience gave it more push over Saturday and Sunday. The Game Plan earned a strong $22.7 million over the weekend from 3,105 venues, the largest count in this weekend's top ten. It had a decent venue average of $7,307. For Dwayne Johnson, aka The Rock of WWE Fame, this is a higher-than-expected total, as his films tend to open between $15 million and $18 million. As a lead, this is Johnson's biggest debut, edging out The Rundown, which opened to $18.5 million in late September 2003 (however, it also starred Rosario Dawson and Seann William Scott). And while this was not The Pacifier ($30.5 million opening in March 2005) at the box office, it must be considered a win as The Rock had never opened a family-oriented picture like this, and these films tend to have legs even if there is absolutely zero film quality (Yes, we're still giving Steve Martin the evil eye for Cheaper by the Dozen 1+2). Vin Diesel's The Pacifier finished with a domestic total of $113 million, despite being only 21% fresh at RottenTomatoes. The Game Plan finished with an even better - but still not great- rating of 31%, and if it finds some legs, could finish within spitting distance of $100 million. For Disney, this one probably cost between $30-$40 million, so I think the studio will be happy with the opening weekend result, especially since it got ahead of Universal's The Kingdom. Next up for The Rock is co-starring role in Get Smart with Steve Carell and Anne Hathaway, which will be a summer film for Village Roadshow and Warner Bros. in 2008.

Finishing second is The Kingdom, which finished on the heels of The Rock's Game Plan, but will probably never be as close to that picture as it is today. The Kingdom earned an okay $17.7 million this weekend from 2,792 venues, and finished with a venue average of $6,332. The opening total is about where analysts figured it would end up, but must be considered a loss as it couldn't get ahead of The Game Plan. For Jamie Foxx, I think he may need to reconsider a career as an action star. After the huge success of the Oscar winning biopic Ray ($75.3 million finish), Foxx did Stealth, another counter-terrorism action effort, and that film bombed (excuse the pun) badly, opening to $13.2 million, and finishing with a domestic total of only $32.1 million, against a production budget rumoured to be as high as $130 million. He then got solid opening weekends from Jarhead ($27.7 million) and Miami Vice ($25.7 million), but failed in both efforts to equate big openings to legs, and for that matter, successful pictures. Both Jarhead and Miami Vice finished with about $63 million, or only about 2.4 times that of opening weekend. The Kingdom received mixed reviews at best - of the 121 reviews counted at RottenTomatoes, only 64 were positive, leaving The Kingdom with a rating of 53%.

Universal has to be unhappy with this result. The Kingdom had an all-star cast that had cross-demographic appeal with Foxx, Jennifer Garner and Chris Cooper, in a film that appeared to be marketed solidly. The studio picked an excellent weekend to reach an action audience, as Resident Evil: Extinction was always destined to be a one-weekend wonder, and 3:10 to Yuma is a Grandpa in terms of today's staying power at the box office. After Sydney White tanked last weekend, Universal had to be hoping for The Kingdom to reach $20 million, but will now wait and wonder if it will make it to a$60 million domestic finish. It had better – this one cost Universal $80 million to make, and things could get ugly if it fails to stay above a 50% drop next weekend.

Narrowly staying ahead of Good Luck Chuck is Resident Evil: Extinction, last weekend's number one film. After opening to $23.7 million last weekend, RE3 could only muster $8 million in its second outing, giving it a dubious percentage drop of 66%. Resident Evil: Apocalypse opened to almost the exact figure of Extinction ($23.0 million), and dropped 62% to $8.7 million. Expect this one to earn less than Resident Evil: Apocalypse's $50.7 million, as the second and third films in this franchise are carbon copies of each other, with Extinction doing worse in the legs department. Currently, Extinction has $36.8 million in its domestic piggy bank.

And while Good Luck Chuck unfortunately did not see the drop that Resident Evil did, it is still thankfully nasty. Chuck (and its 3% fresh rating at RT) earned $6.3 million this weekend and dropped 54%, reaffirming my hope in the human race. So far, Chuck and company have stolen $23.6 million domestic from sad, unsuspecting moviegoers.

That brings 3:10 to Yuma down to fifth place, after four frames of release. The western earned $4.2 million and was off 32% compared to the last frame. So far the $50 million film has earned $41.6 million. It should finish with about $55 million.

The Brave One dips to sixth as Jodie Foster's latest failed to get traction in the North American marketplace. The Brave One earns $3.7 million in its third weekend, and was off 50%. The Brave One is a Warner Bros. disappointment, as the revenge flick has only earned $30.8 million so far. Chalk up another miss for Joel Silver and Silver Pictures (The Invasion).

Seventh spot belongs to Mr. Woodcock, starring Billy Bob Thornton. This is another film that failed to show any spark, as it grosses $3 million this weekend. The New Line production now has $19.6 million.

Eighth goes to Eastern Promises, the David Cronenberg thriller. Eastern Promises earned $2.9 million from 1,408 venues, and may have peaked when it earned $5.6 million last weekend. It was off 49% compared to the previous frame, and now has a total of $11.2 million.

Sydney White drops from sixth to ninth with a take of $2.7 million. It was off 49% and has now earned $8.5 million.

Finally in tenth we have Across the Universe, which was able to grow 5% as it increased its venue count to 339. The '60s retrospective from Julie Taymor earned 2.1 million and has now grown its overall total to $5.5 million.

Feast of Love failed to make the top ten as it earned a slow $1.8 million from 1,200 venues. The drama failed to gain any momentum heading into the weekend due to an abysmal (and almost nonexistent) marketing campaign. It failed in the review department as well, earning only a 47% fresh rating at RottenTomatoes.

In limited release, Wes Anderson's Darjeeling Limited got off to a great start at 2 New York theatres, earning $140,000, good for a $70,000 venue average.

Overall, things aren't great compared to last year at the box office, when Open Season opened to $23.6 million. The top 12 films earned $86.5 million over the same weekend last year, well ahead of this year's tally of $76.6 million. Will Ben Stiller and The Heartbreak Kid break the box office out of its blues next weekend?