Weekend Forecast for September 28-30, 2007
By Reagen Sulewski
September 27, 2007
BoxOfficeProphets.com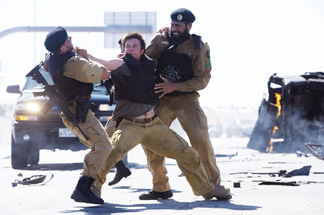 ---
With September coming to a close this weekend, we're likely to see the month end without giving us a true breakout hit. However, there are two more chances this weekend for some respectable returns.

The Kingdom is another of the approximately 53 bajillion movies to come out this fall on the subject of terrorism and/or the Middle East, albeit one of the more action-oriented of the bunch. After a suicide bomber attacks an American facility in Saudi Arabia, an FBI team is sent in to investigate, though not without resistance from local authorities. As the team continues to investigate, they find themselves chasing a shadow in a hostile environment, with finding the terrorist group now second to just getting out with their lives.

A combination of a police procedural and an international thriller, The Kingdom boasts one of the stronger casts of the fall, with Jamie Foxx, Jennifer Garner, Chris Cooper and Jeremy Piven, although with Friday Night Lights's Peter Berg behind the camera and Michael Mann as a producer. It's these last two names that give the film a lot of its buzz, as Berg is quickly becoming a director to watch, and Mann is a legendary filmmaker familiar with tense, action-filled movies.

Indeed, the film is largely being sold on its action sequences and car chases, with an almost TV-like exhortation to pay attention for the last 30 minutes of the film. My alarm bells go off a little here, wondering they're bracing us for a slow moving film at the outset, but I think it's a pretty effective strategy, although reviews are surprisingly shaky.

As for its stars, Foxx has had a little trouble building on his Oscar win for Ray, though this is his first true lead role since that film (even Miami Vice had him as a 1B at best). The depth of the cast also lends legitimacy to its prospects as well, and it should see a weekend total of about $18 million.

The Rock tests his comic and family-film chops in Disney's The Game Plan this weekend. He stars as a pro-football quarterback named Joe Kingman, renowned as the toughest in the league, who gets a surprise on his doorstep when an ex-fling drops off a daughter he never knew he had (amusingly, for football fans, named Peyton). Kingman now has to adapt to a lifestyle change involving ponies and bubble baths, a shock to his manly world view.

Although I think this film is coming from a ridiculous stereotype and a false premise (it's yet another in the line of films that posits that men are helpless around children, and that testosterone is somehow a handicap to fathering a daughter), it is aiming at a pretty young audience and can perhaps be forgiven a little for that. However, the scenarios of the film seem poorly thought out. Most of the appeal of this film will be in how badly you want to see The Rock in emasculating situations. Needless to say, this will not be his typical audience.

This formula worked pretty well for Vin Diesel in The Pacifier, which opened to an astounding $30 million a couple of years ago. Never underestimate the ability of Disney to sell crap to pre-teens. I don't think they're going to meet that lofty opening weekend, party because Diesel had a better track record than The Rock (at least until recently), and because, as bad as it was, The Pacifier actually looks better than The Game Plan. I expect this to slide in just slightly below the opening weekend of Rock's Gridiron Gang from last fall, with about $13 million.

The biggest expansion this weekend is In The Valley of Elah, starring Tommy Lee Jones, Charlize Theron and Susan Sarandon. Jones and Sarandon star as the parents of an Iraq war veteran who goes missing upon returning from the war. Neither parent accepts the official army story, and Jones goes on the hunt for his son. When it appears he may have been involved in a murder, Theron, a police detective, joins the hunt, and these two attempt to uncover the truth, which may be uglier than either of them suspected.

This is one of the two roles that Jones is receiving heavy Oscar buzz for, along with No Country For Old Men. This is probably the more conventional role of the two, although it may get less attention due to its relatively low profile and slow-to-start box office. That could change with an expansion to 700+ theaters this weekend, although the dour subject matter and the (let's face it) awful title may hold it back. Director Paul Haggis (of Crash) could also push it along, but I think we're looking at a maximum of $3 million this weekend for it.

Opening in moderate release is Feast of Love, an ensemble romantic comedy. Starring Greg Kinnear, Morgan Freeman, Selma Blair and many more, it centers around a group of Portlanders (-ites? –ahoovians?) and their romantic struggles as they interconnect in tragic, amusing and positive ways.

Adapted from a popular novel, this superficially resembles Love, Actually with a lower wattage cast, although reviews are not nearly as positive for this film. MGM isn't showing a tremendous amount of confidence in Feast of Love, launching it in just 1,200 theaters and with little promotion (not that MGM has much budget for big films anymore anyway). I'd look for just $3 million this weekend for Feast of Love.

The third outing of the Resident Evil franchise, Extinction, won the box office competition last weekend with $23 million and change, or virtually identical to Resident Evil: Apocalypse's opening weekend three years ago. Although that's a healthy total, we're definitely seeing the start of diminishing returns, and a fourth installment could be a risky venture at this point. This will almost certainly be front-loaded to the extreme, and should drop to about $11 million in its second weekend.

Good Luck Chuck was a mild surprise in earning about $13 million and (gag/wretch) perhaps establishing Dane Cook as a credible leading man. I prefer to give a lot more credit to Jessica Alba, who, I would point out, got most of the close-to-release date exposure in the commercials. It's better that than concede that Cook is a star (let's see him open a second movie, is what I'm saying). Watch this one drop fairly steeply as well, to around $7 million.

There's not much remaining in terms of holdovers (nothing else should break $5 million), which should leave some press room for some new limited release films. The most prominent of these is The Darjeeling Limited, the new film from Wes Anderson, starring Owen Wilson, Jason Schwartzman and Adrien Brody. There's a small bronze statue of Anderson in BOP's main office that we worship five times each day, so I'll dispense with the idea that we're not hotly anticipating this film, and just point out that it opens in two theaters in New York this weekend, so you should really go see it if you can, you lucky jerks. Also debuting is Ang Lee's latest, called Lust, Caution. A WWII-era espionage thriller, it stars Tony Leung and Joan Chen among other actors better known in China. It won two awards at the Venice Film Festival, and could be a contender for Oscars at year's end.