Weekend Forecast for September 21-23, 2007
By Reagen Sulewski
September 21, 2007
BoxOfficeProphets.com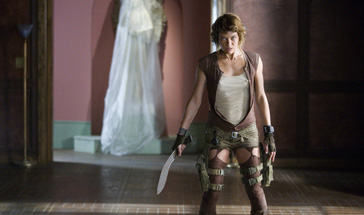 ---
Anemic box office returns during the first two weeks of fall are due for a bit of a turnaround, as Hollywood turns to what's always worked this season – ass-kicking women and zombies.

Resident Evil: Extinction is the third and probably final (but one never knows) installment of the movie series based on the popular survival horror video game Resident Evil. The genetically engineered zombie plague of the first two films has almost consumed mankind, with survivors mostly relegated to below the surface, working on a way to return. I say mostly, because there is still Alice (Milla Jovovich) and a band of hunters, eking out an existence and fighting against the zombie hordes on their way to Alaska, and safety.

As they come across the ruins of Las Vegas and a major concentration of zombies, Alice catches the attention of The Umbrella Corporation, who thinks Alice has the key to ending the plague once and for all. Of course, they started it, so would you trust them? In what might be the final battle for the human race, Alice and her compatriots fight both zombies and the evil industrialists for the highest stakes possible.

One of the more action-oriented horror franchises out there, the Resident Evil movies have benefited from a small but rabid fanbase, thanks to faithfulness to the source material, some legitimately great trailers and the relative uniqueness of their female action lead. Although Jovovich hasn't been rock solid in other action roles – Ultraviolet comes to mind – as Alice she's brought home the goods twice, with opening weekends of $17 and $23 million respectively. Extinction promises more of the same, with some cool explosions and zombie-chopping action. That's going to pull in more or less the same people it did the first two times, though you can't rule out a surprise for this franchise, which has a surprising resilience and a dedicated following on video. Look for it to win the weekend with $25 million.

Somewhere, there's a secret document in a Hollywood safe deposit box that states that Amanda Bynes can only star in modernized adaptations and remakes. After exhausting all the "Shakespeare in high school" adaptations that came her way (OK... so there was one. It seems like more), she's now moved on to fairy tale modernizations, with Sydney White, a very shallowly disguised version of Snow White and the Seven Dwarves.

In the film, Bynes plays the title character, a tomboy that pledges at her mother's old sorority as a freshman, to predictably disastrous results. Landing in a house with seven severely geeky male roommates (hmmm.....) she plots revenge against the campus's self-appointed royalty, fighting for the misfits and losers. I wonder if they'll win.

Bynes is quite a likeable actress with energy to spare, though she seems stuck in these broad teen comedies, and time is running out where she can pull off these roles plausibly (then again, Matthew Broderick was 26 when he played Ferris Bueller). While Bynes has generally been able to open movies in the low double-digits, I think these films are starting to get a bit tired, and the fall is not a particularly opportune time for them. I see an opening weekend of about $8 million in the cards here.

Good Luck Chuck represents Dane Cook's latest assault upon decent society, and one of the parting shots for the recent run on sex comedies. Cook plays the titular Chuck, who carries a reputation that is both a blessing and a curse – rumor has it if you sleep with him once, the next guy you meet will be The One. It's great for random sex, but what if someone you really like (say, Jessica Alba) comes along and you don't want the curse to be real?

It's a moderately clever premise for a film once you get past how misogynistic it is, and not a million miles away from something the Farrelly Brothers might try – although tone is always important. However, even here the producers don't seem to have the courage of their scummy convictions, and have bailed on the premise in the weeks leading up to its release. Instead, they've attempted to push it as a straight-up romantic comedy with a focus on Alba's klutzy vet character, perhaps realizing that otherwise, no women would come see their film. Too little, too late, as the saying goes, and the number of times radically changing the advertising focus of a film has worked can likely be counted on one hand (they probably even like to insert a comma into the title). Although the initial advertising wasn't working great, at least it had the benefit of being different, and generifying the film stinks of panic. I'd look for this one to be a loud bomb, opening to just $6 million.

One significant expansion on the weekend sees David Cronenberg's latest, Eastern Promises, move into wide release in about 1,400 venues. Fresh off winning the audience award at the Toronto Film Festival, this thriller could replicate the success of last fall's A History of Violence, which also teamed up Cronenberg and Viggo Mortensen.

Also starring Naomi Watts, Promises opened to a little over half a million on 15 screens, a nearly identical performance to Violence. Apparently there's a stock amount that this director and this lead actor in a revenge thriller are worth. The addition of Watts and the buzz from winning Toronto should make up for what appears to me to be an uglier and less appealing plot line and setting than Cronenberg's last, which should bring it up to that $8 million mark that A History of Violence was able to pull in on this many screens.

Although none of them go wide, we also have a number of other films expanding, with visions of both box office and Oscars dancing in their heads. In The Valley of Elah, The Hunting Party and Across the Universe all move into a few hundred more screens this weekend, with Across the Universe holding the most box office potential. This Beatles-infused musical was a strong performer in its first weekend of limited release, earning two-thirds of a million dollars on 23 screens. This is slightly less impressive a per screen performance than Eastern Promises, which got the promotion to wide release, but still strong overall. With this expansion, Across the Universe should see around $2.5 million of business on the weekend.

Returning films are not a strong lot, with only The Brave One having broken double digits last weekend. One of approximately 354 revenge thrillers this fall, this was propelled by Jodie Foster to a $13.5 million opening weekend, well below the standard of Foster's last few films. The quite lukewarm reception to this one may kill any Oscar hopes it had, especially if it falls to $7 million or so this weekend. On the contrary, 3:10 to Yuma boosted its chances for end of year support with a strong second weekend of almost $9 million after a nearly identical opening weekend to that of The Brave One. Although it faces a big challenge from The Assassination of Jesse James, which opens in limited release this weekend, having audience support is a good first step for it.