Weekend Wrap-Up for September 7-9, 2007
By Kim Hollis and David Mumpower
September 9, 2007
BoxOfficeProphets.com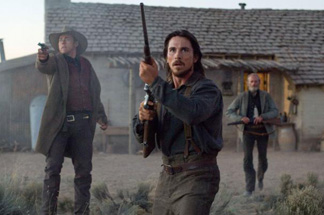 ---
Any win is a good win. Just ask any head coach in any sport and they will tell you that the name of the game is to finish first. Keeping this in mind, 3:10 to Yuma emerges victorious from the weekend shootout, earning an estimated $14.1 million. Before we focus on the positives of Lionsgate's win, let's address the elephant in the living room. This is the worst weekend total for the number one movie in North America since April 27th - 29th. We have experienced 19 weeks of glorious box office totals in excess of $4 billion since the last time the weekend was so devoid of movie patrons.

Focusing on the positive, 3:10 to Yuma has ended the one week run of Halloween as the top film in the country. That's the positive. Everything else is the reality of the situation. Russell Crowe's first attempt to play a pure villain since 1995's Virtuosity was met with resounding applause by critics, but North American audiences were more interested in the start of the football season. A project already rife with internal controversy sees little by way of financial success to start its theatrical run. The title's weekend box office includes a per-venue average of only $5,317.

Crowe and the movie's director, James Mangold, were displeased with Lionsgate's decision to move Yuma up so early on the Fall schedule. They felt that the period after Labor Day would not be a boon to the production's box office. Lionsgate was focused on something equally important. They worried that the presence of The Assassination of Jesse James by the Coward Robert Ford would make their movie look like an afterthought if they didn't get ahead of it on the schedule. This led to a hard choice and the one the distributor settled upon, a post-Labor Day release, has proven to be less than satisfying for a production with a $50 million budget and a negative cost significantly higher.

The positive here is that with reviews and word-of-mouth on a level just below The Bourne Ultimatum, 3:10 to Yuma could build up some steam over the next few weeks. This is a title that skews older, and it might be able to show better legs, particularly from a percentage of depreciation perspective, than most Fall titles. This has been Lionsgate's logic in releasing the title. Given their success sustaining momentum for Crash after its release, the studio felt a similar release pattern could keep Yuma in the forefront of awards season discussions. Whether lightning strikes twice remains to be seen, but the opening weekend of this film continues Crowe's streak of weak box office performances. With A Good Year failing in dramatic fashion and Cinderella Man, Master and Commander: The Far Side of the World and now 3:10 to Yuma disappointing, Crowe needs a hit in a big, bad way. Fortunately, American Gangster, the Aussie's November release, appears to be just that sort of project.

After a spectacular debut over Labor Day weekend, Halloween drops an expectedly large 62% to $10.0 million as it falls to second place. Considering that its budget is listed at a paltry $15 million, the rmovie's running total of $44.2 has to be thrilling to Dimension Films and the Weinsteins. So far in 2007, the brothers who formerly found a great deal of success with Miramax have really had only Dimension to crow about, as both 1408 and now Halloween have proven to be financial boons. At this point, Rob Zombie should be able to write his own ticket in the horror movie business.

Still hanging out in the upper half of the top ten is Superbad, which comes in at number three. With a $8.0 million weekend, Superbad also has a milestone as it crosses the $100 million mark ($103.7 million total). In all seriousness, if we had shown you this movie's credentials back in February, would you ever have guessed that it would be an eventual $100 million earner? Kudos to all involved in the project.

Balls of Fury drops an okay 50% from last weekend on its way to fourth place. Its weekend total is $5.7 million. Still, for a comedy that stars no one famous except Christopher Walken, its cumulative tally of $24.3 million isn't all that bad. It will fade into the sunset over the next few weeks, but should have decent life on DVD, where goofy comedies such as these can really succeed.

The amazing performance of fifth place film The Bourne Ultimatum carries on this weekend, as it takes in an additional $5.5 million. That's a 47% drop from its previous frame, which means that plenty of patrons are still finding reasons to go see this excellent spy flick. With a grand total of $210.1 million, it's the biggest earner still in the top ten, and one of the top performers of the summer.

Sixth place goes to Shoot ' Em Up, our second new opener of the weekend. The Clive Owen/Paul Giamatti/Monica Bellucci actioner did not fare particularly well as it managed only $5.5 million from 2,066 venues. That's a mediocre per location average of just $2,585. While it's not a strong performer at the box office, Shoot 'Em Up does have a great chance at finding an audience on home video. That's going to have to be enough to keep New Line happy.

The third installment in the Rush Hour franchise finishes in seventh place. It drops 38% from last weekend as it has a three-day total of $5.3 million. With $129.2 million in the kitty, Rush Hour 3 is actually approaching its reported production budget of $140 million. Once international receipts and home rental numbers are added in, it's going to provide a tidy little profit.

Mr. Bean's Holiday falls to eighth place as it manages a weekend total of $3.4 million. That's a 43% drop from last weekend, which is probably a bit higher than expected given the family-friendly nature of the film. So far, Mr. Bean's Holiday has earned a grand total of $25.1 million in North America, which pales in comparison to the $190 it has totaled in international markets.

Ninth place goes to Scarlett Johansson's The Nanny Diaries, which is showing decent staying power; however, because it started out small, that's not saying all that much. The Nanny Diaries took in $3.3 million over the weekend, a drop of 35%. Its running total of $21.0 million isn't setting the world on fire, but serves as a nice enough advertisement for its impending DVD release.

Rounding out top ten is Hairspray, the New Line Cinema musical that had a marvelous summer. In what is likely to be its final week in the top ten, Hairspray fell 29% as it earned $2.0 million over the weekend. With a total of $114.9 million, Hairspray is one of the most successful movie musicals ever.

Compared to last year, when The Covenant was tops at the box office with only $8.9 million, this year's top 12 compare quite favorably. This year's total of $66.1 million is a 22.5% increase over last year's paltry $54.0 million. Next weekend isn't likely to be overly exciting, though a surprise from The Brave One or Mr. Woodcock is possible. David Cronenberg's latest, Eastern Promises, wil also be in theaters along with the solidly marketed Dragon Wars from Freestyle Releasing.