September 2007 Forecast
by Marty Doskins
September 7, 2007
BoxOfficeProphets.com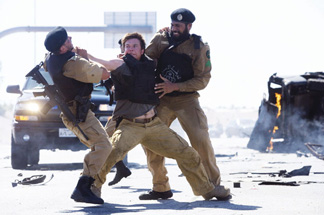 ---
Westerns don't make that many appearances in the theaters, but this month we've got two to choose from, as well as the usual potpourri of other genres thrown into the mix. It's kind of a blah month since the summer frenzy is over, but that's not gonna stop me.

Here's my top 10 for September 2007.

1. The Kingdom

The studio has put together a pretty good combination in cast and crew. We start with very successful director Peter Berg. He's made some pretty good career decisions, including The Rundown and Friday Night Lights. Follow that up with cast members including Jamie Foxx and Jennifer Garner. Both of them are very popular on their own and the studio is hoping for magic when they are put together in an action flick on the screen. I think these three big parts should make a pretty successful opening weekend.

2. Resident Evil: Extinction

This is another sequel in the successful movie and video game franchise. I think the biggest plus with this film is that Milla Jovovich is still starring in it. Usually you would have some nobody that looks similar to the original star take over the main role and release it as a direct-to-home video selection. There are enough fans of the video games and previous movies that this should do well.

3. 3:10 to Yuma

Here's the first of the two westerns this month. This is a remake of a classic 1957 Glenn Ford film. You know that no one is going to know this is a remake so this film will have to stand on its own. While westerns have had a rough go of it in recent years, this one has tried it best to succeed. Having Russell Crowe and Christian Bale as the leads is probably a good place to start. Crowe is already an established actor and Bale is now finally beginning to climb as a star since playing the title character in Batman Begins. Any other month, some big blockbusters would have outshined this film. However, it should get some definite attention with the weak films we're seeing this month.

4. Good Luck Chuck

The main thing this film has going for it is its female lead, Jessica Alba. Her co-star, Dane Cook, seems more of an afterthought. The studio still hadn't seen the numbers from Employee of the Month when they hired Cook and are probably wishing they had thought of someone else. The other problem with this film is that it's a romantic comedy that's being released in September. If the studio thought it had a better chance, we probably would've seen it in one of the previous three months. Summer is definitely the time for lighter fare from the studios. As with 3:10 to Yuma, this film would've been buried if not for the mediocre September releases.

5. Shoot 'Em Up

I'm not sure about the opening weekend for this one. It looks like it could be pretty lame, but I think it will be saved from the movie graveyard by the action-packed marketing. However, I'm not convinced it's going to be everything that the studio portrays in its commercials and it will die a very quick death.

6. The Game Plan

The Rock in a kids' film. Check.
Middle of the pack. Check.
Nothing more to see. Move on folks.

7. The Brothers Solomon

Will Forte is the latest of the Saturday Night Live cast to try his hand and the big screen. He plays a wide variety of characters on TV and I think that is a definite plus for him in this role since he hasn't been typecast. I'm kind of looking at this like last month's Hot Rod with co-SNLer Andy Samberg. He's funny, but the general public doesn't know who he is. In fact we should see very similar numbers - $5 million to start and finish at somewhere around $15 million.

8. The Brave One

While Jodie Foster has had some pretty big successes in recent years, I really don't think this is going to be one of them. She plays a woman who is out for revenge after her fiancé is killed in front of her. There has been some marketing out already for this one, but not overwhelming at least from my perspective. It may turn out to be one of her better acting performances, but I'm not convinced how well audiences will receive it.

9. Mr. Woodcock

Billy Bob Thornton definitely doesn't have to worry about getting himself typecast. He chooses such a variety of scripts and seems to do well with each one of his roles. The commercials I've seen are really pushing Thornton's character's crappy attitude towards people. I think the studio is going about this the wrong way and are going to turn off some people with this ad campaign. All we see is Thornton insulting and humiliating people without any of the story being revealed. His character is so overwhelming and there is no one to offset his personality. Maybe it will be okay this way, but I doubt it.

10. The Assassination of Jesse James by the Coward Robert Ford

This is the second of this month's westerns. While the main cast is very strong (Brad Pitt, Casey Affleck, and Sam Shepard), this production has been plagued with problems. There have been numerous edits and re-shoots, which is never a good thing. Also, the studio has moved the release date around a few times because it has been trying to figure out where exactly to place it. It looks like they finally just decided to dump it here and give it a limited release. Usually a smaller number of theaters would keep a film from making the top 10, but with the weak releases and the draw of Brad Pitt, it barely squeaks into the bottom of the list.