Weekend Wrap-Up for Friday, August 31 - Monday, September 3, 2007
By David Mumpower and Kim Hollis
September 3, 2007
BoxOfficeProphets.com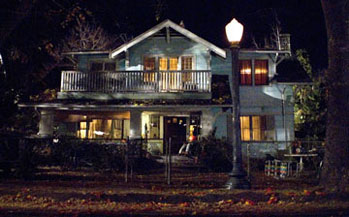 ---
For decades, conventional wisdom in Hollywood was that Labor Day weekend was a terrible time frame to open a movie. So strong was the perception that it became self-fulfilling prophecy. Only the dregs of the release schedule were vanquished to the last four days of summer. Any title slotted in this time frame was doomed to failure with no exception. With summer winding down, consumers who are otherwise willing to go to the local cineplex are presumed to be involved in other activities such as picnics, barbecues, family gatherings and trips to the beach. There is only so much nice weather left in the year, and people want to capitalize on the result. This presumably limits their desire to go see a movie.

This philosophy changed slightly with the release of Jeepers Creepers in 2001. The horror title earned $15.8 million over the long holiday. While this might seem like a paltry sum to most, it is what passed for a Labor Day weekend success story only six years ago. In the time frame since Jeepers Creepers, two other titles have done what would be described as well on this weekend. Jeepers Creepers 2 earned $18.4 million in 2003, then Transporter 2 earned $20.1 million in 2005. These titles had four-day venue averages of $5,879 and $6,087 respectively. Those are "good" numbers for Labor Day weekend.

Halloween, the 2007 remake of the infamous 1978 horror film, opened over the Labor Day long holiday. Its performance is best described as well beyond good. The title is estimated to have earned $31 million over four days. It has not only smoked Transporter 2 to become the largest Labor Day opening of all-time, it has also put up a performance that almost matches the combined totals of the two Jeepers Creepers films. Those are two of the three best prior Labor Day performances prior to this weekend. Some may argue that in this day and age, $31 million is not that big a deal. Given the context above, it's safe to say that they would be seriously underselling what has happened at the box office this weekend. Halloween has just done something strikingly impressive by proving that a quality title launched on Labor Day can be a strong performer.

The success of Halloween is a huge win for goth rocker Rob Zombie. His prior two horror releases were both gore-fests. House of 1000 Corpses opened to $3.5 million on its way to final domestic box office of $12.6 million. Its successor, The Devil's Rejects, opened to $7.1 million and wound up with $17.0 million in North American receipts. Doing the math, Zombie's first two releases earned a grand total of $29.6 million. His latest effort, Halloween, has done better than them after only four days. In an age where movie-goers have turned their backs on the over-saturated gorno market, Zombie has just turned a $20 million production into a $32.5 million holiday weekend, thereby surpassing the combined performances of his prior two releases. This is an opening akin to 2003's re-make of the Texas Chainsaw Massacre, which made $28.1 million in its opening weekend and had a four-day (non-holiday) total of $30.7 million. Halloween's matching that total on what has historically been a box office dead zone is a triumph for Zombie personally as well as the movie's distributor, MGM.



Finishing in second place is the buzz hit of the second half of the summer, Superbad. Ever since the film's "Red Band" trailer, the R-Rated version of its promotional clip, hit the Internet, this title's success has been a foregone conclusion to everyone except people in charge of tracking data. This weekend is the first time that Judd Apatow's latest film is not in first place after two weeks of domination. Instead, it will have to settle for $12.5 million over three days, $15.6 million over four days, and a running total of $92.4 million. Superbad will cross the $100 million threshold in the next week, giving Seth Rogen a pair of $100 million winners this summer, both of which were extremely cheap to make. He's the new Steve Carell.

The other big debut of the weekend is Balls of Fury, written by former members of MTV's The State, Thomas Lennon and Ben Garant. These two men have had recent success with the $10.3 million opening weekend of Reno 911!: Miami as well as a little film called Night at the Museum. After a rocky $1.7 million start on Wednesday, it appeared that audiences were telling The State that they did not, with apologies to Ken Marino, want to dip their balls (of fury) in it. Over the weekend, however, movie-goers apparently changed their minds. Balls of Fury earned $11.3 million in three days and $14.3 million over four days. What looked like disaster after Thursday has suddenly morphed into a solid hit for Rogue Pictures. After six days, the production has grossed $16.8 million, which is slightly more than its budget. Reversals of fortune do not come in any more dramatic fashion than this.

The Bourne Ultimatum slides two spots to fourth place this weekend. Due to the holiday-inflated numbers for the weekend, Matt Damon's latest spy thriller falls only 17% to $10.3 million over the Friday-to-Sunday period. Its four day total of $13.2 million brings its total over the $200 million landmark with $202.6 million. It has passed Ratatouille to become the sixth most successful domestic release of 2007. Passing 300's total of $210.6 million to reach the top five will occur in the next seven days. Going any higher than that appears unlikely, since the next mark is Harry Potter and the Order of the Phoenix's total of $285 million and counting. When we examine the summer's ramifications, perhaps none will stand larger than the fact that five of the top 30 performers of all-time were released in the span of three months.

Rounding out the top five for Labor Day weekend is Rush Hour 3. Jackie Chan and Chris Tucker's latest buddy cop action flick brings in another $8.4 million through Sunday and $10.4 million over the four-day holiday period. This is a three-day to three-day decline of 28%; it has a grand total of $122.2 million domestically. I've said it before and I'll say it again. Given the time lapse between Rush Hour 2 and this one, New Line has to be quite pleased with the box office result.

Falling a slightly larger-than-expected 39% was Mr. Bean's Holiday, which pulls up in sixth place over the Labor Day holiday weekend. Mr. Bean, which surprised many by being the best opener of last weekend, earned $6.0 million during the Friday-through-Sunday portion of the weekend. Looking at the four-day holiday, it fared a bit better with $8.1 million total. So far, Mr. Bean's Holiday has earned $21.1 million, which is really just gravy considering that its overseas cume is a massive $189.4 million.

The Nanny Diaries showed decent staying power in its second weekend, as it fell only one spot to seventh place. Its three-day total of $5.1 million represents a solid 32% drop, and over the four-day weekend it was able to take in $6.4 million. The Nanny Diaries has now earned a cumulative total of $16.5 million and while it isn't setting the world on fire, it should be able to hold its own as a home rental title as it fits more naturally into that market niche.

Our final new wide release finally appears way down in eighth place. Death Sentence, starring Kevin Bacon and directed by James Wan, co-creator of the Saw franchise, managed only $4.2 million from Friday-to-Sunday and $5.2 million over the four-day portion of the weekend. Its venue average was a very so-so $2,854. There were definitely warning signs that Fox didn't have much faith in the product, as it debuted in only 1,822 venues and received very little advertising support. Death Sentence will already be a distant memory by next weekend.

Tumbling hard in its second weekend is the Jason Statham/Jet Li flick War, which dropped a heady 58% on its way to a three-day weekend total of $4.1 million (with $5.1 million over the long holiday weekend). The total for the Lionsgate product is currently $18 million, and since the production budget is listed at only around $25 million, it's going to make at least a little money by the time overseas grosses and home video are added in.

Hanging on in tenth place is the adaptation of Neil Gaiman's novel Stardust. The fantasy film that proved exceedingly difficult to market earned $3.1 million over the Friday-to-Sunday portion of the weekend at the box office, and $3.9 million over the four-day holiday. It had a drop of 20% compared to the previous weekend. Stardust has a cumulative total of $31.9 million, which still has to be considered a disappointment compared to its overall budget of $65 million. It does seem likely to be able to find second life once it hits DVD, though, particularly given that word-of-mouth is excellent.

Compared to 2006, the top 12 at the box office was up a massive 22% over the four-day holiday weekend. In 2006, when Crank and The Wicker Man were the new kids on the block, the top 12 earned $98.7 million. On the strength of the great Halloween opening and the continued power of Superbad, this year's top 12 took in an awesome $120.0 million. Next weekend, things appear likely to slow down some as 3:10 to Yuma (which had sneak previews this weekend and is receiving excellent word-of-mouth), Shoot 'Em Up with Clive Owen and the barely advertised comedy Brothers Solomon hit theaters.